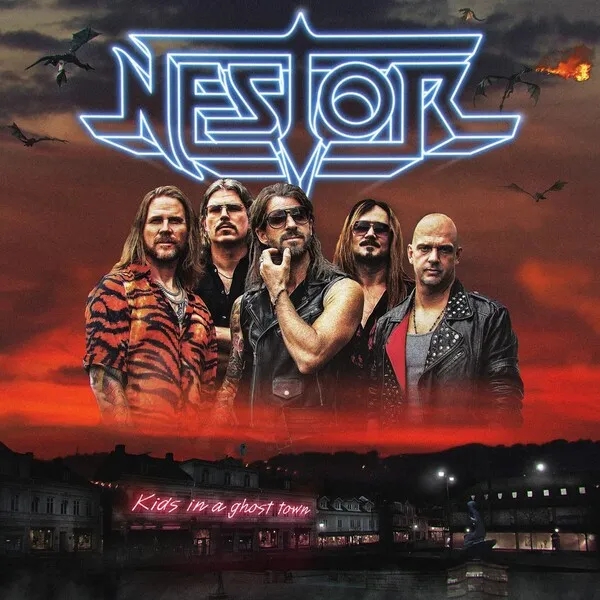 Review | Nestor – Kids In A Ghost Town
Independent
The year 1989 was great for melodic heavy rock with bands like Giant ('Last Of The Runaways') and Signal ('Loud & Clear') releasing two monumental records. Also Dream Theater and Drive, She Said got in the picture with their first albums. In the same year a young Swedish band called Nestor started out but they did not get much further than a few EP's before calling it quits. Singer Tobias Gustavsson since then worked on a career as writer and producer and did alright for himself.
REUNION
A little while ago the band decided to give it one more shot. A reunion was organised bringing together Gustavsson, guitarist Johnny Wemmenstedt, drummer Mattias Carlsson, bassist Marcus Alblad and keyboardist Martin Frejinger. The band worked on an album with The Quill guitarist Andreas Carlsson contributing towards the song material.
WHERE ARE THE LABELS?
It seems that the band has released their first full album 'Kids In A Ghost Town' purely by themselves. The band has a Facebook page where there is a link for ordering the CD and other merchandise. Other media have this album as a MP 3 (like Amazon US and UK). The labels that specialise in melodic rock (Frontiers, AOR Heaven, Rock Of Angels, Escape Music and several others) seem to have missed one of the best albums of 2021 by a mile or two. Where were they? Asleep on the job?
BOMBSHELL
Yes folks, Nestor has created a bombshell of an album. In fact one of the songs is called ,,1989'' and this whole album has the features and characteristics of those days when Giant and Signal made their debut. Songs like ,,On The Run'', the title track and ,,Stone Cold Eyes'' are melodic rockers that are finger licking good: up-tempo, extremely well sung, powerful choruses and all sounding out of this word. There are also a few ballads on offer that will make you gasp for air…. Like for instance ,,Tomorrow'' where Gustavsson does a duet with former UK pin-up girl, singer and actress Samantha Fox. This duet really works out great. It might sound a bit sweet but it just is a match made in heaven.
But the best song for me is ,,Perfect 10 (Eyes Like Demi Moore)'', a track quite clearly about female beauty and charm with blistering guitar work by Wemmenstedt who over the whole album makes a real impression. I know, looking at the whole picture the music of Nestor might not have the highest originality but if the execution of the music, the singing and the quality of the songs is of the level that is displayed here, I could not care less about a (possible) lack of originality. I'll take this any day. Check out their Facebook page, check out You Tube for some clips like for instance for the song ,,On The Run'' and make sure you do not miss this record.