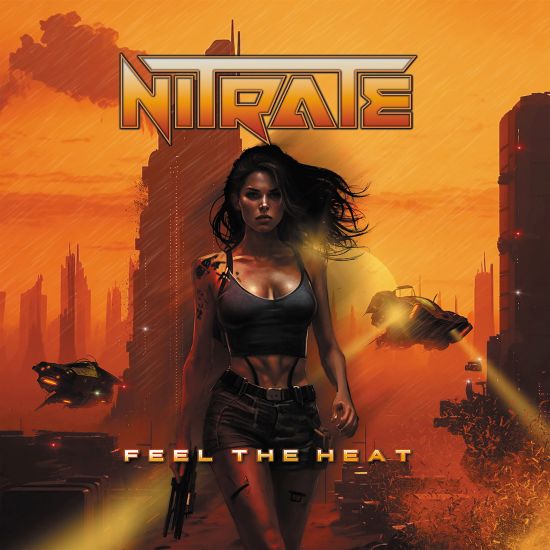 Review | Nitrate – Feel The Heat
Frontiers Music srl
It seems that on their fourth album UK melodic rockers Nitrate have found their sound and style. Founded by bass player Nick Hogg and per album with a change of musical staff mister Hogg found the right singer (Alex Strandell) and the ideal music twins (Tom and James Martin on guitar and keys, who you should know from their time with Vega) for his band that in 2023 is further completed by the latest newcomers Alex Cooper (drums) and Richard Jacques (guitar). Especially the adding of Strandell and the Martin boys has made a huge difference, as Tom and James Martin are not only prolific writers but also a profound production outfit.
ALL GUNS BLAZING
With 'Feel The Heat' Nitrate has all guns blazing. They sound now as an eighties arena rock band with a huge and energetic sound that provides you with plenty of power and energy. The ideal environment for the big pipes of Strandell being able to stretch and go where he has never been before. Yes, it sounds bombastic and maybe people will say that Nitrate does not sound that original. They may have a point, but I really do not care about (a possible) lack of originality.
These boys have found the formula that suits them best and it all starts with the overwhelming power and sound that Nitrate displays on the eleven songs that can be found on 'Feel The Heat'. Take the intro of the title-track that opens the album. The drums sound like a punch in the face, Strandell switches from high to low with ease, the guitars kick ass and the song is just good. And from there on the band just does not let up. So, settle in for a good time!
ONSLAUGHT
'Feel The Heat' has just got all the right moves on offer. Several tracks have certain pop/rock features, big hooks, and feel-good vibes. Some choruses invite you to sing along but it never becomes cheesy. Add to that a constant quality in the song writing and you are dealing with a record that has all the right key elements to get Nitrate really noticed this time. If you like the 'Force Majeure' record that H.E.A.T. released a while ago, you will just love this musical onslaught that is filled with a constant quality of songs and ditto performances. The duet between Alex Strandell and Issa on the ballad ,,One Kiss (Save My Heart)'' is absolutely breath taking and one of the several highlights.
NITRATE – THE CONCLUSION
But for me the biggest asset is the voice and flexibility of mister Strandell and the immaculate sound and production courtesy of Tom and James Martin. I was very surprised when they left Vega but if you see what has come on their musical path with Nitrate instead…. Together with the latest Sarayasign-album by far the best release on Frontiers Music this year!
Release date: 13 October 2023