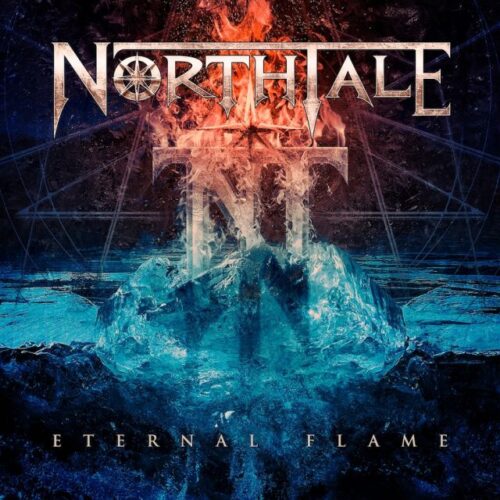 Review | NorthTale – Eternal Flame
Nuclear Blast Records
'Eternal Flame', the second album of NorthTale is the ultimate proof that you can create a top-notch product without the involved musicians being in a studio together working out songs and arrangements. This outfit has musicians involved that are situated in Brazil, America and Sweden while producer Dennis Ward (Magnum, Pink Cream 69 and Unisonic) worked from his studio in Germany using a new ground breaking technique called Audio Movers that allows you to stream audio note-for-note in real time.
DISTURBANCE
Once again the world wide pandemic created disturbance for the creation of this album. Band founder Bill Hudson has Brazilian roots but lives in Florida where he has a studio. His plan to record the second album there was ruined because of logistical problems for the other musicians. Bass player Mikael Planefeldt is living in Sweden, his country man, drummer Patrick Johansson resides in America, as is keyboardist Jimmy Pitts who actually is American and new vocalist Guilherme Hirose hails from Sao Paulo Brazil, once also home to Bill Hudson.
SPLIT
A few years ago NorthTale launched their debut album 'Welcome To Paradise' with Swedish vocalist Christian Eriksson behind the microphone. Although the reviews were favourable some 'musical differences' between main man Hudson and Eriksson caused a split in the band and Hudson started auditioning singers. After picking someone for the job but not confirming it yet he received a message from a singer from Sao Paulo. Fearing another logistical problem Hudson denied the request but Guilherme Hirose insisted on sending Hudson some material. Hudson reluctantly agreed and was pleasantly surprised and although he thought that Hirose was not that different from the guy he had actually picked he did send him a song to sing. Hirose blew him away with his performance and Hudson send him another three songs with the same result.
DIFFICULT TASK
For producer Dennis Ward it must have been a difficult task to fit all the recordings coming together to a 'unit' but when you hear the sound of this album I am sure (whether you like the music or not) you will agree with me that 'Eternal Flame' sounds absolutely fantastic. The sound is heavy yet very melodic, bombastic at times, enchanting at moments it is just the full package here.
A big advantage for the band might also have been the fact that Ward was around in the times that bands like Helloween, Gamma Ray and co were doing their thing, being himself in Pink Cream 69 and Unisonic together with guitarist Kai Hansen who contributes vocals on the speed metal song ,,Future Calls'' with Kai's son Tim shredding the solo. Dennis Ward knows exactly what the ins and outs of the genre are and has used this knowledge in the best possible way. Just listen to the sound of this record. It is mind blowing!
INSPIRATION
Hudson is the first to admit that a band like Angra (in the André Matos era) is one of his main influences and a big inspiration but when you hear the whole album you will hear also Helloween and lot more of those power metal type of bands. Especially the voice of Hirose has these classic Kiske/Dickinson features and do I dare to say that with this album NorthTale shifts the balance of this genre? I most certainly do say so. Surely fast and furious opener ,,Only Human'' does make you think of early Helloween but when songs like ,,The Land Of Mystic Rites'' or ,,Nature's Revenge'' make their way to your ears things drastically change and different things pop up.
The influences of Angra are becoming very clear when you hear ,,The Land Of Mystic Rites'', where NorthTale throws in some Brazilian roots into the sound and structure of the song while ,,Nature's Revenge'' is a song with many different moods (with grunts and many orchestral parts, changes in tempo), taking you to different heights. It is a song that might need a few spins to sink in perhaps.
EXCITING JOURNEY
It is safe to say that 'Eternal Flame is in all aspects an exciting journey with many tails and twists, a high level of song writing and musicianship and even the Iron Maiden cover ,,Judas Be Thy Guide'' matches the original (some Maiden fans might disagree with that statement). I am not going to talk about each and every song here but believe me when I say that 'Eternal Flame' makes mince meat of Helloween's latest album, song wise, sound wise, basically in every aspect. By far the best album in the classical and neo-classical power metal department in the last couple of years. Not to be missed!
Release date 12 November 2021