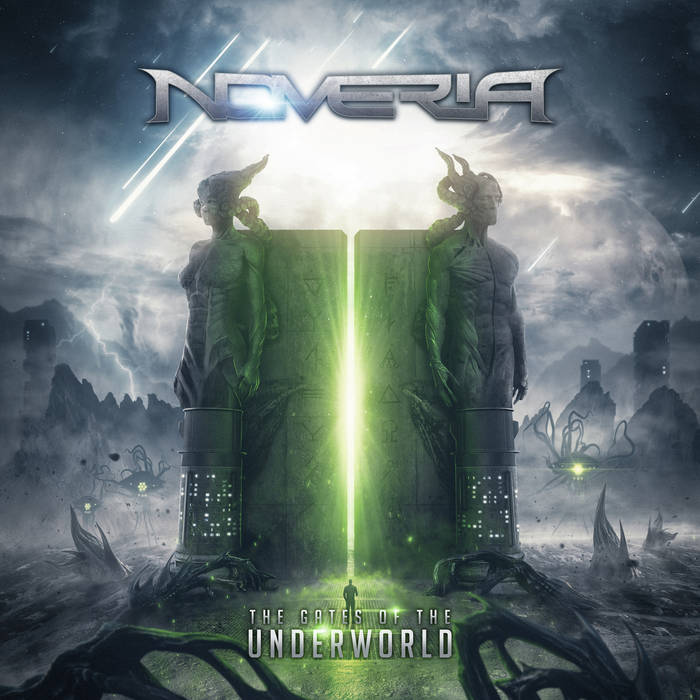 Review | Noveria – The Gates Of The Underworld
Scarlet Records
'The Gates Of The Underworld' is Noveria's fourth album. I must admit that I have never heard anything from these Italian prog metal rockers. The music of Noveria is highly strung, very bombastic with octane choruses and sprawling soundscapes galore, but also with an almost absence of guitar solos. When I first listened to 'The Gates Of The Underworld' I only heard a great wall of sound of modern metal. It reminded me of a complete weird mix of Threshold, Evergrey, Opeth, Helloween, Blind Guardian and Pagan's Mind. So listener be aware!
PROG METAL BEAST
Opening track ,,Heritage" is a thunderous start followed by ,,Origins". A typical Noveria song, very progressive, filled with neoclassical guitars, thick keyboard layers and a rather skilled vocalist called Frank Corigliano. ,,Descent", featuring Fabio Lione (Rhapsody Of Fire), is a very energetic track with headbanging moments and lots of progressive metal characteristics. The absolute highlight is the epic title track which clocks in over twelve minutes and that one is an absolute prog metal beast. However it also features a couple of grunts which, to me, are utterly superfluous. This massive song combines impressive guitar work with formidable keyboards, excellent vocals, pounding drums and formidable bass work and check out the grandiose beginning as well!
EXTREME WALL OF SOUND
,,Anima'', a kind of tender song and finally features a beautiful guitar solo. Overall, I hear that these guys can really play as all the tracks are truly well-crafted making 'The Gates Of The Underworld' an impressive modern prog metal album. However, I had to get used to their extreme "wall of sound," making it a hard album to "access", but after a couple of spins I got the hang of it!
Highly recommended.
Listening tip: ,,Origins".
Release date: 25 August 2023