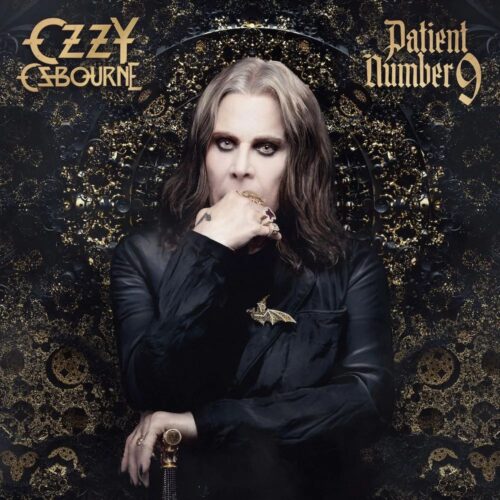 Review | Ozzy Osbourne – Patient Number 9
Epic Records/ Sony Music
Written off by almost everyone a thousand times or more iconic singer Ozzy Osbourne keeps defying the odds. A short time ago he appeared at the closing ceremony of the Commonwealth Games that were held in Birmingham, England, the city that brought us Black Sabbath. Ozzy and the one and only Tony Iommi together with hired hands Tommy Clufetos (drums) and Adam Wakeman (bass) did a short but surprising Black Sabbath gig playing the intro of ,,Iron Man'' and a version of ,,Paranoid''. I was a bit surprised that bass player Geezer Butler was not on stage with his long-life companions but it was magic to see these two heroes on stage once more. And guess what? For the first time ever, Tony Iommi makes a guest appearance on an Ozzy Osbourne-album since Ozzy went solo more than four decades ago.
REMARKABLE REUNION
It is a remarkable reunion, isn't it? Tony and Ozzy rocking again on two tracks of Ozzy's new record 'Patient Number 9', co-written by Iommi. And let me tell you that the two songs featuring Iommi are crackers as well. Obviously sounding a bit more modern these days on ,,No Escape From Now'' and ,,Degradation Rules'' (that features not only Iommi's massive playing but also a scorching harmonica), the magic is still there between these old mates.
MORE FAMOUS GUESTS
Ozzy still has a reputation, one that draws some famous musicians to the studio to help out their veteran mate rocker. I am talking especially about two masters of British rock: Jeff Beck and Eric 'Slowhand' Clapton. When you hear the Clapton co-penned track ,,One Of Those Days'' and you hear his playing, so pure and so good, it just sounds like on this song Clapton revisits his time with Cream. Yep, Eric still knows how to rock as does Jeff Beck who plays on two tracks (,,Patient Number 9'' and ,,A Thousand Shades'') that are also pretty cool.
TAYLOR HAWKINS
And look who we have here? Zakk Wylde playing the major guitar parts on a lot of songs and his heavy contributions have really whipped this album into metal shape. Also Red Hot Chili Peppers drummer Chad Smith deserves a lot of credit. Man, what a bloody monster he can be. I regret really that he wastes his time in the Peppers, he is the ultimate rock and metal drummer but after being so long with Kiedis and Flea I realise his loyalties lay there. Also Foo Fighters-drummer Taylor Hawkins, who passed away so suddenly a few months ago, has lend his talents to this album as did Pearl Jam guitarist Mike McCready, bass player Duff McKagan (Guns N' Roses) and Jane's Addiction's Chris Chaney (also bass).
PRODUCTION
For the second time in his career producer Andrew Watt has taken the reigns on an Ozzy album and has also been important on several compositions. Okay, even Andrew Watt is not able to change Ozzy's voice but the performance of the singer is certainly not bad at all. But with Ozzy you know what you are going to get, so it is a matter of 'take it or leave it'. If you leave it, you will miss out on a great album, one that is (in my humble opinion) better than his latest records 'Black Rain' or 'Ordinary Man'.
The 73-year-old Ozzy Osbourne might not know what day of the week it is at times as he is suffering from Parkinson Disease, but give him a studio, a microphone, the right songs and all that musical talent gathered around him and he will do the job one way or another. For how much longer? God only knows, but in the mean-time 'Patient Number 9' is a hard rocking and heavy metal and rock album that sounds great and has better performed songs than I ever thought was possible given the state of Ozzy's health. Check out some clips as a taster if you have any doubts. I am sure that you will be easily convinced….
Release date: 9 September 2022