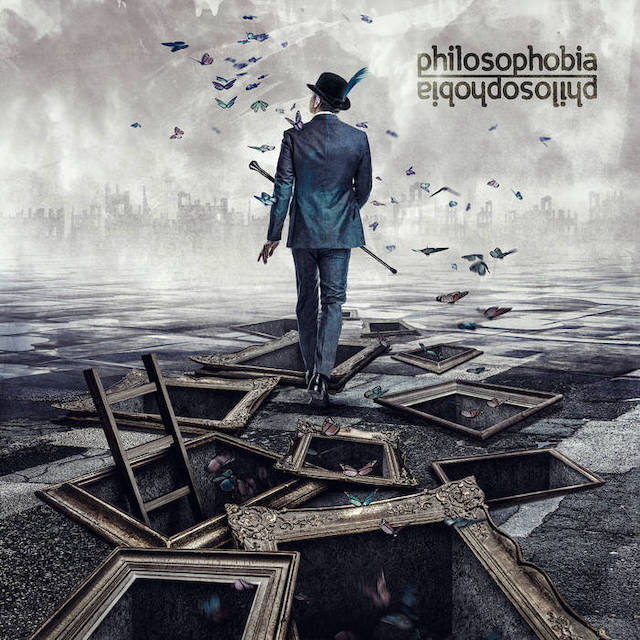 Review | Philosophobia – Philosophobia
Sensory Records/Laser's Edge
The groundwork of this band goes back to 2007, when started demoing ideas for a progressive concept album. With Alex Landenburg (Kamelot, Cyrha, Mekong Delta) joining Annihilator for touring and Andreas Ballnus performing with former Iron Maiden vocalist Paul Di'Anno, the project was put on ice. When in 2018 Kristoffer Gildenlöw (ex-Pain of Salvation, Kayak) and Ballnus exchanged ideas, Philosophobia was born. Completed by keyboard wizard Tobias Weißgerber and initial vocalist Domenik Papaemmanouil (Wastefall), the band started recording with the result now surfacing. And we can say: Thankfully!
Thankful for Gildenlöw's return to metal prog-form, after his departure from PoS when went off exploring different horizons. Thankful; because of the persistence of Landenberg and Ballnus. And überthankful, for labels seeing the sheer quality presented by bands like Philosophobia.
POLYRHYTHMIC AND ODD TIME SIGNATURES
Philosophobia throws in a mind provoking set of songs with a 53-minute running time, pleasing fans of progressive metal with daring constructions and elegant phrased passages. ,,Thorn In Your Pride" instantly puts you up to speed on the band's standings. Great riffs and melodies fused into an attractive progressive styled song. 9 Minutes long it is larded with lush tapestry of guitar and keyboard interaction, held together by Landenberg's polyrhythmic changed and odd time signatures. It would be too easy to dismiss Philosophobia as a Dream Theater clone, as it is rooted deeper in the stylistics of Landenburg's Mekong Delta past. On top the band switches atmospheric lush sections to driven metal passages like the piano pulled mid-section with its cinematic meandering soundscapes.
In the meanwhile, Ballnus fires on all engines unleashing intense riffage and wonderful solos. It finds more high ground on the following ,,I am", which is opened with towering breaks and lamenting riffs underneath the colorful guitar playing of Ballnus. Highly melodic it unwinds into the dynamic hard-hitting metal section, with Papaemmanouil adding a melancholic note to the scenic pasted sphere created. Mega melodic is the chorus and bridge, with memorable melodies and powerful executed vocal interaction. Odd time signatures take over, casting a dark ominous feeling. Bring in Gildenlöw's fine feeling for drama and avantgarde structures and lamenting musical creations, and you'll soon find this to be signature new prog for sure.
MELODY AND HOOK
Papaemmanouil echoing Barlow reminiscent sound is duetting with a high top-voice pulling from a Geoff Tate-like register, evoking classic Queensrÿche turmoil. The intensity and variety of vocals is insane, adding to the intricate structures of the song. In the meanwhile, the song morphs metal with staccato keyboards and rousing riffs. Gildenlöw and Landenburg keep pushing the envelope on one another's performance, laying down a powerful dynamic foundation with sheer marksmanship. It contrasts with the ominous and modern ,,Time To Breathe" with its pointy melody and hook. Meandering subtle guitar plucking and raffling drums transform frequently into dynamic prog pulled eludes, building up to the wonderful chorus and ditto middle section and blunt force end.
Much like its serene middle of ,,Thorn In Your Pride", ,,Between The Pines" is a warm but sombre meandering piano track with wonderful vocals from Domenik and wonderful weeping solo, smoothly leading us into ,,As Light Ceased To Exist" which opens with piano and cello arrangements. The violin's melody is unexpectedly (but uniquely) taken over by Ballnus' guitar. Low bass lines plough through the mix, with Domenik desolate angsty vocals resonate through in the distance. The song's highly melodic even with the loud and commanding riff repetitive fired. Polyrhythmic drum patterns and jazzy elements unloaded, the song remind of Dream Theater as well as more ominous progressive Evergrey tracks. Pain of Salvation comes to mind occasionally during the dynamic lush ending and melodic chorus.
INSTRUMENTAL SONG
Going metallic, the staccato opening chords of instrumental ,,Thirteen Years of Silence" slowly come forward in the mix to start duelling with powerful keyboard swirls and stop 'n go drum patterns which intensify with every break and time change. Bass is low and colorful, as is the swirling tingling piano. It is jazzier than ever, without losing its metallic characteristics. The keyboard solo is excellent and adds to the songs poise.
Comparable is the riff and drum drive during the opening of ,,Voices Unheard". Though entirely different Philosophobia managed to grip its exact timing without repeating it. More powerful building towards its chorus with Domenik belting a great job. Powerful, anger-laden vocals, echoing powerful howls and melodic chant-like singing interchanging constantly. The song again starts to morph in sound and scenery with aggravating musical interaction to return to its powerful whaling form. ,,Within My Open Eyes" is brought to life with lush piano and string arrangements. Papaemmanouil shifts back to a mumbling delivery with darkness lurking. Staying close to its opening format, the song gets injected with a heavy reverbing guitar riff and harmonic bass delivery.
Shifting back again, the solo is Gilmour-ish and modern sounds add to the melancholic setting of the track. Clean in the mix the vocals feel somewhat out of place, though perfectly in line with its melody. Suddenly fading out the song returns with meandering instrumentation gravely building up to a discord of melody and time changes with chants adding to the sombre tense ambiance.
FINE SONIC AND CINEMATIC EXPERIENCE
There's so much going on, with each and every track in unique sound format cut to size, that `Philosophobia' ensures listening pleasure experienced with every run. Shifting back and forth in emotion and sonic accolades, the album is one of my top picks of progressive releases. Every song grabs, and keeps growing perpetually. It goes deeper than Leprous and Wheel, easily dismisses later Mastodon records, and kicks the living crap out of Dream Theater. Plus, it cross blends all of the members' previous releases into a fine sonic and cinematic experience.
Philosophobia delivers one of prog metal's finest releases of these pandemic twenties!
Listen and Buy`Philosophobia' HERE