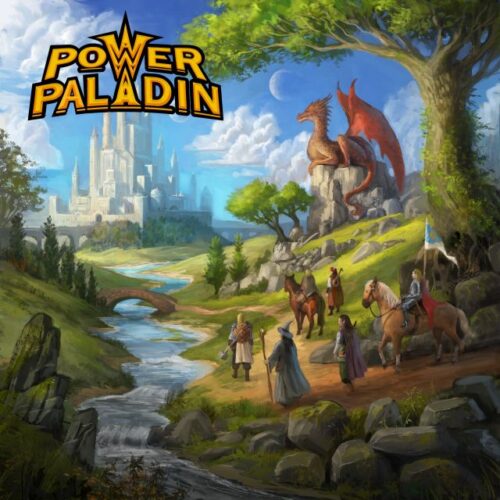 Review | Power Paladin – With The Magic Of Windfyre Steel
Atomic Fire Records
It is not often that you come across power metal bands from Iceland. The island in the cold North Atlantic Ocean is mainly known for its black metal, death metal, atmospheric bands…. and Björk. As a matter of fact, Power Paladin says it has a 100% market share in their home country. It is admirable that these six youngsters decided four years ago to go for the music they like best. They are highly influenced by Iron Maiden, Dio, and Helloween from the 80s and bands from the second wave of power metal such as Edguy, Rhapsody and Hammerfall.
Also their love for fantasy games and books from authors such as Brandon Sanderson (American author of epic fantasy and science fiction, best known for the Cosmere fictional universe ) and Joe Abercrombie (a British fantasy writer and film editor) doesn't remain unnoticed. Their tenacity paid off because they are signed by new German label Atomic Fire Records and have their debut album 'With The Magic Of Windfyre Steel' released shortly.
FANTASY LYRICS
,,Kraven The Hunter'' was the first track they wrote. The album opener absolutely nails it regarding power, melody, vocals, guitars (even an acoustic part) and lyrics. Including (twin) solos, great riff and gang-vocals. Their Influences are clear and they don't deny it. This song even stayed into the Icelandic charts for weeks.
Lyric-wise every cliché is on the table. Every word that can be used in the fantasy lyrics is present, from magicians and sorcerers to dragons, castles and eagles. But it is done with such a conviction that it doesn't bother me at all.
WELL STRUCTURED
,,Righteous Fury'' has some folk influences and is fast like DragonForce with ditto solo's. ,,Evermore'' starts as a ballad, with a beautiful piano and orchestral arrangement by keyboardist Bjarni Egill Ögmundsson, before bursting into a song about sorcerers, eagles and so on.
,,Dark Crystal'' is well structured. Atli Guðlaugsson proves to be a very versatile singer, the steady rhythm section (Einar Karl Júlíusson-drums, Kristleifur Þorsteinsson-bass) lays a solid foundation, both guitarists (Ingi Þórisson and Bjarni Þór Jóhannsson) are in their element, riffing and soloing and as icing on the cake, there are cool key parts where needed.
The medieval intro of ,,Way Of Kings'' reminds me of Iron Maiden's ,,Fear Of The Dark''. But comparisons with any of their favourite bands can be made throughout the album. The song title is not surprisingly also the title of a Sanderson novel.
MAJESTIC
Not one single song disappoints thanks to the variety within the material, be that ,,Ride The Distant Storm'' (fast, bombastic, with catchy piano part and key solo) or ,,Creatures Of The Night'' (floating, with wailing guitars in the mid-section).
'With The Magic Of Windfyre Steel' ends with the best songs of the album. ,,Into The Forbidden Forest'' contains a majestic orchestral arrangement and a middle section that could be easily used in a movie. It's bombastic and it fits perfect. And what better than to finish with ,,There Can Be Only One'', again beautifully structured with over the top vocals and a worthy ending of this very convincing debut.
That, and the perfect production, the ear for detail in the arrangements, the heaviness but also the ever-present melody, show the love these guys have for the genre. You can hear the fun they have and that is what music should be all about. Highly recommended.
Release date: 7 January 2022