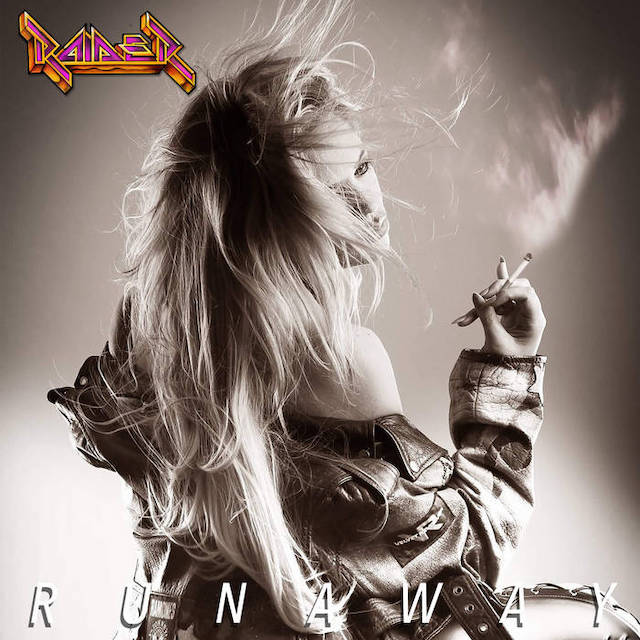 Review | Raider – Runaway
Raider Records / Independent
The artwork feels immediately familiar with its Winger reminiscent logo and Legs Diamond (Town Bad Girl) atmosphere and model. Raider is a rock band from Wales and is fronted by The Voice-contestant Mike Platt, releasing their first full length album upon the masses. Those into 80s and 90s rock are in for a treat.
THE BINDING FACTOR OF RAIDER
Sterling melodic riffs and swirling keys take position unleashing opening track ,,Dusk 'till Dawn". A swagger packed slick melodic rocker with wonderful playing and appealing melodies. The hooks and chorus are nesting, but it is without any doubt vocalist Platt is the binding factor of the band. His vocals are high pitched and versatile, delivered with tremendous confidence and precision. Reminiscent to the late Tony Mills of Shy, he hits the high registers while unpacking a serious rough edge displaying his depth in range. Balancing on the edge, I can imagine for some fans of the genre this to be a turn off, but Platt most certainly delivers a stellar performance, pulling forward the melodic rocking outfit Raider.
Just check out the simple but ballsy rocker ,,High Speed Woman" with its impressive flashy soling and spiting guitars, rocking out with a glam edge. Powerful hammered solid, drums inject the needed tempo, and its pulsating bass aligns perfectly. Keys swirling and pumping upward to the ponderous drums, pasting the atmosphere shut, while maintaining an overall electrifying clean output. Guitar solos are jawdropping brilliant, right on the 80s spot. Bedazzling and mega melodic. It all gels perfectly well combining the best of the hair metal and arena rocking era.
DEEP PURPLE & URIAH HEEP
Same goes for mega-melodic earworms such as the key pumped ,,Come And Get It" with its sterling riff and melody, or the wonderfully opened ,,Changes" with its great riff, pompous keys and remarkable hook and melody. It nests instantly. Double kicked with more contemporary keyboard sound and pace, the high speed ,,Sidewinder" fuses classic rock elements from Deep Purple (Hammond keys) and Uriah Heep (70s feel) with the 90s clean vibe. Great vocal interaction with multiple layers power it up, while lyrically it goes completely over the top. Mid-section there's a little bar 'n grill section with piano tingling up towards the turbulent and piercing end. Exactly what the album closer ,,Give It All You Got" also does well, etching in your head on the spot, again displaying Platt's versatility and appeal.
WHITESNAKE & TNT
Their current calling card YouTube video ,,Runaway" leaves little to no room for debate. Opened with a riff reminiscent to Whitesnake's ,,Bad Boys" the song features a heavy pulse which breaks from the opening and dives into an impeccable bridge and ditto chorus. Nesting like crazy with insanely high pitches by Platt goosebumps pop, morphing Mills into TNT's Tony Harnell's slicing top voice. Make no mistake here, as Platt also manages to touch a deeper emotion and not only refrains to his top voice. Shooting into gear with A-grade licks ,,We Had Tonight" also taps the same vein. Guitar and vocal interaction lift it with glorious stride. Slick and tacky it enrols its chorus with over the top choirs and vocal interaction.
When they shift back in gears, Raider definitely powers up in density. More compressed and overwhelming, with hit-single pretention. ,,Feel The Night" evokes a Marc Ferrari (Keel) color in guitar delivery, while the song itself nests with comfortable pumping keys and insane melody and chorus again. Definitely a keeper, as is the wonderful atmospheric ,,Memories", again crafted around some insane guitar melodies and powerful hook.
THE HIGHER RANKS OF MELODIC ROCK
Raider certainly caught me off guard. Not playing the album right away due to the little snippets I went through first, I admit it gave me the wrong signals. Only upon its second spin I got lured in completely. Raider is an outstanding band blending the best of 80s and 90s arena and glam rock. Bands like Tradia and Danger Danger come to mind, without missing the high testosterone levels of TNT and SHY, and not lacking the definitive Raider mark. It is not unique, but it all is delivered with utmost precision and sincere passion, fresh and varied, immediately touching base with fans of the beforementioned acts. Stellar guitar and vocal performances lift it to the higher ranks of melodic rock.
Listen in, and be amazed!