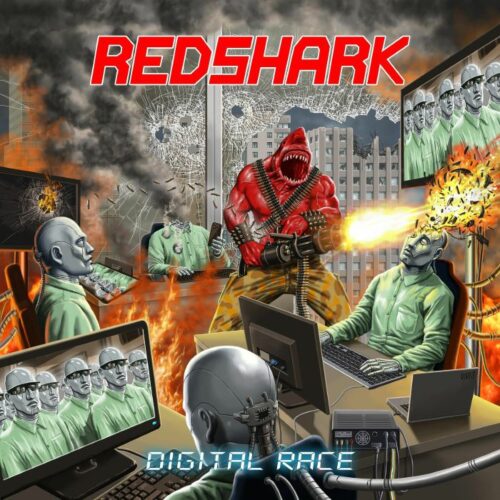 Review | Redshark – Digital Race
Listenable Records
Heavy/speed metal band Redshark hails from Barcelona, Spain and was founded in 2012. 'Digital Race' is their debut album as they only released two EPs ('Rain Of Destruction' (2016) and 'Evil Realm' (2019)) so far. 'Digital Race' features ten tracks and most of them are fast, almost speedy ones, sometimes reminding me of early Metal Church or Exciter. Opening track ,,The Drill State" is a heavy up tempo one with raw vocals from shouter Pau Correas and furious solos by the two guitar pickers Philip Graves and Javier Bono. Other speedy songs are ,,Burning Angels" and the title track filled with galloping guitar licks and thundering drums.
ODD ONE OUT
Redshark are also able to slow down a bit seeing the fact that the almost ballad ,,Pallid Hands" or ,,Never Too Late" are great tracks as well, but they are definitely not speed metal material. ,,Arrival" is the odd out one here as it is a rather spacy intermezzo filled with synthesizers soundscapes. It is followed by ,,Mars Recall", which is a 100% pure heavy metal song indeed. The absolute highlight is the last and also the longest song called ,,I'm Falling", as it really is a strong composition and 100% heavy metal, love it indeed!
So, Redshark's debut is a heavy metal album based by and influenced on the traditional metal of the eighties, which you should listen to for sure if you like your metal fast and heavy without further ado! However, last but not least, the rather childish cover leaves much to be desired, but then again there is no account for taste. Furthermore, only 38 minutes is rather short for an album or am I wrong here?
Release date: 25 March 2022