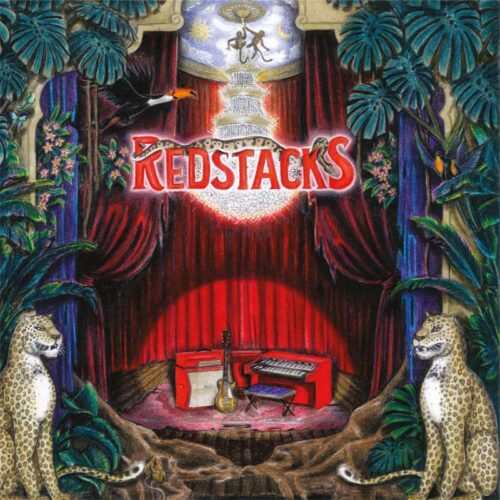 Review | RedStacks – Revival Of The Fittest
Pure Steel Records
RedStacks is the brainchild of Dutch guitarist Jouke Westerhof and keyboardist Jeffrey Revet. They met at the conservatory at Enschede where they first put together a school project (together with the later VandenBerg MoonKings rhythm section) and, although they went different ways, never lost contact. Jouke became a session musician while Jeffrey toured the world with his band Stream Of Passion.
GLORIOUS ROCK FROM THE 70S
A bit later, while touring the Dutch theatres together with singer Timothy Drake and the tribute band Queen Forever, they decided it was time to unleash their love for 70s hardrock and started making demos. In no time they had 5 songs ready, and things became serious. Because they do not sing, the search for vocalists started and resulted in finding 7 different ones. The opening track ,,Overture 1848'' on RedStacks' debut album 'Revival Of The Fittest' is sung by Paul Adrian Villarreal (Sun Caged) and contains many ingredients that come back in later songs. Immediately noticeable are the great harmony vocals, a cool arrangement, the catchiness and powerful but always melodic and comfortable sound. The influences are easy to identify, but that is the whole point. RedStacks doesn't want to re-invent the wheel, they simply want to share their passion for the glorious rock from the 70s.
GREAT HARMONIES
And it is pure enjoyment with ,,Oceans'' (sung by Martin van de Starre) and ,,Jealousy'', a mix between The Guess Who and Whitesnake with a great drive, sung by Jan-Willem Ketelaers (Knight Area, Ayreon). And what about ,,Dreamworld Junkie''? A boogie Deep Purple style with keyboard/guitar solo. ,,Mercy'' is more laid back and sung by the über talented Nick Holleman (ex-Vicious Rumors, Powerized, Sinbreed) who has a great vocal range, from very metal to very emotional and everything in between.
The only female lead vocals are by Burning Witches singer Laura Guldemond in the Rainbow meets Scorpions song ,,Mind's Eye'', and then we have ,,Dystopia Now''. Maybe it is the odd one out: rocky, theatrical, prominent organ, a bit Queenlike, not really surprising because it is sung by Timothy Drake (Queen Forever) and cleverly arranged like the closing track ,,Angels In Crime'' beautifully sung by Thomas Meeuwis, which contains great harmonies, TSO-like canon singing, fitting guitar and Hammond solo's, everything that is needed in a good song.
VINTAGE, OLD-SCHOOL SOUND
I won't mention all the songs on 'Revival Of The Fittest' because there must be something left to discover for the listener. What I can say is that the guys did a fantastic job. They recorded the basic tracks in three days with modern technology but managed to get this vintage, old school sound. Job well done and highly recommended.
Release date 21 January 2022