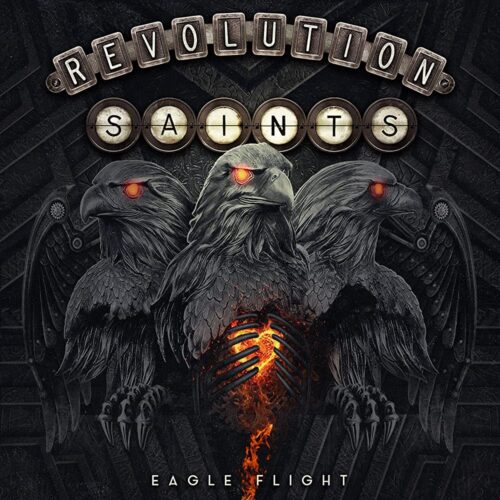 Review | Revolution Saints – Eagle Flight
Frontiers Music srl
After three well received AOR/melodic rock albums of which 'Rise' was the latest in 2020 apparently it was time for some changes in the Revolution Saints camp. Not sure if these changes were initiated by the label itself or that conflicting work schedules prevented a further cooperation between singer/drummer Deen Castronovo, guitarist Doug Aldrich and bassist/vocalist Jack Blades but in 2023 Castronovo has teamed up with guitarist Joel Hoekstra (TSO/Whitesnake) and bass player Jeff Pilson (Black Swan/Foreigner/The End Machine and Dokken).
To keep some familiarity in the Revolution Saints environment producer/composer/keyboardist Alessandro Del Vecchio stayed on board but then he is the staff producer of the label. Hmmn, would the label have thought about a new start for Castronovo who is the key man as this whole adventure was originally created to highlight the enormous singing capacities of the current Journey drummer, including a producer who had not worked with him before? Somehow, I do not think that was ever considered….
ANY SIGNIFICANT CHANGES?
Has the fact that Hoekstra and Pilson, who are just as seasoned as Aldrich and Blades are part of the project now brought any significant changes to the table? Well, yes and no. When you hear the whole album as a unit you can draw the conclusion that 'Eagle Flight' sounds a bit heavier and darker. And that is certainly not a bad thing. On 'Rise' you could notice that the novelty and the sheer class of the first two Revolution Saints records had worn off a bit. Maybe that was also noticed and possibly backed up by the less enthusiastic reactions that album received (still very good though) in order to make these changes. Who can tell?
REJUVENATE
So, a change and a slightly different approach was asked for in order to rejuvenate this project. Nobody than deny that 'Eagle Flight' sounds very energetic and at times heavier as well. Nothing wrong with that at all. As for the quality of the songs, there are certainly a bunch of strong songs there but towards the end it just fades a bit. The strength of the album lies clearly in the first three quarters of the proceedings with powerful and crunchy songs such as the title track (a daring start with its length of some 7.30 minutes), ,,Need Each Other'', ,,Talking Like Strangers'' and ,,I'll Cry For You Tonight'' (a power ballad) taking the lead. Everything checks out here.
Great vocals by Castronovo, a solid rhythm section and a brilliant Joel Hoekstra at times (''I'll Cry For You Tonight'' has a superb solo) embedded in a melodic total sound. A pity that towards the end the quality of the song material starts slacking to a mediocre level. For me the first two albums are not matched completely but 'Eagle Flight' is a touch better compared to 'Rise'. Maybe the change in personnel demands some time to make the musicians further gel together. A next album might showcase the full potential even better than that is the case now. But 'Eagle Flight' as a whole is totally solid and worthwhile having.
Release date: 21 April 2023