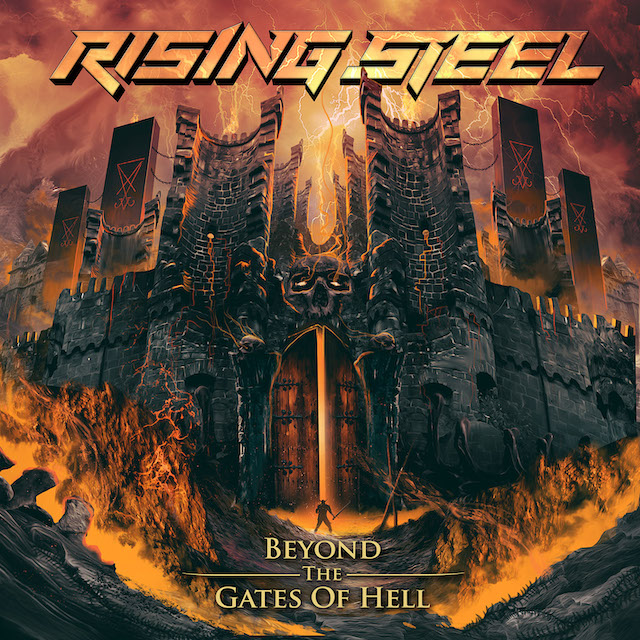 Review | Rising Steel – Beyond The Gates Of Hell
Frontiers Music srl
This third release of the French heavy metal formation Rising Steel is style wise not something you would associate directly with a melodic rock label like Frontiers, although this is the second release of this group for the label after the release of 'Fight Them All'.
RISING STEEL TAKE NO PRISONERS
The whole album makes clear that singer Emmanuelson, the guitarists Tony Steel and Steff Leadmaster, bass player Stone Warrior and drummer Steel Zard take no prisoners. The quintet does not mind a cliché or two as they work their way through ten straight forward metal songs. The screams, riffs and thunderous rhythm section, it all comes thick and fast. It is a heavy metal onslaught where the influences from bands like Malice (remember them?), Maiden, Manowar but especially Judas Priest are absolutely undeniable and impossible to ignore. Whether you like this kind of music or not, the power is relentless, the tempo fierce, the guitar work at times pretty impressive and Emmanuelson has a catchy aggressive streak in his voice. Not that he is blessed with an immaculate technique but he brings it across and he leads the band into metal heaven.
ONE DIMENSIONAL
The music is pretty one dimensional if you ask me, but I just can't deny that Rising Steel has got something that will appeal to fans of pure old style heavy metal. These boys release their message loud and proud with scorchers such as ,,Life Awaits'', ,,Death Of A Vampire'', ,,Skullcrusher'', ,,Beast'', ,,From Darkness'' and the forceful title-track. Ending it all is ,,We Are Free'', more a mid-tempo yet fierce rocker where again the riff rules the roost (this could have been a Metal Church track).
It might not sound very original perhaps but somehow, I don't think that these French dudes care about that. They play melodic heavy metal in its purest form on a record that sounds honest, a bit old fashioned but it surely kicks ass at moments. Sometimes a record does not have to be complicated to make an impression. Simplicity can have its advantages. Possibly only suited for the classic heavy metal fan but there are many around still that will appreciate the effort of Rising Steel.
Release date: 18 November 2022