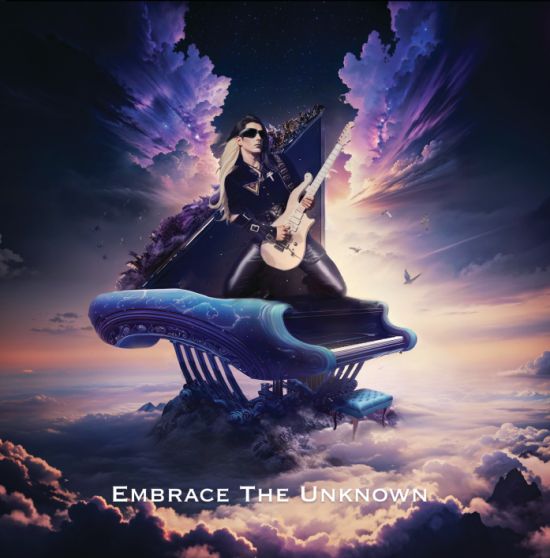 Review | Robby Valentine – Embrace The Unknown
Independent release
Robby Valentine constantly managed to impress his fans. Whether he was paving the way for dramatic pomp-rock and reviving the Queen-vibe or bordering pop with heavy rock, the man has become iconic in his musical journey towards stardom. Chart-busting the Dutch and Japanese/Asian market in the early 90s with his ballad ,,Over and over again", the composer and performer-extravaganza kept injecting powerful melodies and slick memorable hooks into pompous songs full of spiraling drama. Taking classic rock and Queen as clean sheet to present his own take on music, Robby has established himself amongst rock royalty, overlooked by the masses.
RECHARGED
With his eye-sight degrading rapidly, the colorful timid musician now faces a multitude of challenges. His career got overshadowed by degrading sight, Robby is more afraid of losing sight on his loved ones, his wife and daughter. His heart in the right place, the singer recharged to embrace the unknown, battling the darkness while radiating light!
BRACE FOR IMPACT!!!
'Embrace the Unknown' has Mr. Valentine releasing the most wonderful album of his 3-decade-spanning career. Packed with a ton of tracks easily finding way into heart of the listener and fans, the album is bold of gold to be mined. Emphasizing his abilities, the clean sheet presented, Robby Valentine creates some of his strongest and most powerful songs ever. He is on fire!
DRAMA AND POMP
Queen is being dismantled and left as Schlager-artists on the opening track. (Yes: blasphemous me) Building the most wonderful theme atop of the boldest melodies and hooks rock has yet discovered. ,,Break the Chain" is discharging an enormous amount of energy and musical genius, directing nesting melodies and hooks straight into the listeners heart and soul. The song lands like an Airbus Beluga XL on a tiny landing strip, harmoniously balancing its heavy load. Hammering drums, dramatic twists and rousing choruses are intertwined with sound fragments empowering the lyrical content. Fighting back, the song pitches high and touches all boxes of drama and pomp, bordering with glam. Colorful keys swirl, drums in stop 'n go motion, and Valentine adding his valor. Towards the end, the song becomes more stagnant and reveals its social critical views with a David Icke speech fragment supported by Robby's ominous piano strokes.
BROADWAY
Going green-tinted, Robby draws in Beatles signatures and choruses on the lush and cinematic ,,Don't Give up on a Miracle", where he fuses the Fab Four with Queen and Frankie Valli's Four Seasons. Delving even deeper in drama, Robby evokes a 'Sgt. Pepper's Lonely Heart Club Band' diversity of styles fusing swing and Lennon-psyche on the emitting Broadway-like ,,Life is a Lesson". He manages to unite the best ingredients of English rock's most defining glam bands and Styx era pomp with 30s toned swing.
Digging deeper, Robby roars loud and violently. Opened with the same swing that morphs into feelgood strum, ,,Never Fall in Line" is an acronym of the diversity the man can bring to the front. Multi-layered and close harmony segments fused to contrasting rousing guitars it oozes slick and brightness. The strut is tremendous and the song enrolls like an emotional rollercoaster.
VIM AND VIGOR
Another roller-coaster is the bass-growled ,,Roll up Your Sleeves", radiating extreme swagger with gigantic biting vim and vigor atop of the slick harmonies and pomp. Heavy and gritty guitars fused to the 'breaking' drums and parading hooks create the frame for Robby to shoot his intricate phrased vocal melodies into orbit. There's a Gun narrative feel copping the Queen pomp.
More progressive and rockier, Beatles 'Blue era' dominates ,,Shadowland" reviving the classic musical era of Lennon and McCartney while kicking May and Deacon in the nuts. Robby dramas-up the game, making Mr. Mercury and Sir Paul look pale around their noses.
ROBBY VALENTINE – POWERHOUSE MELODIC ROCKER
It perfectly glides into the ominous swirling keys of powerhouse melodic rocker ,,Take Me to the Light". Robby's vocals are full of drama and exchange frailty with exquisite outbursts of melodic mastery. The guitars are raw and riff-driven. Drums propel the insane dynamics and dramatic hooks. Guitars raining licks and riffs. Synth and sound effects add the twist of modernity on top of the classic structures.
BEST BALLAD RECORDED
Absolutely wonderful is the gut-wrecking ,,My Friend (in the End)" building on his best and most powerful ballads written. The song wells with emotion, with Robby belting out his agony over subtle mellotron and piano. Building power gradually, it is his best ballad recorded. Taking the dramatic turn of power-ballads one step further, ,,Show the Way" goes more cinematic. Modern sound effects and echoing drum effects extend the mood conveying Robby's emotions that haunt with their repetitive lyrical outpour. The song's solo is absolutely astounding, bordering with Vai, Petrucci and Prince.
APOTHEOSES
The apotheoses of 'Embrace the Unknown' is in the tail. Stinging with biographical content, the song is frail, welling with restrained emotional power. Robby looks introspective, searching explanation for his state and seeking refuge in his love for his family and his love for music. "I should have been a father, like my father was to me". "I should have been a husband, one you can depend upon. But I'm helpless like a baby now the clouds have blocked my sun". Fusing the influences with Styx-reminiscent structures dominated by heavy-ing up keys and hardening guitars and drums, Valentine makes waves addressing his present state and the unknown. I'm baffled and shaken deep in my emotional state.
"I should have been a rock star" … and "I rise like a tiger locked inside a cage", emphasize his worries and stride. Unable to find answers and refuge, he seeks solace in this album, radiating his state-of-mind and his presence-of-being over the loss of sight. "I must embrace the unknown" he belts out with withheld emotion and frail tone…
The glorious orchestration midway shakes up to the end, making the album go out in magnum opus.
BIOGRAPHICAL SOUNDTRACK OF A MUSICAL FANATIC
'Embrace the Unknown' is the 'biographical' soundtrack of a musical fanatic facing his utmost challenge. Calling out his demons and facing his future, Robby Valentine creates a compelling and tempting melodic rock album. Universally alluring Rob's new album perfectly adds to his discography. There's tons of Queen pompous theatrical drama weld onto the carcass of rock driven Beatlesque melodies and close-harmony vocals and melody structures with Valentine's own unique tricks of the trade.
Experiencing 'Embrace the Unknown' in its ominous and optimistic form, Robby Valentine shapes the future for his fans and listeners, inspiring those beaten to stand tall and face tomorrow!
Release date: 21 october 2023