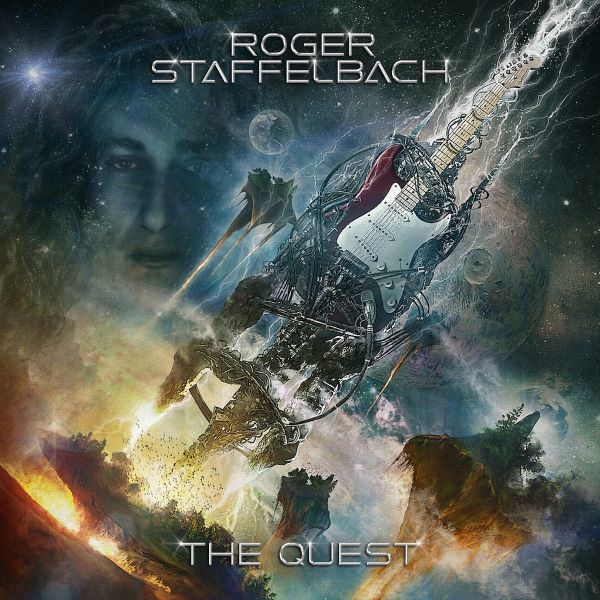 Review | Roger Staffelbach – The Quest
Limb Music / No Dust Records
With 'The Quest' Swiss guitar ace Roger Staffelbach has seen a long-time dream finally come true. Working with established rockers John Macaluso on drums (TNT/Yngwie Malmsteen, Michael Romero) and bass player Steve DiGiorgio (Testament/Artension) plus Argentinian keyboardist Ariel Perchuk, Staffelbach has delivered us an all-instrumental neo-classical melodic rock album that has also certain power metal elements in there. Helping him out in the studio were Masterplan-boss Roland Grapow as engineer while Simone Mularoni (DGM/Labyrinth) did the mix and mastering. We can say that Staffelbach has left no stone unturned in order to get the best possible result.
QUICK LESSON ABOUT ROGER STAFFELBACH
Who is Roger Staffelbach you might wonder? A quick lesson in history teaches us that he has been one of the leading figures of the neo-prog metal band Artension with singer John West and keyboardist Vitalij Kuprij producing no less than seven albums but he has also been active in Angel Of Eden (two albums) while some years ago he took part in the project band Artlantica with Italian keyboardist Mistheria and again John West. If you are a fan of neo-classical prog and melodic rock these names should surely mean something to you. If not, you must have been asleep on the job as especially Artlantica's album 'Across The Seven Seas' is a peach of a record while also the Artension albums are not to be missed. Furthermore, this former student of the Guitar Institute of Technology has done session work performing on two albums by Mistheria.
TONNES OF GUITARS
'The Quest' features guitars, tonnes of guitars. The ten tracks move somewhere in between the better work of Artension, Tony MacAlpine, Yngwie Malmsteen, Andy Gillion, Michael Romeo, Wolf Hoffmann, and Victor Smolkski. It is technical yet very melodic. It is not that Staffelbach sounds new or extremely original on 'The Quest', but without a doubt he does come across as being very inspired. The record has eight original self-penned composition and features two songs that are remakes of Vivaldi and Bach classics. The production of 'The Quest' is good if not excellent.
HEART AND SOUL
Staffelbach has poured his heart and soul in this record and had great help from Ariel Perchuk who has come up with some inventive interludes that really added flavour to the whole record. With a length of very close to 42 minutes Staffelbach avoids the record getting stale, as is often the case with instrumental albums that quite often drag on too long. For the guitarist this album is a tick on his bucket list and a pretty good one as well. Maybe only suited for the happy few perhaps, but nevertheless a damn fine effort.
Release date: 12 May 2023