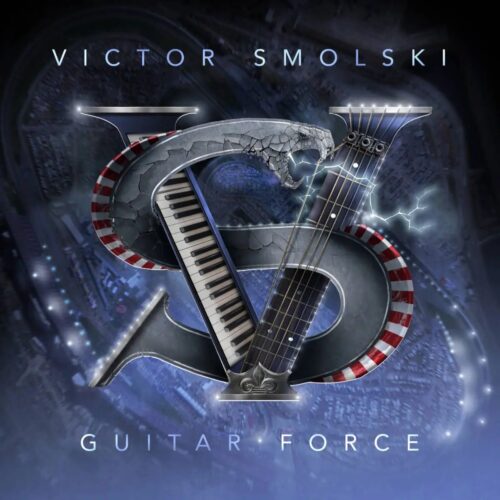 Review | Victor Smolski – Guitar Force
Massacre Records
Instrumental albums often are boring after a while. Not 'Guitar Force' by Victor Smolski and his companions. You might know him as a member of the German metal band Rage and more recently as the driving force behind Almanac, with whom he released some excellent albums with David Readman (Pink Cream 69) and Andy B. Franck (Brainstorm) sharing the singing. But both singers have parted company with Almanac so I am not sure if Smolski will continue with this outfit.
TAKING STOCK
Victor has not been sitting still though. He has been taking stock on his career with Rage and Almanac and decided to do something special with several song ideas he had for these bands in the past. 'Guitar Force' is a sort of 'best of' but then done as an instrumental album. Furthermore, Victor has been looking at some compositions by Johann Sebastian Bach and made some modern day interpretations of Bach songs. Obviously, the guitar takes centre stage in more ways than one here. In close to 59 minutes Victor Smolski treats us on his expertise on the electric and acoustic guitar.
STELLAR JOB
In my opinion Victor Smolski has done a stellar job, mixing heavy guitars with acoustic interludes, bombastic pieces with more laid-back bits and coloured it all in with luscious orchestral manoeuvres, adding bombast, melody and a lot of diversity to the picture. Several songs have a normal length, others have a play time of close to ten of even sixteen minutes, with most of the songs having a theme.
Taking care of production, mixing and mastering himself 'Guitar Force' has turned out to be an entertaining album with the title-track of the Rage-album 'Unity' (with Rage boss Peavy Wagner on bass) as the ultimate guitar explosion supreme. Fans of Steve Vai, Satriani and other guitar heroes should lend their ears to 'Guitar Force' as this is good, entertaining and at times very virtuoso stuff indeed. Smolski is a multi-instrumentalist on this album (keys, piano, sitar and cello) but first and foremost he is an excellent guitarist with all-round qualities. All in all, a very pleasant surprise.
Release date: 3 February 2023