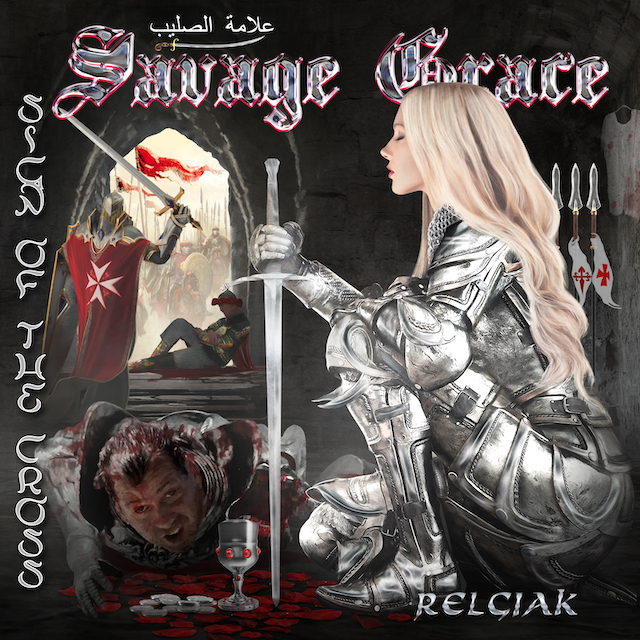 Review | Savage Grace – Sign Of The Cross
Massacre Records
Savage Grace is one of the true 80s heavy metal bands making too little impact. With their EP's and following `Master of Disguise' and its successor `After the Fall from Grace', the band gathered a solid following of devoted metalheadz while making serious impact musically. The band around founding guitarist Christian Logue fused melody and speed bordering heavy metal together to a sonic brew with appeal. Breaking to a bigger audience unfortunately didn't happen, even though multiple band members launched their careers. Gaining cult status over the years Logue rallied a brand-new group of friends to pull a new trick releasing `Sign of the Cross'.
SAVAGE GRACE – NEW VOCALIST
It's almost inevitable Savage Grace to mirror the new album to their previous classics, and with the great musicianship at hand, Logue and his men lay down 10 memorable classic metal tracks featuring their typical ingredients. Fused together by a near-conceptual thread about religion ('Relgiak') with its bland cover-art referring to the crusader heydays of Catholicism, the album however is not to be judged by its cover.
Logue's men proven to uphold the flag of US power metal proudly. With new vocalist Gabriel Colón (Culprit, Lynch Mob) he brings a potent singer to the helm, belting a varied range that holds the middle between Rob Halford snarls and pitches, and Lynch Mob's Oni Logan, leaning toward Gary Cherone (Extreme) in his Van Halen period a bit.
THE HEAVY BACKBONE
It is exactly what Logue's music needs and bridges perfectly to those cult classic albums many of us cherish. Another key element of this reborn Grace is seasoned drummer Marcus Dotta. He is best known for his work with Vikram, Kamala, Leather and (that other icon that left us) Warrel Dane. Though he steers the gears that power up the heavy backbone of Logue's tracks, Griffin McCarthy (Prong) is in charge of the throttle on the epic opening album track ,,Barbarians at the Gates", and ,,Rendezvous" with its wonderful guitar harmonies and great driving licks. It proves Logue's keen ear for instrumentation and tasteful guitar melodies.
Memorable hooks and guitar pitches pull forward atop the insane wallop of the songs. Bass player Fabio Carito's (Pastore, Suprema, Furya Inc, etc) qualities are in line with those of his predecessors Brian 'the Beast' East and that other beast on bass; Mr. Derek Peace. Transgressing the Crusader history into the present, Logue uses strong narrative fragments addressing the New World Order the elites dream of again, like on the `Painkiller' revival that is ,,Automon". Gigantic driven drums and riffs that have Colón drain his entire Halford register. He nails it, as does the rest of the band. The song is vigorous!
JUDAS PRIEST HOOKS AND MELODIES
The title track opens with Oriental chanting and acoustic plucking which suddenly starts to propel with heavy driven metal and double bass. The melodies memorable and nesting, Savage Grace delivers. ,,Land Beyond the Walls" also enters with a movie fragment in line with the concept, but grows in roaring metal anthemic strut. ,,Brandded" is the howling melodic slow mover that builds well and reminds of Heir Apparent, but has a disappointing simple chorus following the memorable harmonized bridge. Going all in melodic is ,,Stealin' My Heart Away" with its Reale (Riot) reminiscent guitar drive and structure. It is slick, and 70s rooted, but doesn't hold up between those heavy metal tracks.
No, it is wonderful tracks like ,,Slave of Desire" and ,,Star Crossed Lovers" keeping the pace high with unmistakable Judas Priest hooks and melodies. Warping us back to the 80s once more is the 'live' bonus track ,,Helsinki Nights", that adds little value. It does display Logue's warm feeling towards classic rock and remembers of Riot again.
SAVAGE GRACE – THE CONCLUSION
Logue and Savage Grace are definitely a band that needs to be recognized for their music more. `Sign of the Cross' features some of the better power metal tracks of the last couple of years, like ,,Automon". It connects the dots bringing classic ingredients back to the table, executed with craft and technicality. Unfortunately, the album features a couple of songs that are out of tone with the rest, not to speak of the album art.
Still, this is an album very much worth checking out, as it holds a couple of real firecrackers.
Release date: 5 May 2023