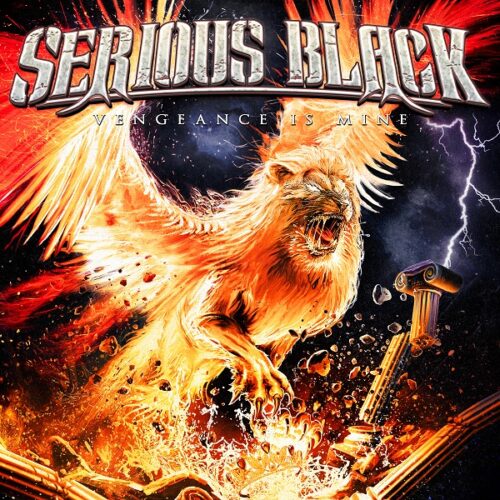 Review | Serious Black – Vengeance Is Mine
AFM Records
The new Serious Black album 'Vengeance Is Mine' is the first one without singer Urban Breed. Instead Serbian native Nikola Mijic may swing the microphone in full force. It also sees the return of guitarist/keyboardist Bob Katsionis, who was earlier part of the band between 2015 and 2017.
VIDEO SINGLES
Although the album will be released at the end of February, there are appetizers beforehand through four singles. 17 September 2021 saw the arrival of ,,The Story'', including an official lyric video, in October followed by the second single ,,Rock With Us Tonight'' (with official music video). The third song ,,Senso Della Vita'' (with lyric video), arrived at the physical and digital stores on 2 December 2021. Main single ,,Out Of The Ashes'' (again with a 'real' video clip) will be out on 7 January 2022.
`Vengeance Is Mine' is announced as the 'album of our life' in the infosheet that accompanies the promo material. Fact is that founder/producer/bassist Mario Lochert is very pleased with the outcome of this 'melodic' power metal album.
However, I think it is all a bit exaggerated. `Vengeance Is Mine' has certainly become a very digestible album. With richly guitar-filled passages, beautiful transitions and some unpredictable elements. The production could have been more intense for me because I do miss the oomph. A term often used among musicians when they talk about the production sound.
Other than that, 'Vengeance Is Mine' is a varied album and the fans of Serious Black will be more than satisfied with this new chapter.
Release date 25 February 2022