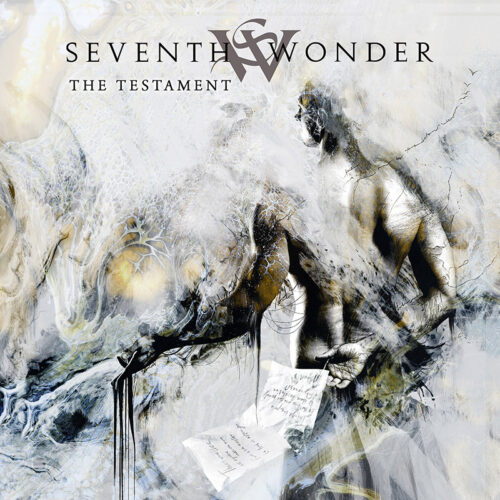 Review | Seventh Wonder – The Testament
Frontiers Music srl
With their fifth album 'Tiara' the progressive Swedish metal band Seventh Wonder delivered one of the very best albums in that genre that year, 2018. Founder/bass player Andreas Blomqvist, singer Tommy Karevik, guitarist Johan Liefvendahl, keyboardist Andreas Soderin and drummer Stefan Norgren (who appeared for the first time on a Seventh Wonder studio-release) really outdid themselves on that one after an hiatus in studio-releases of close to eight years.
ANOTHER GENIUS STROKE
'The Testament' is another genius stroke by this outfit. The album may only count seven songs but all of them are not to be sneezed at as they are all rich in variation and musical craftmanship that is almost second to none. What strikes me the most is the voluptuous sound that is at moments quite overwhelming. And although the songs have crafty arrangements and sometimes jump all over the place, everything is quite accessible. Seventh Wonder is a band with the ability to draw you into their music and keep your attention for the whole ride.
MAIN WEAPONS
The band has several main weapons at their disposal. First off, the song writing is really cool as the tracks are not only heavy at times but also intriguing at the same time. Even the scorching instrumental ,,Reflections'' is a track that will have you glued to your speakers with its blistering character. Another main weapon is without any doubt the presence of Tommy Karevik. When you play this sort of music you must have a singer who can change and adept to what the song needs. Karevik is in that way the complete package, combining power, reach and melody like it seems to be the easiest thing in the world for him. The man delivers a massive achievement on this record.
The third main weapon is the playful instrumentation. First of all, there is the massive foundation by Blomqvist and Norgren leaving all the room that Liefdenvahl and Soderin need to supply riffs, rhythm and extremely playful solos and interludes. I suppose the best example of a song where every piece of the puzzle falls together in a perfect manner is ,,Under A Clear Blue Sky'', with its 8.43 minutes clearly one of the hammer songs of the album. But also the beautiful and laid back ballad ,,Elegy'' is really enchanting. Both songs show how different this band can sound.
MASTERPIECE
Yes, I dare to say that 'The Testament' is a must buy for anybody that calls him or herself a melodic prog-metal rocker as this album even manages to surpass 'Tiara' and that album was already close to pure perfection. Seventh Wonder has upped the standard for the genre significantly with 'The Testament' and quite honestly, I do not expect that any album still to come out this year in this genre will manage to beat this masterpiece.
Release date: 10 June 2022