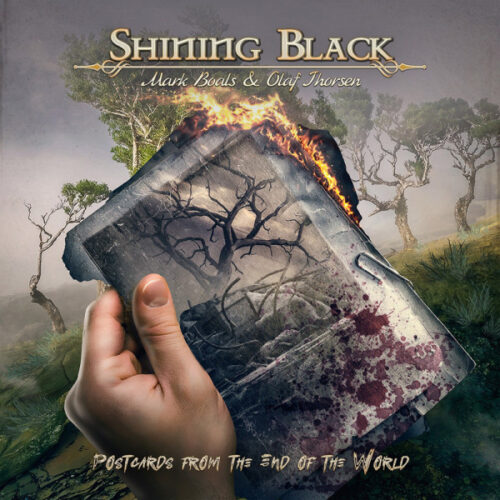 Review | Shining Black – Ft. Mark Boals & Olaf Thorsen – Postcards From The End Of The World
Frontiers Music srl
After a strong self-titled debut in 2020 vocalist Mark Boals and guitarist Olaf Thorsen are back with a sequel to that 2020 release. And I am pleased to say (and hear) that the duo together with drummer Matt Peruzzi, bass player Nik Mazzucconi and Oleg Smirnoff (keyboards and piano) have upped the level on 'Postcards From The End Of The World'.
POWER METAL GALORE
First of I must confess that I am a huge fan of Mark Boals. I just love his versatility and the way he can switch and combine styles in one and the same song. The man is for me the complete package but looking at his career some things most definitely went wrong for the 63-year old singer who is now fronting the Las Vegas based outfit Foundry.
I mean, working with Mister Malmsteen, Ring Of Fire, Billionaires Boys Club and Royal Hunt (just to name a few) has put Mark Boals on the map for sure but he still needs to do projects and session work to make a living. A lot less talented singers have become a household name but Mark Boals is only known to the happy few it seems. I find that hard to comprehend. With Shining Black Mark is back singing material that is right up his street.
HUGE PIPES
This record is filled with a bunch of power metal songs galore combined with an enormous amount of melody, razor sharp guitar riffs and solos plus very colourful piano and keyboard parts by Oleg Smirnoff, who really adds extra dimension to several songs. The partnership with Olaf Thorsen of Labyrinth was a long time in the making (Mark was scheduled some years ago to become the singer for Labyrinth). As far as I can judge it has brought out the best in as well Olaf Thorsen as Mark Boals whose huge pipes are fully explored and used to perfection on this record.
,,Time Heals, They Say'', ,,Faded Pictures Of Me'', ,,Mirror Of Time'', the title track and several others are a treat if you are into melodic power metal. For me this is one of the best records that Mark Boals has been involved with for a long, long time as it has all the ingredients an album in this genre should have. No fillers, enough thrillers and a great overall sound. Not to be missed as far as I am concerned.
Release date: 18 March 2022