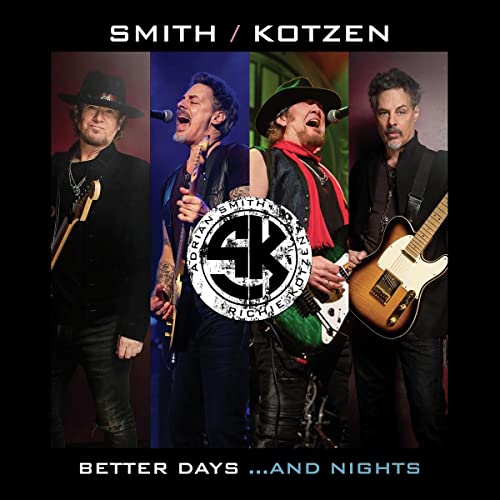 Review | Smith/Kotzen – Better Days… And Nights
BMG
The partnership between Winery Dogs singer/guitarist Richie Kotzen and Iron Maiden guitar slinger Adrian Smith was not only a surprise when they launched their 'Smith/Kotzen' CD in early 2021 but also a joy to hear. The duo both shared vocal and guitar duties and had excellent melodic heavy rock songs on offer. We knew that Kotzen was an excellent singer but Adrian Smith was a real discovery behind the microphone.
TOUR AND EP
Sometime later the duo also launched the four track EP 'Better Days' that for a while was only available via Spotify and on vinyl. In January and February of this year they toured in the USA and the UK and recorded some of their songs live. The CD 'Better Days… And Nights' sees the four studio songs from that EP put on CD for the first time and to make it a worthy release five live-songs have been added to the whole package.
The studio recordings of ,,Better Days'', ,,Got A Hold On Me'', ,,Hate And Love'' and ,,Rise Again'' are just as the songs on the regular CD excellent, juicy, full of scorching guitarwork while the vocal interaction between the two musicians is quite stunning. Especially on the live-tracks you can hear clearly that the two voices have bonded well together. They both have their own identity (as singer and as guitarist) and they fit together like Hughes and Coverdale once did in Deep Purple.
SMITH/KOTZEN IS HIGHLY RECOMMENDED
What can I say about this album than that it is highly recommended?! If you own the first album and like that one you know what to do, as this record follows it up nicely. Especially the extended version of ,,You Don't Know Me'' is finger licking good with the boys trading and sharing their duties with style and class. It seems that Mister Kotzen has more or less finished a new Winery Dogs album with Mike Portnoy and Billy Sheehan. Iron Maiden just announced a big tour for 2023. That leaves the question how long we will have to wait for a new Smith/Kotzen release. Hopefully somewhere next year the boys will find some time, as this project is just too good to be put on ice.