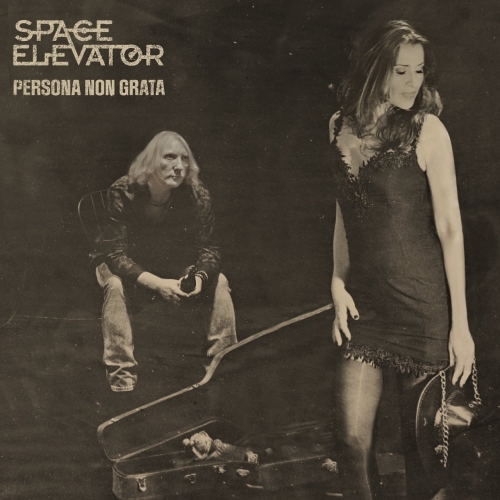 Review | Space Elevator – Persona Non Grata
On Stage Records
UK's Space Elevator might be the best kept secret in melodic and prog rock today. The band around creative minds David Young and The Duchess on vocals caught my attention with their 2nd album `II' several weeks after its release. An album bold with proggie melodic rock and powerful orchestration. Pompous and highly melodic, with easily nesting melodies. An album which later landed on my record player in vinyl format and provided many hours of sheer pleasure listening. `Persona Non Grata' is their 3rd album, presenting the band in pristine form. Again, rallying up a star-studded line up of musicians Space Elevator is shooting up.
SPAGHETTI WESTERN
Moody Spanish flamenco guitars acoustically open to a spaghetti western dense atmosphere over which The Duchess shines with her impressive range. Powerful with a polished edge and gritty as if Morricone himself ran point in its creation. Thus, opens part 1 of the title track ,,Persona Non Grata" to the 2nd chapter, which is a prog driven track with high recognizability. Stop 'n go breaks pull forward in a transparent pointy production with Duchess firing fiercely. Her voice is powerful and dramatic, adding to the powerful drama enrolling in the song. Pitch high short solo introduces the rant of The Duchess scattering to the songs powerful end.
It's remarkable how well-oiled the engine runs. Progressive breaks and stagnant drum patterns are fused with high potion riffing and jaw dropping soloing. Keys provide the dynamics, and pompous multiple layered density adds to the excitement for all proggies out there.
QUEEN – WE WILL ROCK YOU
Space Elevator's theatrical element hails from their West End past performing the Queen musical `We Will Rock You' rounding up the fine-tuned feeling for drama and melody at the same time. There are vivid strokes of 70s glam rock and pomp rock present without lacking pointy structures and memorable melodies bordering with pop. It all falls into place on ,,Duchess of this Town" on which the irresistible The Duchess howls powerful stretching her notes into oblivion. David Young lays down an intricate riff and hook to which Brian Greene's lush drum strokes add energy and poise. Extravagant bass lines from Neil Murray/Chas Maguire elegantly plop underneath with an appealing low-end sound.
Check out the 'rap' section of The Duchess glued to the powerful throbbing bass before Young starts some more jazzy fretboard wizardry. The exclamation follows with the heavy choir chorus with The Duchess howling soulfully. The whole section swings like crazy before diving into the AOR tinged ,,Passive Aggression".
JIMI JAMISON AND STEVIE NICKS
The song is crafted around the vocal line reminiscent to Jimi Jamison's Survivor track ,,Cry Tough", oozing the same Westcoast vibe. Though it comes across as a rip off, it vibrates immense nostalgia with The Duchess giving it a pulse and its memorable hook. Vocally delving deep with an emphasis on classic melodic power like the immaculate Nancy Wilson of Heart or Pat Benatar. As a Dutchy however, one name in particular comes to mind; Angela Groothuizen. She is one of the vocalists of 80s pop icons Dolly Dots and later recording two remarkable AOR albums with Angela & The Rude. The Duchess also has the radiating swagger and clear powerful range, without losing tone and precision executing bedazzling performances. The pre-chorus lifts the track and the chorus itself perfectly fits the highest AOR standards.
Shifting back two gears Space Elevator taps the emotional vein with a homage to Stevie Nicks on ,,Stevie Nicks Smiles". Better than before Duchess opens all registers making this performance shine. Nicely arranged the song features tasteful arrangements and nicely blended choruses exalting with the used children's choir in a towering finale full of pompous drama.
PITCH PERFECT
Followed by the jazzy piano ballad ,,First Girl on the Moon" the band quivers with elegance. As if smoke fills the room and brandy is poured, the songs warp you into the 30s of the 20th century. Another one of these powerful highlights is ,,Reverie and Souvenirs" in which Duchess blends Kate Bush-like vocal escapades with her dominant melodic voice. An appealing chorus with powerful singing eludes with A-game musicianship. Little twist is the Broadway musical extravaganza before Space Elevator orbits again. ,,I will Hold on to You"follows the same slow-paced path but is crafted around a rather cinematic opening. Also exploding with emotion, it displays the richness of marksmanship creating. Pitching high, The Duchess reveals her extreme skills; pitch perfect.
An electro vibe is casted over the opening of ,,Richie (See you later Baby)". The song is crafted around a backbone of prog keys/piano and staccato drums and rigid riff. THE Duchess pulls the vehicle forward in hard rocking motion, no holds barred. It's a sheer melodic prog spectacle with dense vocal layers adding a flamboyant pomp power. Star castle on steroids, blended with Jim Steinman signature bombast.
Again, gripping back to their musical-career the joyful and jazzy feelgood track ,,Cheerful Frank" adds even more variety to the colorful sonic palette. Performed with such grace it simply can't fall out of place with this band. Extending their varied reach on the funky toned ,,Love you better" the band completes the fusion of styles. Spacy, funky and ballsy it flowers with great guitar-vocal interaction and throbbing bass playing.
PROGRESSIVE MUSICIANSHIP
Elliot Ware provides the precise amount of keys, either swirling or pumping up the tracks in density. Tasteful guitar layers are making it rock and the drum and bass interaction is vivid and astonishing. Swinging or rocking, always perfectly paced matching the presented mood. The band displays a wide array of musical variety dating back to their musical careers, exploding with heartfelt passion and joy. Classic melodic and AOR dominated melodies, while progressive musicianship is laced with extravagant rich structures held together by an impressive performance.
Fronted by the radiant The Duchess the band has an immaculate ace in their ranks, performing with grace, power and passion. An eyecatcher gifted with impressive talent. Space Elevator is one of prog rock's finest bands around and it will be a matter of time before their Elevator shoots over the top floor, orbiting the band's career into outer space.