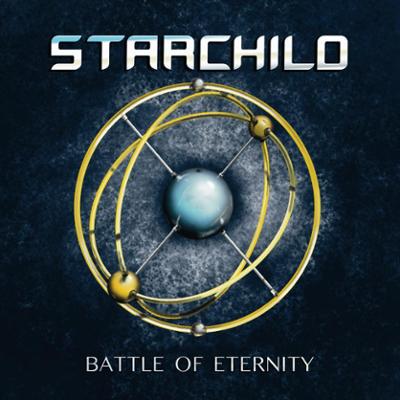 Review | Starchild – Battle Of Eternity
Metalapolis Records
This German quartet Starchild has been active since 2014 and 'Battle Of Eternity' is their third record. Founding member Sandro Giampietro (guitar/vocals) has seen some changes since that year but is confident in the current and revamped line-up with keyboardist Andi Pique, bass player Tom Nendza and drummer Sascha Barasa Suso. And so he should be!
MUSCLE AND MELODY
The eleven-song release is a fine example how to combine the right size of muscle and the right amount of melody. Giampietro is certainly not shy with his hearty riffs and flashy solos throughout the whole album and he is also a capable singer, at least for the type of songs that Starchild plays. You can hear old elements of bands like Deep Purple and Europe combined with moments that Starchild brushes shoulders with the melodic metal genre. 'Battle Of Eternity' is not shifting musical boundaries but with songs such as ,,Silver Rain'', ,,Tame'', ,,Roses'', ,,House Of Ghosts'', ,,Error'' and the feisty title-track Starchild delivers a certain amount of quality that should be heard by a large army of rockers.
UP THE LADDER
I had never heard of this group and are not familiar with the two older releases 'Killerrobots' and 'Starchild', but I am impressed with this effort that in all aspects has quality on offer. Good songs, a good execution and adequate production. There are enough ingredients here to help Starchild a few steps up the ladder. A pleasant surprise!
Release date: 4 November 2022