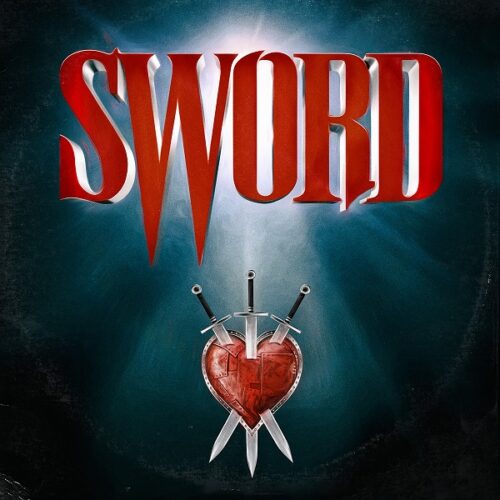 Review | Sword – III
Massacre Records
This is a comeback I had not ever expected. Power and heavy metal quartet Sword hail from the state of Quebec, Canada and in 1986 they (in my eyes) delivered the metal album of that year entitled 'Metalized'. Also, their second album 'Sweet Dreams' (1988) was impressive and the band, consisting of singer Rick Hughes, left-handed guitarist Mike Plant, bass player Mike Larock and drummer Dan Hughes (brother of Rick) were well on their way becoming one of Canada's main music export article touring with for instance Motörhead and also opening for Metallica. With their pure metal approach, scorching guitar solos and the unbelievable power of Rick Hughes Sword really stood out. In fact, both albums are essential to have in your metal collection.
ALDO NOVA
After 'Sweet Dreams' it was the plan to record a new album with Aldo Nova in the picture as producer. But that third album never arrived and instead the band disbanded only for Rick Hughes to turn up in the band Saints & Sinners. With Aldo Nova producing the album entitled 'Saints & Sinners' turned out to be a melodic heavy rock gem, being one of the best albums in 1992 with Nova doing a stunning job on the production side of things. But that album did not sell (maybe because it had a bit of a glam character as well) and a year later the band fell apart. Rick Hughes recorded an album in the French language, with rock-based music called 'Train D'enfer' (Mike Plant and Dan Hughes participated on that record).
REUNION
Throughout the years the band members always kept in touch with each other and there was a short reunion in 2011. By that time 'Metalized' was re-released and five years later 'Live Hammersmith', a live album recorded in 1987 while on tour with Motörhead saw the light of day. The band even did some gigs in Canada and Europe. After listening to some old demo tapes the quartet decided to give it another go. Signed by German label Massacre some 34 year after the release of their second album 'Sweet Dreams' a third one is ready for release.
TIME STOOD STILL
Hearing the eight songs on 'III', it is like time stood still all those years. It is a logic continuation of 'Metalized' and 'Sweet Dreams'. Mike Plant sounds impressive, the rhythm section is as intensive as can be and Rick Hughes has not lost anything of his huge range and power. It is a pity that the album is relative short (not even a full 35 minutes) and one or two songs are maybe not that strong (the short instrumental ,,Surfacing'' for instance while also ,,Took My Chanches'' starts a bit flat before the second part of the song really goes off). But then, this is a trip down memory lane for a band that never ever was given the chance to show their full potential. And 'III' is a metal album folks, with fast and exciting songs and performances.
TRADEMARK ALBUM
'Metalized' will always be their trademark album but it is good that Sword has made a heavy comeback and has their first gigs on the agenda in the new year. For the time being only in Canada but don't be surprised to see them turn up on a European festival next year. With kick ass songs such as ,,Dirty Pig'', ,,(I Am) In Kommand'', ,,Bad Blood'' and ,,Unleashing Hell'' there are several pieces of evidence that Sword still has what it takes. It might sound a bit old fashioned but the sheer power and execution off it all makes up for a lot. No idea how long Sword will last this time (they are now veterans) but what else can we say then: welcome back boys!
Release Date: 25 November 2022