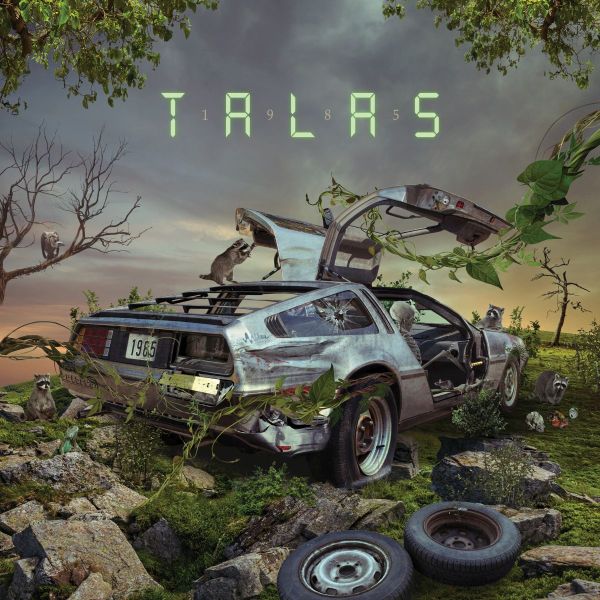 Review | Talas – 1985
Metal Blade Records
Bass player extraordinaire Billy Sheehan has revisited his own musical past by reuniting with the band Talas, the band that brought him into the limelight in 1985 with three albums of which 'Sink Your Teeth Into That' was the most prolific (the first one 'Talas' was self-financed and the third album was a live-registration 'Live Speed On Ice' ). When Sheehan got an offer to join David Lee Roth that was the end for Talas at the time. The recordings of the '1985' album took place a while ago with original drummer Mark Miller and vocalist Phil Naro yet again on board. Only guitarist Kire Najdovski is new.
PHIL NARO
Sheehan announced somewhere in August 2020 that he was reforming Talas with Phil Naro as singer. At that time Naro was already battling serious health problems. Phil was diagnosed with tongue cancer and he died from that on May 3, 2021. This '1985' album was one of the last things he did in his music career that led him to bands like Chain Reaction and Coney Hatch and various guest appearances. No doubt Talas will release this album in his honour.
'1985'
Billy Sheehan consciously made the decision to try and stay as close as they could get to the original band sound back in the eighties, the same spirit, approach and techniques. And when you hear the entire album and you are familiar with those old albums, you can only come to the conclusion that Sheehan, Naro, Miller and Najdovski have fully reached their goal. Including the in your face bass sound and exploits that characterised those earlier Talas albums '1985' sounds exactly where the band left off with 'Sink Your Teeth Into That'.
Sparkling songs, crispy arrangements and in good Talas-tradition a song in the form of ,,71Hd h'' (which translates as '4 Phil', written upside down) that is a virtuoso bass solo by Sheehan of some 2.34 minutes. It will remind you of that other monster Sheehan recorded on 'Sink Your Teeth Into That', called ,,NV 43345''. Sheehan demonstrates once again his unique hammer-on technique that makes him sound more like a guitarist then a bassist.
SWANSONG
But also other tracks like the fast and loud first track ,,Inner Mounting Flame'', ,,I'll Take The Night'' or ,,The Power To Break Away'' are songs that could have been written all those years ago. To say it simple: '1985' is the logical sounding fourth album of a band that has come to us some 35 years later. It all sounds so authentic, genuine and heavy. And Phil Naro has delivered a swansong that is almost second to none….
Release date: 23 September 2022