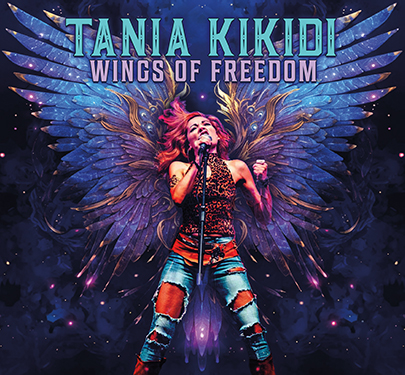 Review | Tania Kikidi – Wings Of Freedom
Grooveyard Records
A little over two years ago female singer Tania Kikidi hailing from Greece released her first rock album in the English language entitled 'Rock & Roll Paradise'. She worked closely together with Stavros Papadopoulos who wrote the songs, produced the album, and played guitar. There were also some guest musicians on call as well. It was quite an appetising record with Tania showing to be an all-round rock singer.
IMPROVEMENT
Here we are, some two years later and Tania Kikidi is back with a vengeance. Again, working with Stavros who this time played all instruments and according to himself using some 'technology' for the drums we are curious what, she has on offer this time. 'Rock & Roll Paradise' proved that she could sing and that she had a big set of pipes. On 'Wings Of Freedom' she has put the vocal ladder even up higher and during some songs (,,Confession'' and ,,Heart Painted Blue'' as main examples) her reach is just incredible. Power, passion, and melody are the main ingredients that she brings to the table.
SASS JORDAN
I wrote in the review of 'Rock & Roll Paradise' that although Tania sounded heavier, she reminded me a bit of the great Sass Jordan. So how surprising is it to find a cover version of the Sass Jordan track ,,High Road Easy'' on 'Wings Of Freedom'? Not so surprising for me but it takes guts and courage to take on a song by Sass Jordan, as she is one of the best in the business. But Tania is on her way to be one of the best female rock singers in the business as well as her version is very strong indeed.
What is also strong is the total sound that Stavros managed to create. The whole record sounds cool, and Stavros lets that guitar rip on and off on this album with twelve songs. There is plenty of variety to be heard here but as Stavros is the main composer you hear a lot of classic rock influences in Tania's music. It is a style that suits her down to the ground, if you ask me. Obviously, the songs have been written with her voice in mind but as always is the case with Stavros Papadopoulos the riffs and solos are playing a very important role as well.
TANIA KIKIDI – THE CONCLUSION
Luckily 'Wings Of Freedom' counts several excellent compositions. I already mentioned the songs ,,Confession'' and ,,Heart Painted Blue'' but also the rock ballad ,,Foolish Lover'' is an absolute highlight for me. Yet again Tania goes all the way combining passion and power with a great vocal melody. When you hear other songs such as ,,Loud And Proud'', ,,Rise'', the title-track and album closer ,,Sea Of Tears'' (acoustic based ballad), the important variety factor is covered as well. I would have preferred for ,,Sea Of Tears'' to be somewhere halfway through the album perhaps as now the album has a bit of a fading end, but hey, if that is the only point of criticism for 'Wings Of Freedom' you must realise by now that there is not much wrong with this release.
Release date: 11 August 2023