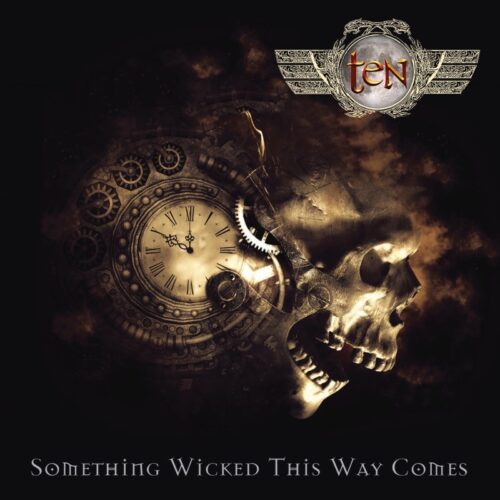 Review | Ten – Something Wicked This Way Comes
Frontiers Music srl
Less than a year ago UK rockers Ten, led by singer/producer Gary Hughes released the album 'Here Be Monsters'. The band made it known that actually two records were recorded in sequence and that the second one (which had no title at the time) would follow later in 2022. Later on, it was announced by their record company that the album, now titled 'Something Wicked This Way Comes' was scheduled for January 2023.
NO CONCEPT
In the past Ten released several concept-albums but made it clear that 'Here Be Monsters' and also this one would have no concept and were albums completely standing on their own. As per usual Gary Hughes and his men present us with an album that has a certain longevity, with songs that most of the time pass the five-or-six, minute mark. It has become a trademark for Ten, their songs need a bit of time to digest perhaps but have this growing impact. This album is no different.
DIFFERENT TASTE
Listening to 'Something Wicked This Way Comes' it becomes within a few songs pretty clear that this album has a somewhat different taste. 'Here Be Monsters' was a pretty smooth sounding melodic rock record in a style that was more or less typical for Ten. This one has a 'heavier' edge. The guitars are being put towards the front they have a more dominating role this time. That does not mean that the melodic and (partly) AOR-orientated style of Ten has disappeared completely or that the band sounds less playful but the difference is there, without a shadow of a doubt. And it is okay that Ten, with Hughes producing and Magnum bass player Dennis Ward doing the mix and mastering, has created these little diversions/changes in their approach of this record.
TEN IS STILL RECOGNISABLE
Mind you Ten is still recognisable. The main factor for that is that beautiful voice of Gary Hughes. The band has been in business for more than a quarter of a century in which some fifteen albums were created with Gary's voice taking centre stage. And it seems to me that in all these years and taking into account the several solo-outings of Hughes his voice and his strength has stayed strong and even has grown throughout the years. The conclusion is that 'Something Wicked This Way Comes' might sound a bit heavier at times but that certainly has not made the band sound estranged. They just added a slightly different direction to their repertoire.
Release date: 20 January 2023