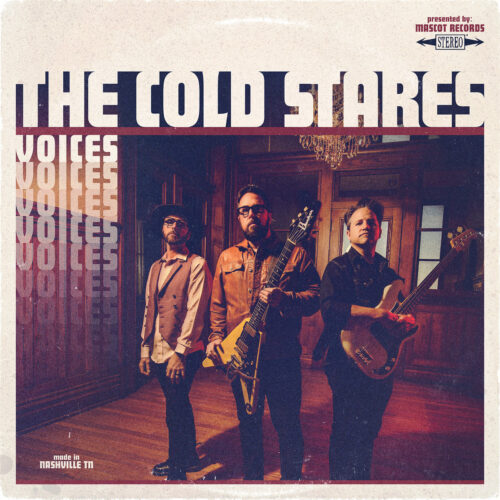 Review | The Cold Stares – Voices
Mascot Records / MLG
In August 2021 we reviewed the fifth The Cold Stares-album 'Heavy Shoes'. A record that was a pleasant musical cocktail of blues, rock and sounding slightly alternative with influences from classic bands like Black Sabbath but also Soundgarden. The band was only a duo at that time with guitarist/singer Chris Tapp and drummer extraordinaire Brian Mullins. In the summer of 2022 bassist Bryce Klueh joined the ranks and makes his official recording debut on the recently released sixth album 'Voices'.
IMPRESSIVE STUFF
What can I say? 'Voices' is filled with impressive stuff. Chris Tapp and his mates have the capability of finding the right musical ingredients that brings out the best in them. You want to rock with a bluesy feel? I suggest you try the first two songs ,,Nothing But The Blues'' and ,,Come For Me''. Songs with power, energy and feel. You want it a bit more sensitive perhaps? Try out the supersensitive ballad ,,Sorry I Was Late'' (goosebump material indeed) or ,,Throw That Stone''.
,,Sinnerman'' has a sort of 'tex-mex' flavour while songs such as ,,Thinking About Leaving Again'', ,,Got No Right'', ,,Waiting On The Rain'' and ,,It's Heavy'' rock along steady. 'Voices' (the title track itself is a real stomper built around a superb riff) is a record with loads of variation, still it has power all over it. The guitar work of Tapp is at times flavoured with effects while his voice is just mesmerizing. As sole songwriter he is obviously the core of this group without taking anything away from Brian Mullins and latest recruit Bryce Klueh.
ROOM TO GROW
On this by the group self-produced record The Cold Stares do show that even after some 13 to 14 years in the business there is still room to grow. This album is a bit different in comparison with its predecessor 'Heavy Shoes', yet the classic elements are there for the taking, a bit like what you hear with Rival Sons. Warm and sensitive but with enough power to appeal to a large audience. 'Voices' is a record that is for the long haul. The more you hear it, the more you discover and the more you learn to appreciate the efforts of this trio. I was sold the moment I played it…..
Release date: 10 March 2023