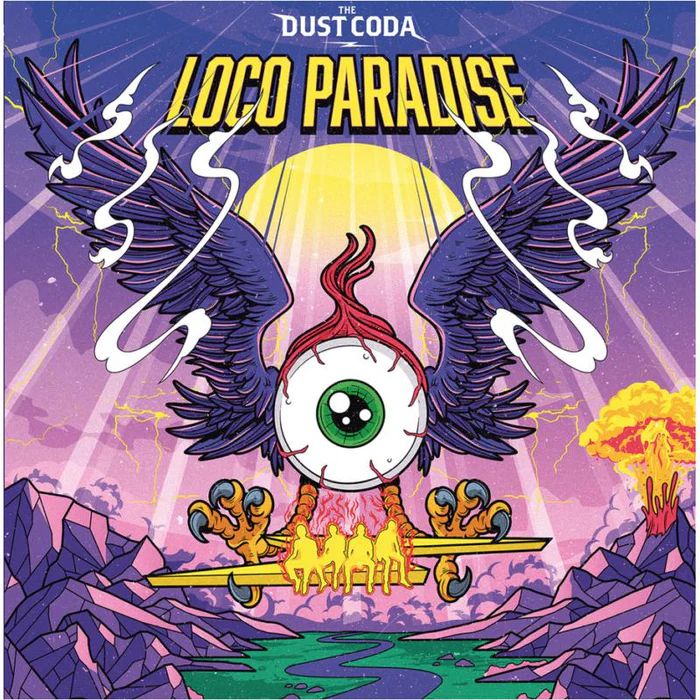 Review | The Dust Coda – Loco Paradise
Earache Records
We would like to put your attention on The Dust Coda, a band operating from London, England being led by Australian born vocalist John Drake and further consisting of guitarist Adam Mackie, bass player Tony Ho and drummer Scott Miller. They are standing for modern day rock with a classic touch flirting at stages with bands like Rival Sons and (the energy levels of) The Treatment and early AC/DC. Alternative meets classic rock with a bit of sophistication and a whole lot of exciting and up-tempo full energy heavy rock 'n roll.
CHAMELEON
Having recorded their third album as good as live in the studio with producer Charlie Russell (Kasabian/Wargasm) the quartet has the features of a chameleon. Constantly chopping and changing their music, able to reach a large rock audience but also capable of appealing to people who like their stuff brought in a more temporary manner. Because at certain stages The Dust Coda sounds like a contemporary rock-act. Still, with this record the quartet should be reaching a large audience. There is a clear thought behind it all. It is not that the foursome just jumps from high to low, from power to melancholic stuff, from up-tempo to more singer/songwriter material. Call it controlled madness, a spontaneous rock combustion that digs deeper than deep. The album title is for sure well chosen!
ALL SORTS
The songs on 'Loco Paradise' are of all sorts. Opener ,,Road To Hell'' but also ,,Call Out The Dogs'' and ,,Rock 'n' Roll Paradise'' will shake the fillings in your teeth as the band sounds on these tracks like a hurricane with a force of at least 200 km per hour. Drake is clearly the man to lead the pack with his expression and reach. It is hard to believe that the band also is responsible for more subtle work in the form of ,,Fairweather Love'' or ,,Come The Night'', songs that could have been in the repertoire of Rival Sons perhaps with their mood swings and in the case of ,,Come The Night'' a fierce kick as well.
COMING TOGETHER
But the real core and qualities of The Dust Coda are coming together in the melancholy ,,Since You've Been Gone'', the best track on the album in my opinion. Here subtle and furious grooves and elements are showcased in a six-minute epic track (starting out in a quiet manner but ending in a rage). As guitarist Adam Mackie said: 'Loco Paradise' is a complete piece of rock 'n roll ecstasy. There is something there for everyone.' I could not have said it any better myself. The Dust Coda is band that is not afraid to mix things up and most certainly a band that is bound to raise attention in the very near future! Warmly recommended indeed, so make sure you have a listen as this might be the next big thing!
Release date: 7 July 2023