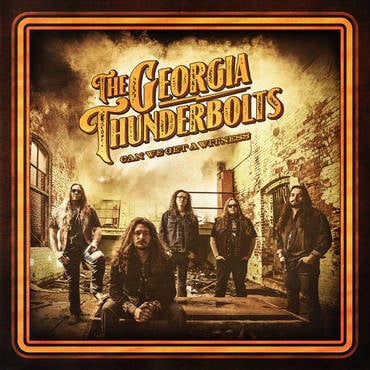 Review | The Georgia Thunderbolts-Can We Get A Witness
Mascot Records/MLG
It was just over a year ago that Rome, Georgia based quintet The Georgia Thunderbolts released their self-titled EP on Mascot. A new name in the southern rock genre that sounded traditional yet energetic. TJ Lyle (vocals), bassist Zach Everett, drummer Bristol Perry and the two guitarists Logan Tolbert and Riley Couzzourt definitely made a good first impression.
FREE SPIRIT
We are a year further and their first full blown record is about to hit the shops. The five songs that were on the EP have also found a spot on the with thirteen songs equipped album. A record that breathes a free spirit, a playful outfit that has learned its musical history lesson. Hearing songs such as ,,Be Good To Yourself'' where Lyle sounds like a younger brother of Bad Company's and Free singer Paul Rodgers or a blistering version of The Allman Brothers classic ,,Midnight Rider'' showcase a healthy education in traditional US and English southern and blues rock. And of-course the spirit of Lynyrd Skynyrd and especially that of Ronnie Van Zant pops up but I guess that is no real surprise.
NO COPYCATS
Still, The Georgia Thunderbolts boys are no copycats, far from. There where possible they try to give things a different swing, put their own stamp on the songs, sound and production. Traditional but, there were appropriate, with a modern feel, trying to connect the best of both worlds. TJ Lyle is a singer with a lot of expression in his singing. He does not hide his influences, but the way he brings it across is for me one of the more remarkable moments on this album. Warmth, feeling, reach and knowing exactly what your strong points are and also realising where his limitations might be. Accompanied by a warm instrumental environment provided by the swinging bass and drums, the solid riffing and the exquisite solos by Tolbert and Couzzourt, 'Can We Get A Witness' this group proves to the complete package.
POTENTIAL CARRIERS
Being an enormous fan of the southern rock genre and realising that the days of the bands that have carried the genre for decades have come to an end (The Allman Brothers Band) or are on its last legs (Lynyrd Skynyrd), it often made me wonder where the new blood, the genre needs so badly to hold up a tradition, would be coming from except maybe from a band like Monster Truck and established outfits like Gov't Mule, Blackfoot and Molly Hatchet. I might be completely wrong but, based on this album The Georgia Thunderbolts have recorded, I have very good hope that these lads might be the new potential carriers of the southern rock flag and movement. If you are into this kind of material it might be a very good idea to get to know this record. You will not be disappointed.