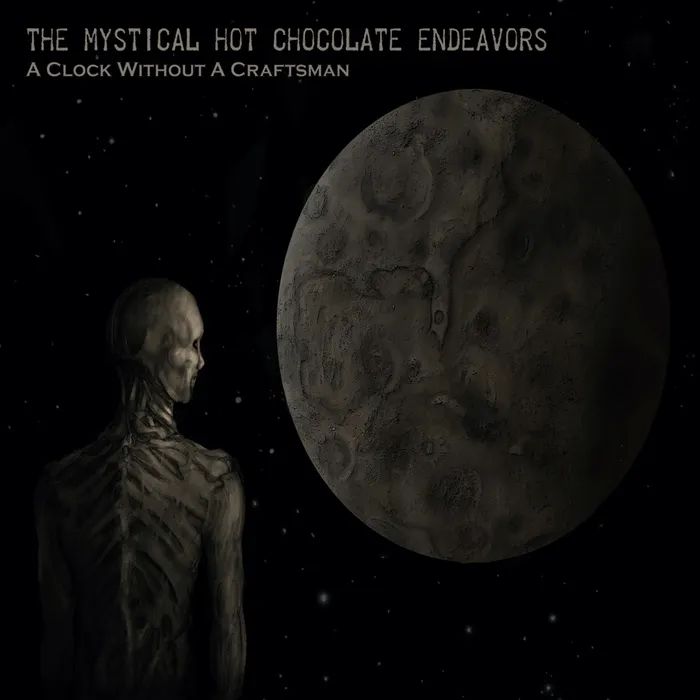 Review | The Mystical Hot Chocolate Endeavors – A Clock Without a Craftsman
Massacre Records
Their second full length album is a 99-minute-long concept album that launches The Mystical Hot Chocolate Endeavors' career in terms of creativity and musical identity. The album spans two cd's and conveys the inequity of uncertain times past, with the pandemic and its societal disturbance as focal point of the isolation of souls falling prey to the degradation of mental health. The story is timestamped by the ticking of the clock and time passing with the continuality of a timekeeper to monitor the outcome.
IMPRESSIVE PIECE OF WORK
How in the world is a band able to construct such an impressive piece of work touching all facets of the world in despair in a way woven into a storyline of a clockwork. Kubrick's unsettling 'A Clockwork Orange' comes to mind, as well as the steampunk heyday Rush revived with their 'Clockwork Angels' concept. To me the dystopian identity casted by Orwell's '1984' transfers onto this cinematic 2cd perfectly, gripping the outline of times past while injecting the musical diversity The Mystical Hot Chocolate Endeavors adds for an atmospheric underlayment of surrealistic motion.
Recording the album in its entire were William M. Candelario on drums, and Craig Harley Schmuhl, who took care of all other instruments and programming, while TMHCE recently added Tyler Novak for bass duties as well as Trevor Martin on guitars and keyboard.
KING BUFFALO
'A Clockwork without a Craftsman' shines with atmospheric progressive rock, tipping the metal balance due to utilizing heavy guitars and drums predominantly. The alt rock notes are making it a resonating endeavor which frequently prompt King Buffalo into my mind. Welling repetitive guitar patterns ignite sturdy mischief and the raining piano and keys drizzle down for discomfort.
Very serene the album is opened with the intro ,,The Clock" which summarizes the album with sound fragments and the clock ticking, while ,,Come Hell or High Water" sets the mood in a 13+ minute running creation full of unrest and upsetting chaos. Withering sections with of vocal craving tilt the scale and the craft is repeated frequently during long-spun compositions like ,,Present, but not Here" with its neo-prog hinges glued onto the dismay of its alt tones prog rock, as where ,,I'll never be" grips deeper into the alternative sector, with guitars strolling and strumming in powerful grit.
LONG SPUN EPIC TRACKS
Shorter compositions relay to crafting sonic ground for the long songs to be thematically build on. ,,It All has to Mean Something" bridges colorful and ,,Eye to Eye" reverts the instrumentation with vocals echoing over lush orchestration and burning synths reverbing. ,,AOTTFDTSR" follows the same path with meandering bass and distorted guitar strokes over a bass melody gradually picking up power. They create breathing points within the outrageous sonic uproar casted by the long spun epic tracks. Its diversity makes them pulsating organisms transferring messages onto music. Its variety of styles packed in the mashed-up combusted compositions are rich in texture and shapes, while being carved from progressive variety in its widest and most driven form.
Metallica tinged guitars open ,,Outta Sight Outta Mind" that sudden storms forward with gloomy magnitude.
SECOND DISC
,,How Much Longer?" opens the 2nd disc as a translation of despair casting off of the time past. The pandemic and its ideocratic rules followed are injected into a song that strums into a powerhaul of grit, with powerful surprising short drumbreaks and rhythmic patterns underneath the repetitively firing guitar melody droning. Absolutely marvelous is ,,Sorry" with its dramatic instrumentation and off beat drums and time changes. It follows a smooth meandering path marked with internal suffering percolating through by the drums and throbbing bass pulse.
It pushes into the dawning raw ,,The Deceiver", evoking agony and despair whilst turning an English dino-prog part that gradually builds into a hammering drums amidst fierce firing riffs and raining keys that start to pitch into the piercing solo, before returning to its dino form with piano, plucking guitar and lush bass lines executed. The constant rift of emotions is a repetitive maelstrom of anger and bedlam.
SUMMARIZING TIMES PAST
Bells toll ,,In His Image" alive, the albums most gripping prog track. Running 15 minutes it touches all borders and emotions previously radiated, breaking way to the end conclusion of 'A Clock Without a Craftsman' summarizing times past, and how situations were dealt with. There's an outcall of unsettling agony and reeling that is embedded in the melodies and toned-down vocals reverbing with effects in solace. This solitude is brought forward and tied to an outspoken way culminating in action-laden progression of the song. Whaling guitars start echoing while drums and bass intensify amidst the dense orchestration and pumping keys, moving the song towards its dying seconds of dust settling.
The album is a long running endeavor packed with musical marksmanship and integrity. Its rich textured songs are adding to the distinct poise and discomfort of the songs making the story and message landing deep in the heart and mind of listeners. Though they need a heavy heart and heavy stomach to digest the narrative, it is all spot on.
THE MYSTICAL HOT CHOCOLATE ENDEAVORS – THE CONCLUSION
The lyrical content is thought provoking, rhyming a dystopian outcome with the past pandemic and its unsettling dictatorial behavior of those chosen into parliament. Democratically chosen, they more than once decided on the contrary of interest of the public while forcing rules and regulations down mankind's through that caused serious rifts in society as we know(n) it. Ruling against free speech and public disposition, the majority of people started rallying against elites and double agendas, in order to overthrow governments failing to handle the situation. The uproar and turbulence are captured on the gripping instrumental interplay that is the groundwork for the lyrical content questioning the situation and decisions.
Allow the album multiple spins to win you over, and you have a gem to cherish for longer last. TOP!
Release date: 11 August 2023