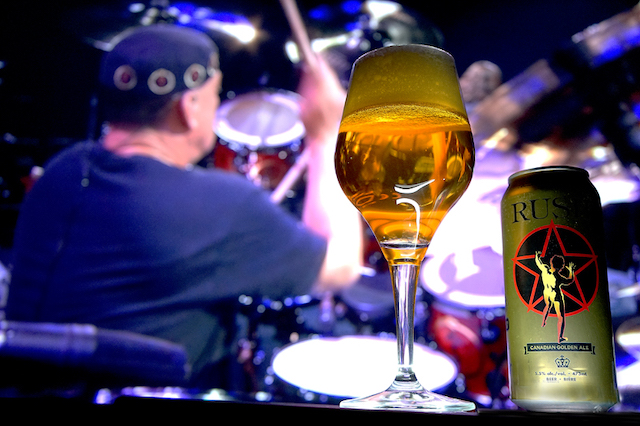 Heavy Hangover | Rush – Canadian Golden Ale
Craftbeer Test
In December of last year, after being sent from Canada to The Netherlands taking close to 3 months, the parcel arrived at my doorstep. Could it be?
My longtime schoolfriend Lodewijk Swinkels, son of the Swinkels family breweries' youngest generation, emigrated to Canada some years ago to pursue his career as brewmaster outside of our country. Being responsible for Dutch Trappist abbey-brewery La Trappe for most of his career, he was one of the European brewers experimenting with the craft and lagering beers aging on specific barrel types to enhance their flavor.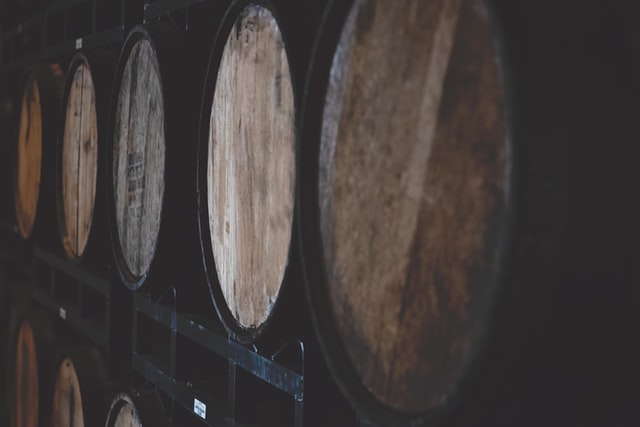 THE OAK BARREL
Dark Ales extracting and fusing with the taste of its previous contents left in the oak barrel, intensifying its flavor and deepening the beer's taste palette. Wine barrels, whiskey barrels, rum, etc; the experiment was on. Those batches released as strictly limited editions found their way to the heart and taste buds of many craftbeer aficionados all over Europe. A frontrunner in his craft.
And not only is Lodo a craftsman when it comes to rich tastes and beers, he also is a devoted long-time Rush fan and prog rock lover like yours truly. Our connection was forged during our teenager years travelling to many prog and rock gigs, and festivals. When Rush finally returned to European soil after a hiatus of 11 long years, we were there! When they returned, again we celebrated.
It was likely, but still not expected, that he would make the effort to send me a can of the Rush brew…. And, he did!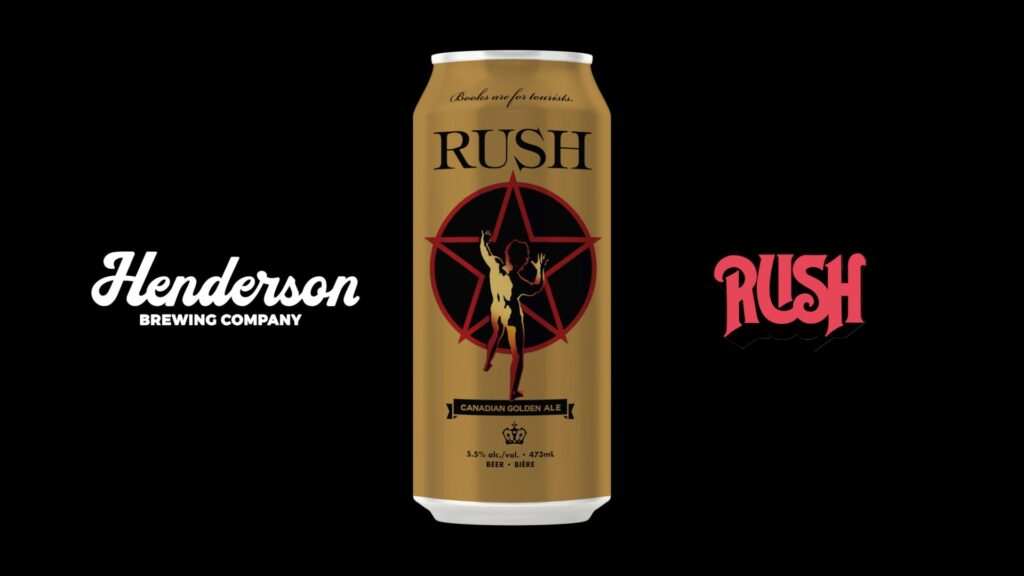 HENDERSON BREWING COMPANY
I was baffled hearing of this news last year. Rush making their move in the beer industry by starting a collaboration with Canada's Henderson Brewing Company was surprising. With the band's remaining two members Geddy Lee and Alex Lifeson actively involved, what to expect. Raising the excitement both appeared in a teaser video entitled "What's Vat?" in just days prior to its actual release in August, the beer scientist (Alex) and beer drinker (Geddy) are on tour at the Henderson brewery (or "Factory" as Ged calls it). It immediately made clear the band's close involvement tying their band name to the beer. Revealing to have tried no less than 20 different brews before coming to a selection of only 3 with Lee asking if "one is shorter than the other" referring to the 3 members of the band and 3 stooges nickname. Displaying the fun all members seem to always have together, it perfectly builds to the launch of the beer itself.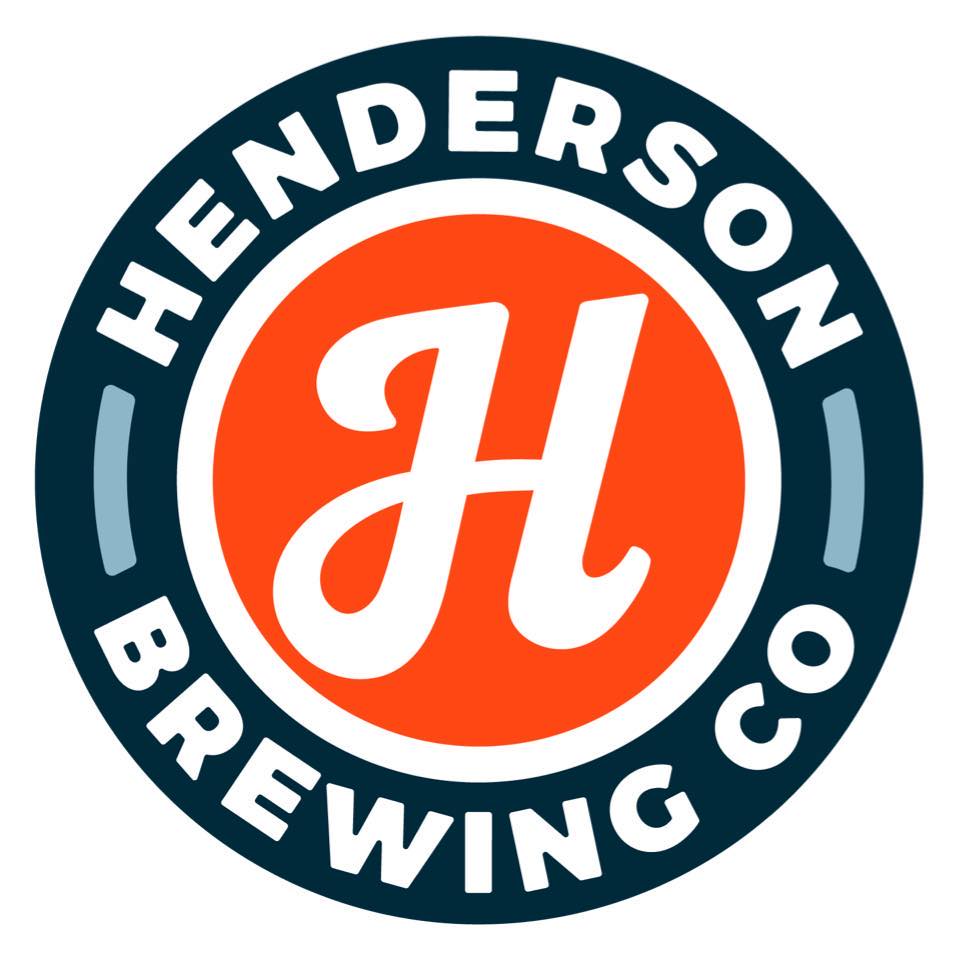 MICRO-BREWERY
Rush chose Henderson as they are one of the fastest growing micro-breweries in Canada and have won many gold medals for their brews. One of them is their flagship known as Henderson's Best, a 5.5% English Amber Ale that has garnished several national awards and is one of their best sold beers. International praise they received numerous times over the last decades as well. Their extra special bitter Bridgeview and the immaculate Winter Seasonal Stout, initially brewed for Canadian expats, that brought home international gold. An endless line of high-quality brews making the collaboration obvious.
As is true with all of Rush' ethos; quality is key. It didn't hurt that the band's hometown brewery also had a love for the band, given Henderson had previously released a 'Put Your Scarf on Geddy' limited edition Canadian Imperial Stout in 2016. The link was established and the collaboration came to form in the Summer of 2020 with the prototypes being tested. It was mandatory for the beer to stand out in quality and be accessible for the masses targeting a wide array of fans. Refreshing and uniquely Canadian was the framework, and with the band's complex music as benchmark, the beer also needed have a slightly complex edge. Rush Canadian Golden Ale features all of this, and a bit more, as proven below in my review.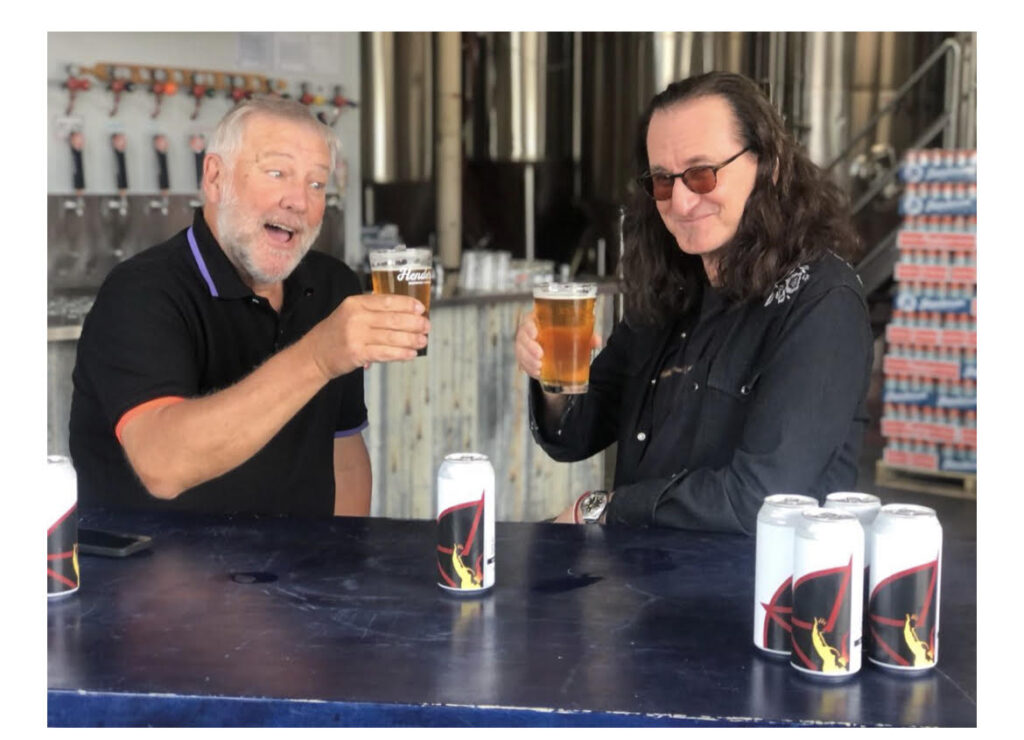 SHARING STORIES
With the launch at hand another video surfaced of 'Ged' and 'Al' sharing stories at the brewery with the band's guitar player and band-proclaimed beer scientist admitting he doesn't drink beer a lot, "only two or three times a day". Geddy states to like a cold one when he comes off stage. It gets really funny when Lifeson adds his corky twist: "Charlene and I had a big argument, she threw the beer in my face" to continue "I like that, because it's refreshing…. So much cooler afterwards". Geddy bursts into laughter choking in his beer with Lifeson adding "I think I might have peed a little bit when you did that…."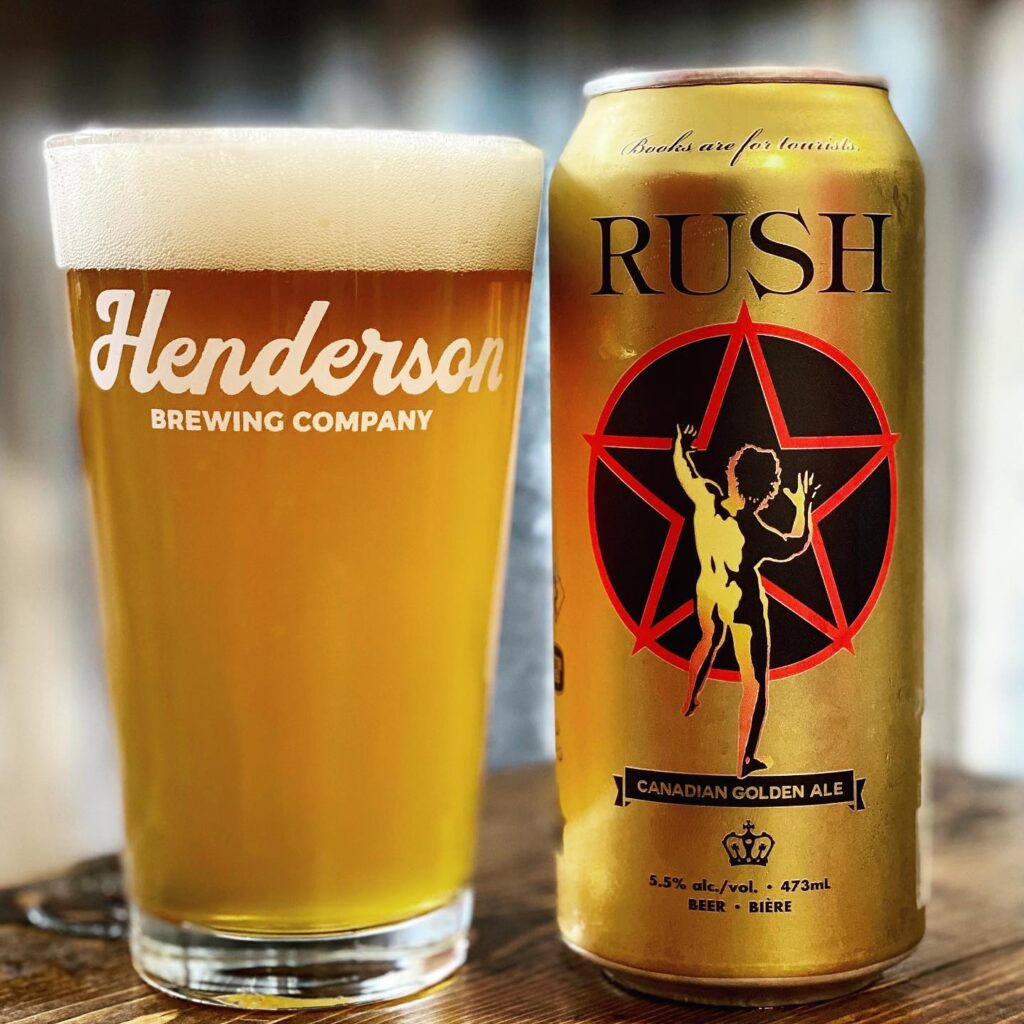 RUSH – Canadian Golden Ale
Golden Ale
5.5 % ABV
Not only did the band and brewery invest in this collaboration in terms of taste, the entire presentation is on par with the band's high demands. Slick golden 473 ml golden beer cans dispay an array of details from the band's long spanning career. Dominated by the obvious iconic 'Starman' logo, below its banner the stylized crown from the recent `Farewell to Kings' re-issue is present. On the left side of the can the `Snakes & Arrows' road sign from their live album is featured over the shield "Better Beers" taken from the lyrics of 1985 "Power Windows" featured "Territories", suiting the beer and present global changes. They both hoover over the (thin detail) 3 balls from the elusive `Hold Your Fire' artwork about which Geddy in 1987 explained: "The three balls, geometrically and physically create a tension in the way they're suspended. They relate to the balls of fire, as it relates to holding your creative fires."
On the bottom of the four graphics, we see the Rabbit in the top hat, referring to the band's 1989 `Presto' album. Needless to say, some of their devoted fans will go through great lengths to figure out the meaning of the four signs being integrated into the can's artwork. To me it is the detail the band is so famous for. Right side the Henderson logo is featured alongside the classic Rush logo from their debut album, emphasizing the collaboration. Nice detail is the statement "Books are for Tourists" while the other side of the can has "Beer is for Genuises".
Please note; though discussion on numerous boards state it to be "geniuses", it is misspelled on my cans and further investigation learned it to be featured likewise on their shirts offered through the band's website HERE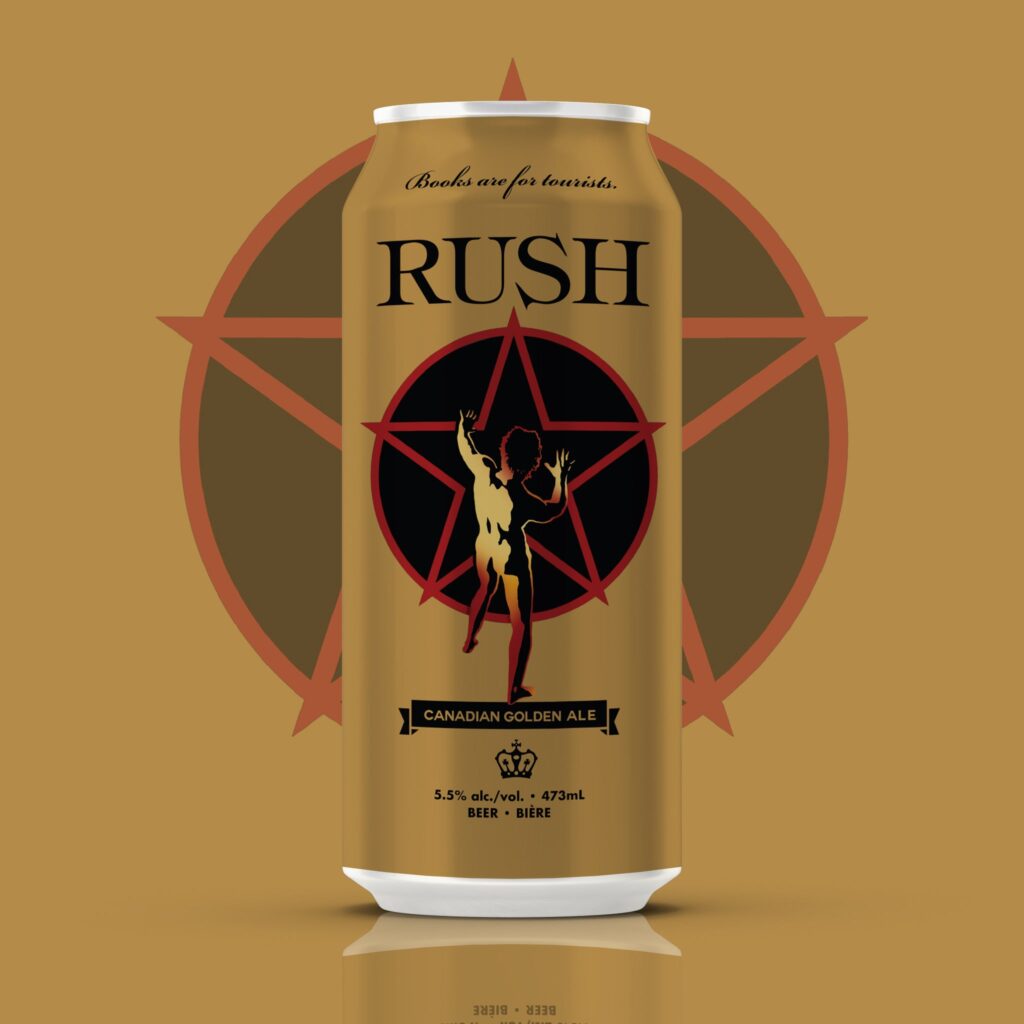 TASTE TO THE TEST
Poured, the beer has a thick foamy, and long-lasting, ivory/off-white head over the (dark) golden clear body of the beer. It perfectly lines up to the can's appearance in terms of color, making it quite an intense experience as Rush fan. The head opens to a nice aroma with nice crisp scent of pine and citrus, reminiscent to a lighter I.P.A. The malts are dominant and balance out the lighter notes of its hoppy aroma. Bit of bready crust with hints of rye in the malts giving the beer the aroma of a nice cross-blend of ale and IPA, matching expectations of an ale with a prog-twist. It has a ring of English ale present.
Cranking out `Power Window' upon this tasting, I reach ,,Grand Design'' with its moody into and throbbing bassline. Wetting my lips for a first taste the piney and citrussy tones work well with the beers creamy head opening to a malty flavor that is as crisp as the scent suggests. The beer has a light refreshing, but full taste dominated by its flaked rye malts. This is levelled by the crisp and refreshing flavor of the hops (sasquatch + Magnum) laying down nice outlines for an easily accessible, yet nicely comprised beer experience. Going for my first big gulp the beer reveals a more complex body with English reminiscence. Malts are present but subdued by the citrus and pine presence. Rich, crisp, refreshing, this Canadian Golden Ale is charming. The after taste and mouthfeel are dry medium bitter aftertaste with light resin relish and rye bread to be cleansed with another sip. Enjoyable.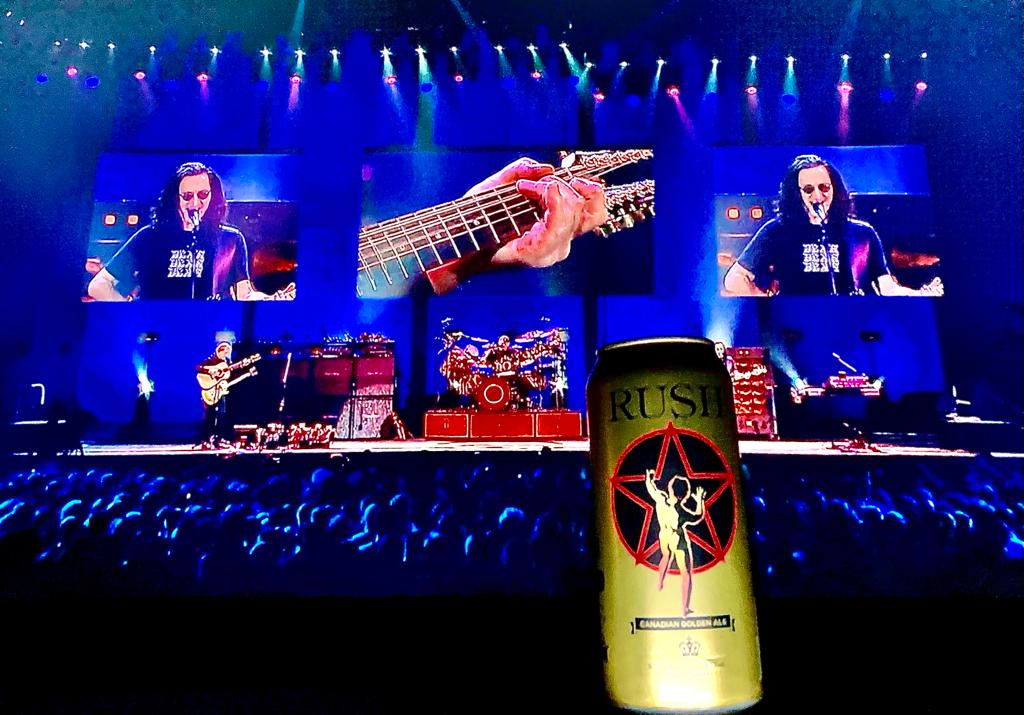 THE VERDICT
By the time I finished my first half pint glass, I am looking forward to empty the can while ,,Manhattan Project" blasts from my speakers. The intensity of the track and historic content enhance my experience and soon enough I'm bobbing my head.
Towards opening the second can ,,Territories" spins (including the scratch and crackle of my 36-year-old vinyl spinning. The screeching plucking guitar yields with me pitching it up together with Ged whaling out his "uhoooohohoooooo". Oh yes! Fist punching, and air-guitars being brought in to my right of the stage. Spotlights are on with me going totally moronic opening the second one with a bursting hiss. Time to enjoy images plus music and I continue my exploration of hops and malts in front of our tv playing the Blu-ray recorded at the 'Ahoy arena in The Netherlands for `Snakes & Arrows Live'. Timeless in experience. But not enough beer to get shitfaced drunk.
Being judgmental towards the outcome (hence, it is 'just' an ale) I am pleasantly surprised by the richness of tastes and the beers long lasting flavor. Its low carbonation adds to the longer lasting experience and doesn't obscure the nice crispiness of the beer. Rush and Henderson definitely guarded the outcome to be a nice experience appealing to a wide audience of Rush enthusiast as well as being pleasant enough for craft-fans to enjoy. It is a beer you should be able to pick up on a hot summer festival-day or enjoy at a sport bar. There's a lot going for it and I can advise fans to pick it up. You'll never know how long this enterprise maintains.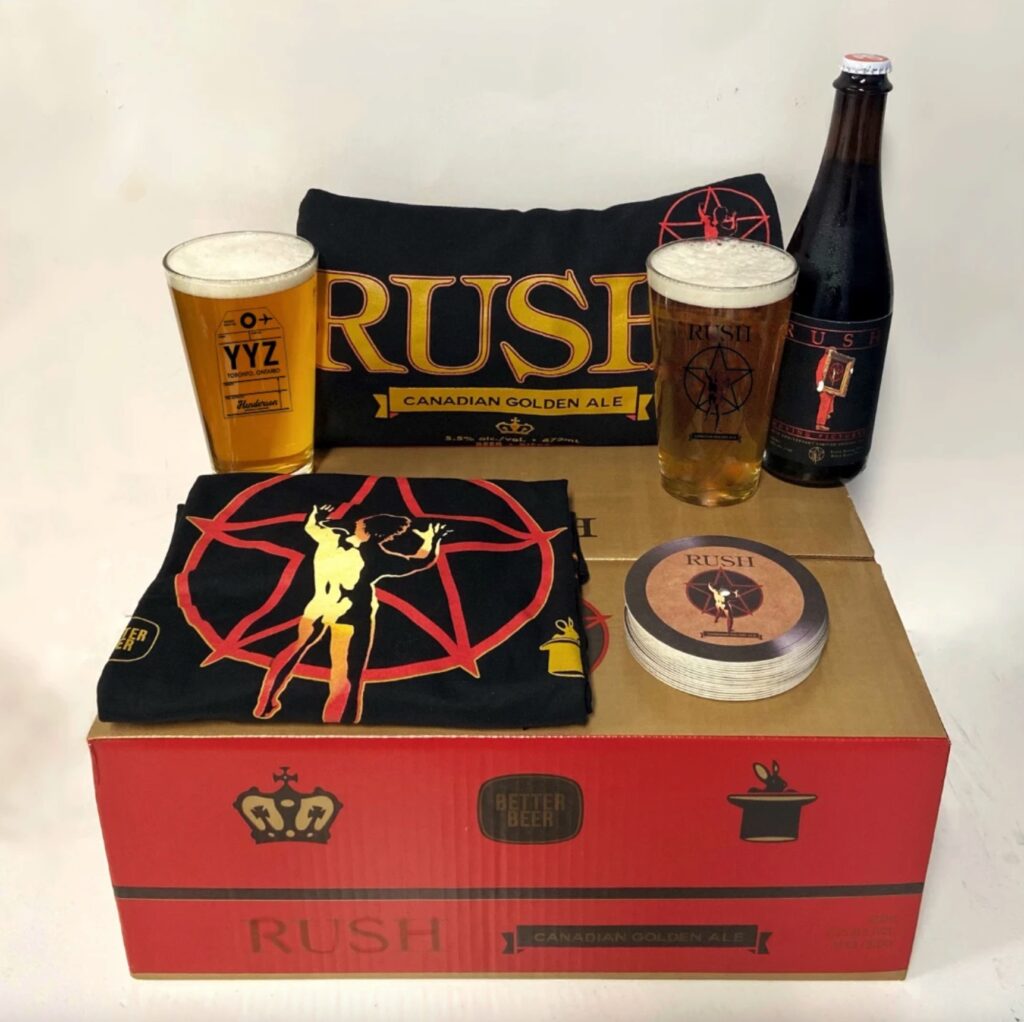 ADDITIONAL MERCHANDISE
In the meanwhile, both, band and Henderson Brewing's collaboration also saw a lot of additional merchandise come available. Where the band focusses on regular branded merchandise, the brewery adds more to the experience with steins and pint glasses, phenomenal vinyl-like coasters, shirt and hoodie, a stylish brass bottle opener, and golden stickers. The most immaculate of 'm all is the iconic tap handle with the band's debut logo and 'starman' over slick brass/golden handle.
Damn this looks slick éh?! HERE
Like the professor already said:
"We see so many tribes overrun and undermined
While their invaders dream of lands they've left behind
Better people… better food… and better beer…
Why move around the world when Eden was so near?
The bosses get talking so tough
And if that wasn't evil enough
We get the drunken and passionate pride
Of the citizens along for the ride"
Here's one to you, Lodo!
Pleasantly partying, I will.
Eternally grateful, I am…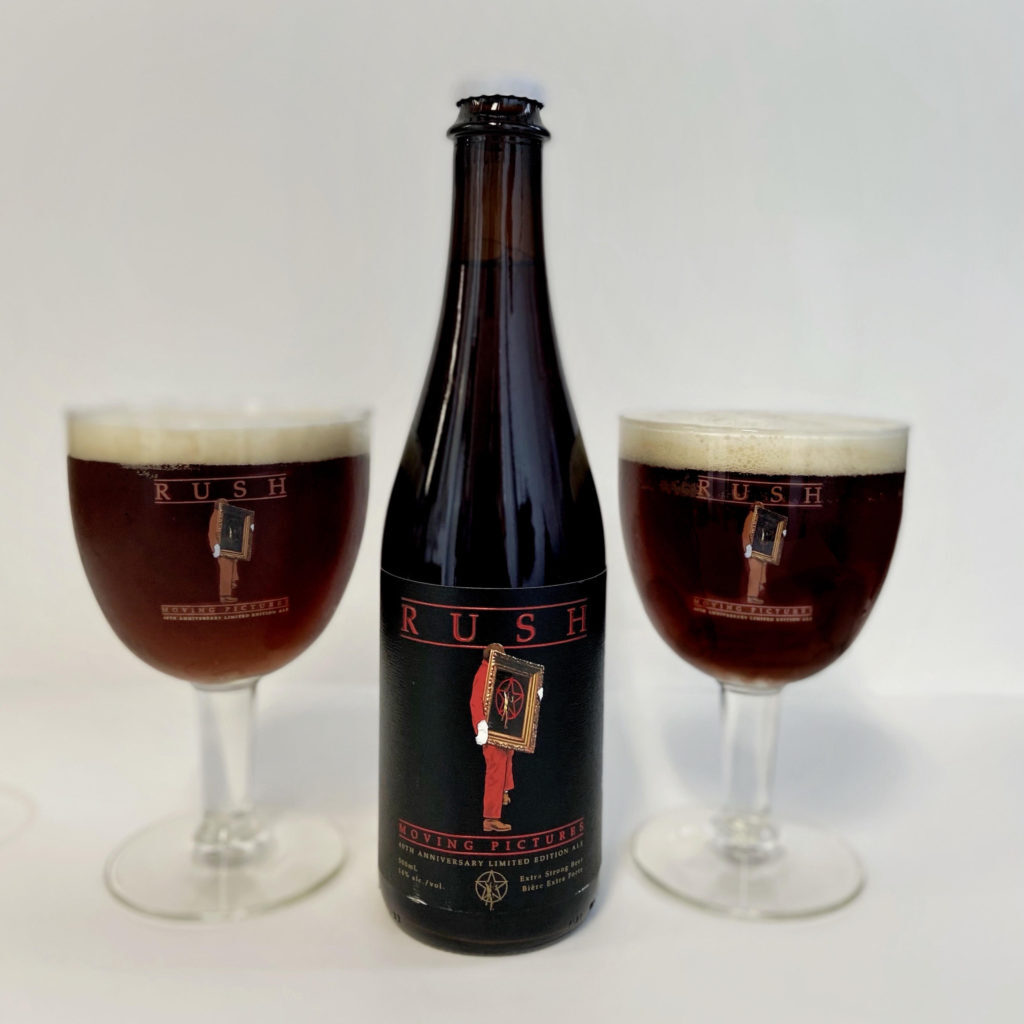 PS
Note that an extremely limited edition was released of 'Moving Pictures', a strong (14% ABV) Belgian Dark ale coinciding with the album's 40th anniversary. A special and hard to get release of which only 1.600 cases were produced just prior to last year's Holidays, making it an exceptional gift for devotees. Exceptional also as Henderson used real Riesling Grape must to enhance the beers sparkle and increase its bubble to 'spritzy' carbonation level.
Header photo by Edwin van Hoof
About
Highly succesful Canadian progressive rock power trio (Geddy Lee, Alex Lifeson & Neil Peart) that have been active from 1968-2018.
Genre
progressive rock, hardrock
Website
https://www.rush.com/
Social
Tags