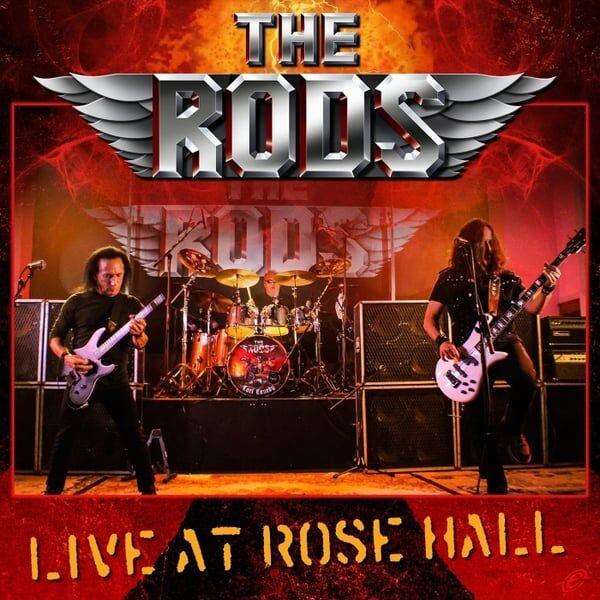 Review | The Rods – Live At Rose Hall
Independent Release
In 2008 legendary US metal band The Rods reunited. Since then they have released the studio-albums 'Vengeance' (2011) and 'Brotherhood Of Metal' (2019). Especially the 2019 release 'Brotherhood Of Metal' was a musical trip down memory lane. With hard and heavy songs about the good old days in the early eighties with scorching guitar work, thunderous rhythms and fairly simple lyrics. David 'Rock' Feinstein (guitar/vocals), drummer Carl Canedy and bass player Gary Bordonaro stayed true to their musical roots. In July 2022 the band recorded a live album in their own back garden The Rose Hall but without Bordonaro who had been replaced by Freddy Villano.
STUBBORN AND EAGER
These New York veterans follow their own lead, stubborn as ever and eager as ever. It deserves our admiration. Although when you see some footage of this concert on YouTube it makes you wonder why The Rods are still active. There are not many people there at all, maybe a good hundred spectators. Still, that does not stop the trio from giving it their best as they work themselves through a 40 plus years career. With songs from some very old records (closer ,,Crank It Up'' is from their very first album) and more recent work like ,,Brotherhood Of Metal''. It is yet again a trip down memory lane. The show is okay but to call it spectacular would not be correct.
OLD SCHOOL
Feinstein is not a top-notch singer, a bit monotonous to say the least while the total sound is somewhat on the thin side as there is hardly a live-atmosphere to be heard. But hey, old school elements like the thunderous drum solo by Canedy and a guitar outing by Feinstein are part of the deal. Pretty sure that their old fans will be happy with this sign of life by The Rods. You might have to visit the website of the group (here) to get a CD or vinyl copy or visit Spotify, as I am not sure if a proper record company has tried to take a chance on The Rods. That has not stopped them trying to get their music across!