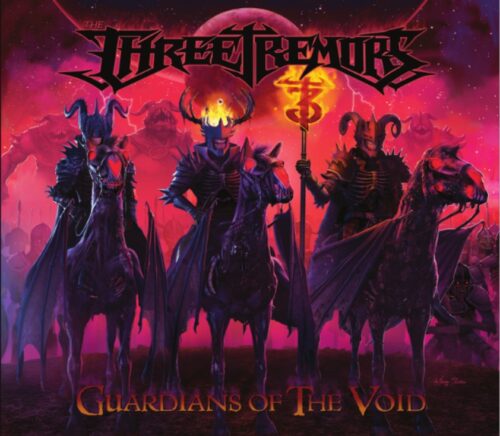 Review | The Three Tremors – Guardians Of The Void
Steel Cartel
The sophomore album 'Guardians Of The Void' from The Three Tremors, not to be confused with the three tenors or the three musketeers, is again a thoroughbred heavy metal feast! Their self titled debut album (2019), was very successful and gained lots of positive reviews, but their new album is much better.
TRUE HEAVY METAL
'Guardians Of The Void' contains twelve new songs of which two, ,,Bone Breaker" and ,,Crucifier" have already been released as a single. Tim Ripper Owens, Harry The Tyrant Conklin and Sean The Hell Destroyer Peck have put an album together that covers all the characteristics and basics of true heavy metal. You can enjoy Priest-like guitar riffs galore; high-pitched Ripper screams and vocals abundance and obvious influences from bands like Testament and Judas Priest.
The title track features an amazing bass line/riff, thundering drums and a more than excellent vocal "attack" from all the Three Tremors. So, play it loud, bang and scream along to this one! ,,Crucifier" features a huge and addictive chorus and this one will become a live staple for the band for sure. ,,Frailty" is a rather dark, moody atmospheric track featuring great vocal harmonies, while ,,Catastrophe" is an almost dramatic mid-tempo strapper. ,,I Can't Be Stopped" then again is a true example of an old-fashioned, old school heavy metal anthem!
HIGHLIGHT
The highlight for me is the song ,,Operation Neptune Spear", dealing with the killing of Osama Bin Laden by Navy Seals back in 2011. The song opens with a clip of a news report citing 9/11 and then evolves into an epic heavy metal track with sheer aggression and superb vocals. The entire album is heavy as hell, pure metal without compromises and the three extraordinary metal voices – Ripper (Judas Priest, Iced Earth), The Tyrant (Jag Panzer) and The Hell Destroyer (Death Dealer, Cage) – make this album a MUST for all true metal heads out there.
There will be three different versions of the double gatefold vinyl album: the original version, the 1 in 5 variant version and the virgin cover version. The 1 in 5 variant has completely different cover art on the front and back and will be limited to 1 copy for every 5 standard versions that are produced. If you like heavy metal, then 'Guardians Of The Void' is a MUST buy!!