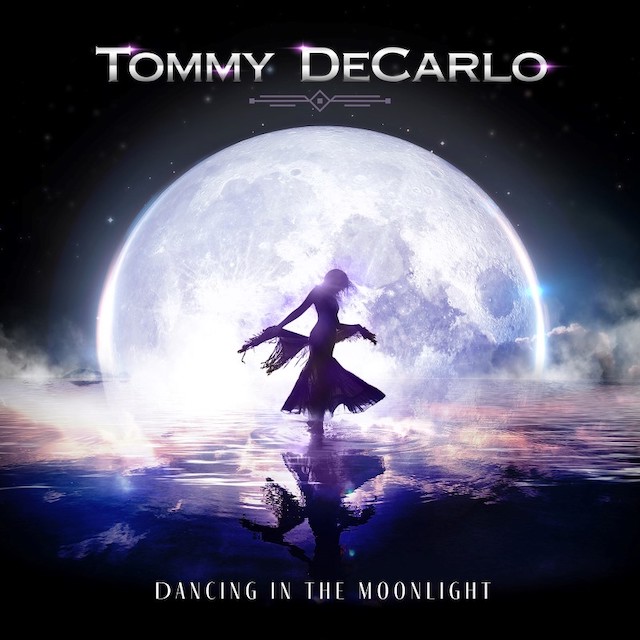 Review | Tommy DeCarlo – Dancing In The Moonlight
Frontiers Music srl
Singer Tommy DeCarlo is the current singer of the band Boston, the legendary act built around guitarist Tom Scholz. Rumour has it that Boston is working on a new album, but as always that is a long process. The last Boston-album 'Life, Love & Hope' was released in 2013, featuring DeCarlo but was a complete drama as it had little to do with the sound that made the band so famous. Hopefully Scholz makes a return to the sound that sold millions of records but my hopes are not that high.
FIRST SOLO-ALBUM
For Tommy DeCarlo the release of 'Dancing In The Moonlight' is his first real solo-album although he released an album with his band DeCarlo early 2020, featuring also Tommy's son Tommy Jr. That was a very decent release. As usual the President of the label Serafino Perugino had a vision for this record. It had to be something sounding slightly in the vein of Boston during the eighties with a live feel to it. It should be clear to all that this is not a record with the sole purpose to imitate Boston, as if that would be ever possible. You can hear some (very far) similarities in the guitars but 'Dancing In The Moonlight' is first and foremost a classic sounding AOR album with a great voice behind the microphone.
FRONTIERS CREW
As is normal with albums that are being thought of by Serafino Perugino the usual Frontiers crew is on board. I mean in particular producer/song writer and keyboardist Alessandro Del Vecchio who has the freedom to team up the vocalist with musicians that he knows and trusts. In this case Danish guitarist Martin Jepsen Anderson, drummer Nicholas Papapicco, US guitarist David Julian and there is also a guest solo by August Zadra while Del Vecchio took on bass duties.
TAILOR MADE
The twelve songs on this record are certainly not bad. Direction wise it does not sound really surprising but DeCarlo is a singer who fits perfectly in this genre and the songs are tailor made for his range and capabilities. Add to that tasty guitar work, thoughtful melodies and that typical AOR-feel and there you have a classic AOR-record that will not shift boundaries but is very acceptable indeed. Especially ,,In The Hands Of Faith'' is a gorgeous and emotionally sung rock ballad. I know, we have heard it all before in this genre but why not lend your ears towards 'Dancing In The Moonlight'? You might be surprised……
Release date: 9 December 2022