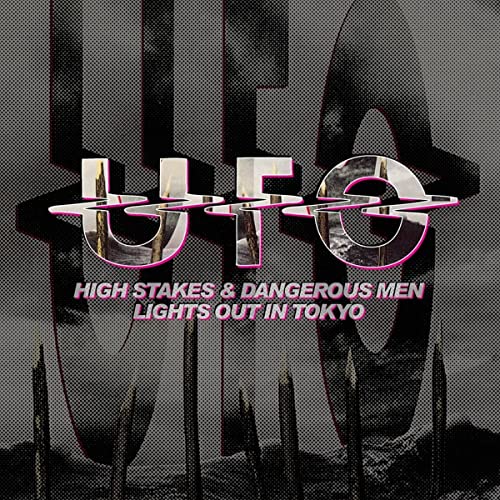 Review | UFO – High Stakes & Dangerous Men Lights Out In Tokyo
HNE Recordings / Cherry Red
The career of UFO is at the end of the line. Starting out in the UK in the late sixties until very recent the band that was founded by singer Phil Mogg (the only musician who has been a steady factor on all releases) has had a turbulent career to say at the least. There were many highlights, there were some disasters, complicated personal relations (especially between Mogg and guitarist Michael Schenker), numerous changes in the line-up and plenty of living the good life with booze and drugs.
There have been a few books written about the tumultuous career of the group and I would like to recommend the biography of Pete Way, the bass player who passed away on August 14, 2020 at the age of 70. His book 'A Fast Ride Out of Here: Confessions of Rock's Most Dangerous Man' is a juicy, must read book that pinpoints what UFO went through during a large part of their career.
LAST ORDERS AT THE BAR
When Phil Mogg announced a farewell tour 'Last Orders At The Bar' he could not foresee that due to Covid restrictions several postponements had to be made and just when the last leg of the tour had started again (ending late October this year in Greece) yet again due to health reasons of the singer himself the remaining dates had to be cancelled. Mogg recently suffered a heart attack and had to undergo surgery straight away receiving two stints (that was on September 1). Luckily Phil did not join his former band mates Paul Raymond, Pete Way and Paul Chapman in the growing rock and roll band up there in heaven, but his doctor has given him at least six weeks of rest, plus after that rehab, forbidding him to tour or to sing.
LATEST LINE-UP
At the moment it is uncertain if the latest line-up of UFO with Phil, guitarist Vinnie Moore, drummer Andy Parker (also one of the co-founders), keyboardist/guitarist Neil Carter and bassist Rob DeLuca will ever be able to finish the tour. If so, it won't be this year, so much is for sure. Knowing Mogg a little bit this is certainly not the way he wants to say goodbye after more than five decades in the business. Let's hope Phil Mogg makes a full recovery and will be able to leave the stage on his own conditions.
LINE-UP CHANGES
UFO has had a big amount of line-up changes in their career. And there were times that the end seemed to be near but as always Phil Mogg managed to get new musicians as he did during the 'Misdemeanor' album in 1986 and for the 'High Stakes & Dangerous Men' album in 1992 (it was recorded in the second half of 1991). Pete Way returned to his old stomping ground after having played with Ozzy Osbourne and having his own band called Waysted.
LIVE-RECORDINGS
Former Stampede guitarist Laurence Archer (who also worked with the late great Phil Lynott in the formation Grand Slam) and former Wild Horses drummer Clive Edwards were recruited and this line-up recorded 'High Stakes & Dangerous Men', produced by Kit Woolven (Magnum) and with Don Airey as guest on the keyboards. The album certainly did not disappoint though sales were not extremely huge. With Jem Davis on keys the band disembarked on a tour leading them to Japan were some live-recordings were made.
30 YEAR ANNIVERSARY
In 2022 'High Stakes… celebrated it's 30-year anniversary leading to a re-release with a concert recorded at Club Citta in Tokyo in 1992 added as a bonus-CD. Even after all these years 'High Stakes…' sounds okay and the live-recordings are quite good as well. Several songs of that album such as ,,Running Up The Highway'', ,,Borderline'', ,,Back Door Man'', ,,She's The One'' and ,,One Of Those Nights'' have been combined with the classic songs ,,Cherry'', ,,Doctor Doctor'', ,,Rock Bottom'', ,,Too Hot To Handle, ,,Love To Love'', ,,Lights Out'', ,,C'Mon Everybody'' and ,,Shoot Shoot''.
PRETTY GOOD
It all sounds pretty good 30 years after recording and I am impressed by the way Laurence Archer has put his own stamp on the classic songs, sometimes sticking close to the original Schenker vibe but also adding his own touch to several songs. Furthermore, the drum sound of Clive Edwards is mixed in very prominently to the front so there is plenty of power provided there while Davis adds the colour. Mogg and Way are as reliable as ever.
WALK ON WATER
On top of that record company HNE has taken care of a well packaged product. Nothing to complain really, although I am surprised that the live-album does not feature one song from the Paul Chapman-era. After that tour though the rumours that Mogg and Way were going to reunite with Andy Parker, Paul Raymond and Michael Schenker became reality late 1993 when the band starting touring Europe. I saw them in the German city of Cologne that time and the album that followed in 1995 ('Walk On Water') was with star producer Ron Nevison at the helm of undisputed class. But things soon went sour again with Mogg vowing never ever to share a stage again with Michael Schenker. Mogg kept on battling on after that and the arrival of Vinnie Moore on guitar gave UFO many more decent years.
It would be very sad if Phil Mogg will not be able to finish what he started but if he should not be able to do so, the man has left us an enormous catalogue to cherish. Get better Phil and show us one more time what you are made of. In the mean time this is a very solid and welcome release of a UFO line-up that did not had a long life together but certainly had something to offer.
Release date: July 22, 2022