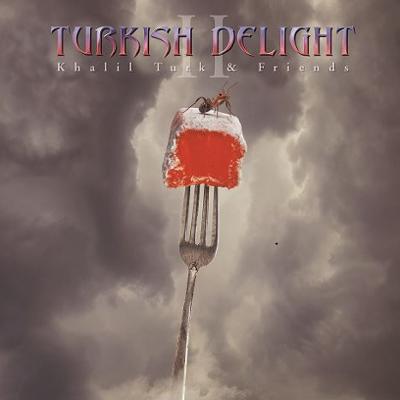 Review | Various Artists – Khalil Turk & Friends – Turkish Delight – Volume Two
Escape Music
Escape Music owner Khalil Turk is presenting a second chapter of 'Turkish Delight' to celebrate being active with his label for over 30 years now. The first chapter was released in October 2022 and was a roaring album, painting an exact picture of the style that the label had brought to us for all those years. Has the second chapter something different to offer?
HEAVIER APPROACH
The answer is partially yes. Several musicians like for instance Jeff Scott Soto, Robin McAuley, Jerome Mazza, Tony Harnell, Lee Small, Mick Devine, Josh Devine, Mike Slamer, Tommy Denander, Steve Newman, Steve Mann, Steve Morris, Billy Sheehan, Marco Mendoza, and Fredrik Folklare re-appear as singer, guitarist, keyboardist, bassist, composer, drummer, or background singer. But this time Unleashed-guitarist Fredrik Folklare has a much bigger role to play, doing the mixing and mastering, song writing and playing guitar. Because of his bigger input and that of guitarist Peter Hallgren it seems to me that this edition has a heavier approach. The melody though is a hundred percent guaranteed as Khalil Turk himself produced the proceedings. As on the first edition designers Hugh Syme and Eric Philippe have taken care of the cover and inlay.
NEW FACES AND VOICES
Khalil Turk has added some cool new additions to the mix for 'Turkish Delight Vol. 2'. Former HammerFall drummer Johan Kullberg shares the drum duties with Josh Devine. Gamma Ray's Kai Hansen is present on guitar, Rudy Sarzo (Quiet Riot) delivers some contributions on bass, just to mention a few names. But the most spectacular additions must be the vocalists Mark Boals (Ring of Fire), Ralf Scheepers (Primal Fear), Jules Galli (Levara), Dan Reed (Dan Reed Network), Marc Storace (Krokus), Jean Beauvoir (Crown Of Thorns), James LaBrie (Dream Theater), Andrew Freeman (Last In Line) and freshly signed to the label star singer Dino Jelusick (he does sound like a young Coverdale).
The only song that I find a bit hard to swallow is ,,Future'' sung by Dan Reed. In comparison with the other tracks on the album this one sound a bit as a stranger that is lost and out of place. The other songs are just a lot better in my ears and make this album sound great with some great individual performances like for instance Jules Galli on the track ,,Throwing Bones''. But also, the input of Beauvoir, Jelusick, Boals and several others is hard to ignore.
SHOWSTOPPER
Is there also a showstopper on 'Turkish Delight Vol. 2'? You can bet your bottom dollar there is. ,,Fahrenheit 451'', written by Lee Small and Mike Slamer (Steers/Steelhouse Lane), is for me the showstopper. On this epic song singers Jerome Mazza (Pinnacle Point), Lee Small (Lionheart) and TNT's Tony Harnell cooperate in a sizzling manner creating the so desired WOW effect. All in all, this second edition of 'Turkish Delight' is great and a must for every melodic rocker. Who knows, maybe a third edition might be upon us in the future. I am pretty sure that Khalil Turk's black book still has some numbers of musicians he has not approached yet.
Release date: 28 July 2023