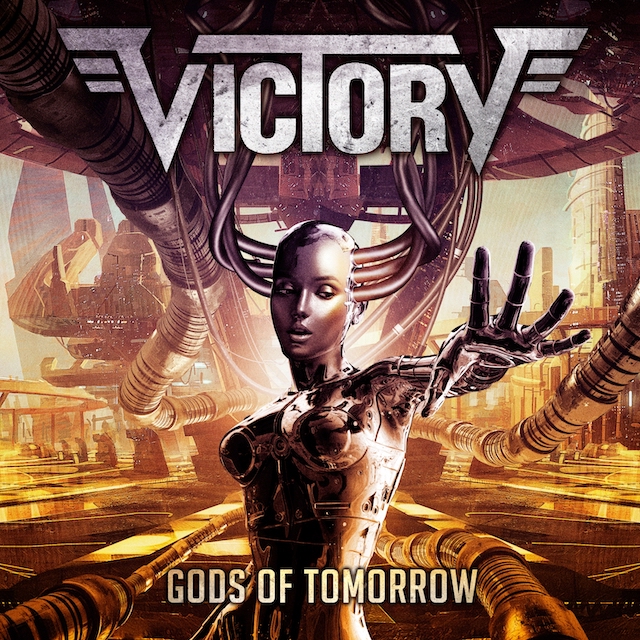 Review | Victory – Gods Of Tomorrow
AFM Records
Remember Victory hailing from Germany's number one rock town Hannover? They were around in the eighties and nineties with bass player Peter Knorn and guitarist Tommy Newton as steady members and had singer Charlie Huhn (ex-Axel Rudi Pell, ex-Humble Pie, ex-Ted Nugent and for the last decades or so active with Foghat) in the first line-up, while later singer Fernando Garcia replaced him. Although their albums were never bad it did not really happen for the group. They stopped and reunited and then stopped again. Knorn went into management (although he now is also active again in Fargo, the band that was the predecessor of Victory), while Newton became a wanted producer.
ANOTHER REUNION
At one stage former Accept man Herman Frank (guitar) was part of the band before drifting off to his own band Moon'Doc and continuing as a solo-artist releasing some really classic heavy metal albums, 'Two For A Lie' being the latest this year. Herman decided to organise another reunion for Victory and selected guitarist Mike Pesin (a member of Herman's entourage on several of his albums), bass player Malte Frederik Burkert (ex-Sainted Sinners and also active with David Reece), drummer Michael Stein and vocalist Gianni Pontillo.
TEN YEARS AGO
The last Victory album 'Don't Talk Science' was recorded some ten years ago so Victory is more or less starting a new chapter. Produced by Herman Frank in cooperation with Arne Neurand 'Gods Of Tomorrow' is a classic melodic heavy metal record that at times has an AC/DC/The Treatment feel. And that is because vocalist Gianni Pontillo sounds like a cross between Bon Scott, Marc Storace (Krokus) and The Treatments's Tom Rampton. Rough, tough and pretty raw and that fits the music on 'Gods Of Tomorrow' like a glove. There is nothing fancy about this album.
We know Herman Frank as a real metal merchant and that is exactly what this record has on offer. If you are into the solo stuff of mister Frank and the above-mentioned groups it might be a good idea to get acquainted with the latest line-up of Victory. I am not saying that the new look Victory has re-invented themselves in a musical kind of way but it is as solid and reliable as it gets with songs like ,,Leave You Alone'' (with a monster bass riff!), ,,Cut To The Bone'' or ,,Love & Hate''. A reliable and vintage album, marking the beginning of a new adventure for Victory.
Release date 26 November 2021