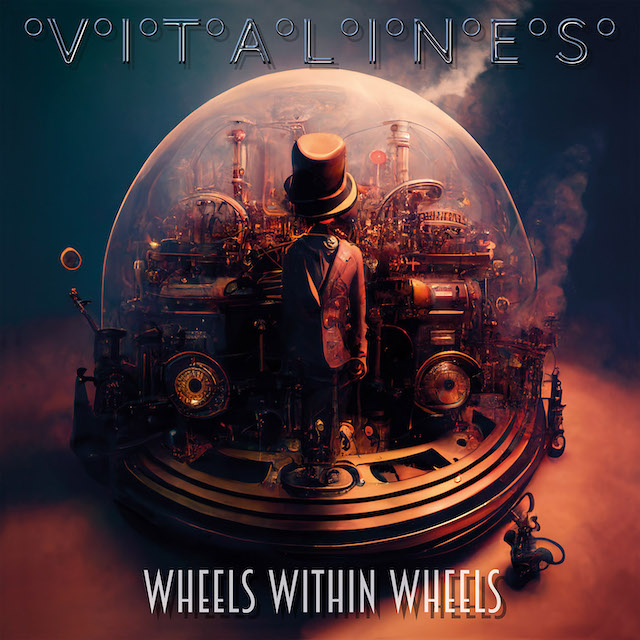 Review – Vitalines – Wheels Within Wheels
Frontiers Music srl
Not a bad idea to pair up singer Robert LaBlanc (Blanc Faces and Find Me) together with Swedish mastermind and multi-instrumentalist/producer and song writer extraordinaire Tommy Denander for a new project called Vitalines. Sometimes those combinations work out fine, sometimes it brings us run of the mill material or at some cases it does not work out at all.
TIME TO LET THINGS SINK IN
In this case yours truly needed some time to let things sink in. I have always been a big fan of Denander especially since he is the man behind Radioactive and Rainmaker (that record very recently was re-released), and he has done so much other work in his capacity as musician, composer, and producer. If Denander is part of the team, things normally turn out good. The same goes for Robert LaBlanc, a very capable singer indeed. It took the album 'Wheels Within Wheels' more than a few spins indeed to get me onboard as the material reminded me too much of Radio Active, a cycle of albums where many different singers are featured.
TRADE MARK STYLE
Denander has a trade mark style. He has always been close with several Toto musicians and for me he is the musician who is a cross between Steve Lukather and David Paich. He has the best combined elements of these two giants in his musical genes. Denander has developed a certain signature sound, not only as guitarist but also as song writer. One way or another, I always manage to pick his guitar sound out as being him.
MISSING LINK
Is there a missing link on 'Wheels Within Wheels'? Yes and no. No, because the album sounds good, somewhere between Toto, Survivor and Radioactive. Yes, because I miss a bit of variety in the vocals. Or is it that the voice of LaBlanc is not fully suited for this material, although he sang on the 2022 Radioactive album 'X.X.X.'? I just do not really know.  Maybe it is just a feeling or the fact that the set up with just one singer is different in comparison with Radioactive.
What I do know is that the album does not sound as a pure AOR album and I find that quite positive as tracks like opener ,,Judgement Day Is Here'' and ,,Cards From Another Game'' have a pleasant melodic heavy rock feel, giving the album with a few other tracks a slightly heavier character and bringing out the rocking guitar of Denander. A thing that is always a pleasure to hear.
VITALINES – JUDGE FOR YOURSELF
Do I give Vitalines the seal of approval? Sure, as it contains a certain amount of quality songs and it sounds very good, although a bit more 'bite' here and there would have even made things better. And that 'bite' is first and foremost aimed at the singing. I just have the feeling that more would have been possible if several vocal melodies would have had a more adventurous streak. But then you can judge that for yourself by checking out this record that even with my (small) doubts is way beyond average.
Release date: 20 October 2023