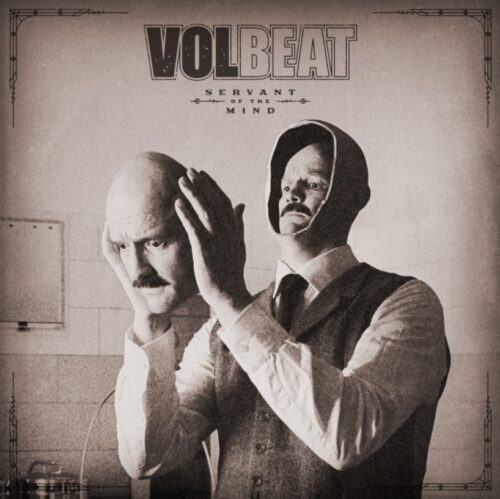 Review | Volbeat – Servant Of The Mind
EMI
Although I have seen and heard Volbeat a couple of times live, they have never seemed able to impress me that much playing their typical fusion of rock and roll, hard rock, and rockabilly. On 23 September Volbeat released their new single ,,Shotgun Blues" from their 8th studio album 'Servant Of The Mind'. ,,Shotgun Blues" is a typical Volbeat song, packed with catchy riffs and a singalong chorus; so, nothing new under the sun here, or? Actually most of the songs on 'Servant Of The Mind' are "heavier" than the ones on their previous album 'Rewind, Replay, Rebound' (2019).
METALLICA VIBE
Tracks like ,,The Devil Rages On", ,,Heaven's Descent" (almost punk rock) or ,,Mindlock" (true melodic heavy mayhem) are really great rock tracks. They show Volbeat's classic musical qualities, as well as their unmistakeable, patented sound. They also added two pop rock songs: ,,Dagen For" (featuring Bramsen of Alphabeat) and ,,Step Into The Light" (with an amazing singalong pop rock chorus!). ,,The Sacred Stones" has a Metallica-like vibe, featuring eighties metal characteristics and an amazing shredding guitar solo.
THRASH METAL AND GRUNTS
Musical highlight is the final track ,,Lasse's Birgitta", which is dealing with the first burning of witches in Sweden way back in 1471. Musically this one is heavy metal spot on. Great guitar riffs and melodies and a perfect way to close a more than excellent album. The Deluxe Version of 'Servant Of The Mind' contains four bonus tracks of which ,,Return To None" is a remarkable almost thrash metal song with some unexpected grunts.
Check it out as Volbeat's new album is probably their best in years….
Release date: 3 December 2021