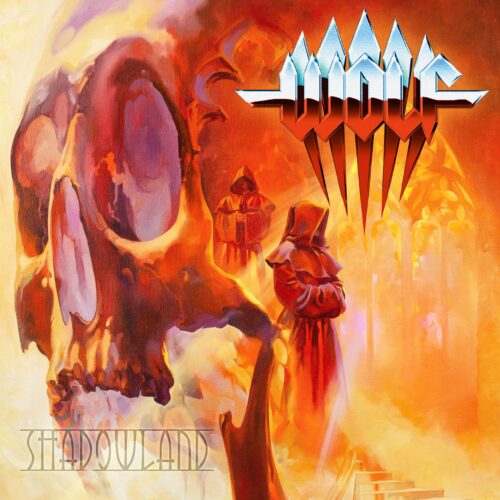 Review | Wolf – Shadowland
Century Media Records
The heavy metal legends from Sweden called Wolf produce their ninth studio album (their sixth offering on Century Media Records) 'Shadowland', just two years after 'Feeding The Machine'. Founding member, vocalist and guitarist Niklas Stalvind is still the leading power in Wolf, assisted by drummer Johan Koleberg (ex-Therion, ex-Lion's Share), bass player Pontus Egberg (King Diamond) and guitarist Simon Johansson. 'Shadowland' is a 100% pure Wolf album, meaning traditional heavy metal filled with extreme firepower, glorious anthems, lots of melody but also very heavy in the veins of Mercyful Fate and Iron Maiden.
BEST ALBUM
Wolf's best album since a long time opens with ,,Dust" the first single of this album. An old school pedal to the metal Wolf classic for sure and perfect to start with. Follow up ,,Visions For The Blind" is also very heavy and speedy and ,,Evil Lives" even reminds me of Wolf's speed metal past! ,,Seek The Silence" and ,,The Ill-Fated Mr. Mordrake" (featuring soaring keyboards melodies) are mid-tempo songs with great emotional and dramatic vocal performances by Stalvind, while ,,Rasputin" stands out due to its punchy main guitar riff which is electrifying!
PURE OLD SCHOOL POWER METAL
The entire album boasts with 100% pure old school power metal and some of the songs remind me of tracks from classic Wolf albums like 'Evil Star' (2004) and 'The Black Flame' (2006). The latter being considered Wolf's masterpiece. The impressive artwork was done by the legendary Thomas Holm, known from his notorious work for Mercyful Fate and King Diamond. 'Shadowland' is heavy, but also very melodic, sinister, emotional and, most of all, filled with great solos and awesome vocals. A must have for Wolf fans indeed. Listening tip: ,,Evil Lives".
Release date: 1 April 2022