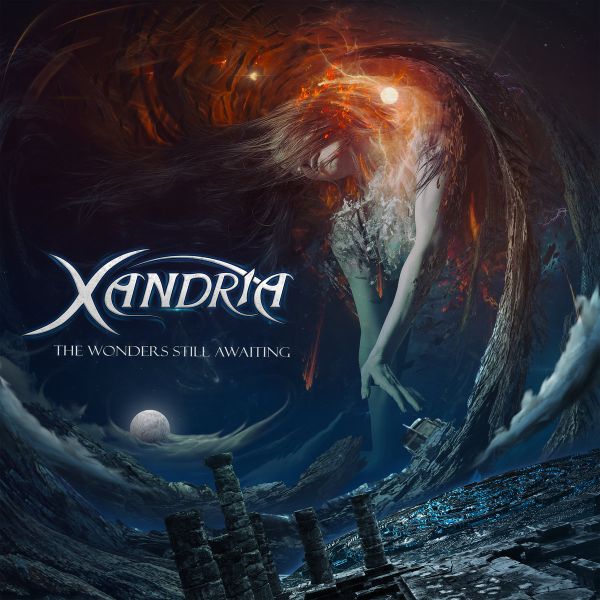 Review | Xandria – The Wonders Still Awaiting
Napalm Records
After six years of silence German symphonic metal band Xandria returns with their eighth studio album 'The Wonders Still Awaiting'. Xandria also has an almost complete new line up as only founding member Marco Heubaum (guitars) is still in the fold, while we welcome as new bandmembers: Robert Klawonn (guitars), Tim Schwarz (bass guitar), Dimitrios Gatsios (drums) and last but definitely not least female vocalist Ambre Vourvahis. The sound of Xandria is still very bombastic, theatrical, symphonic, heavy and anthemic at times. This "new" band is assisted by a classical choir, the Sofia Session Orchestra, the Bulgarian National Radio Children's Choir, Ralf Scheepers and Ally Storch (violin and cello) from Subway To Sally.
ANTHEM-LIKE
Ambre Vourvahis's voice dominates and sets the tone on this spectacular new album, as her throat ranges from rock, metal, opera-like and – sad but true – even death metal growls. 'The Wonders Still Awaiting' opens with ,,Two Worlds", a very heavy song filled with pounding double bass drums, guitar shredding and riffing galore and the first death growls; the latter I really cannot appreciate. ,,Reborn", the first single of the album, features the classical choir and it is an anthem-like song with melodic and operatic vocals galore.
MELODIC DEATH METAL
Primal Fear lead singer Ralf Scheepers can be heard on the straightforward power metal track ,,You Will Never Be Our God", while ,,Ghosts" is again filled with choir passages and this one has a certain melodic death metal feeling. ,,Your Stories I'll Remember" is the first ballad of the album. Featuring beautiful violin playing by Storch, while another ballad-like song called ,,Scars" is rather dark and melancholic with thrilling emotional vocals in.
This amazing album ends with the best song, being the nine minutes clocking epic ,,Asteria". A very diverse track with choirs, violins, excellent guitar solos, pounding drums, emotional vocals and great lyrics; a more than excellent end to an awesome album. Xandria is back and thanks to super vocalist Vourvahis they make quite an impact with 'The Wonders Still Awaiting'. If only they could have omitted the death growls, then this would have been the best symphonic metal album of the year 2023 already. Cheers.
Release date: 3 February 2023