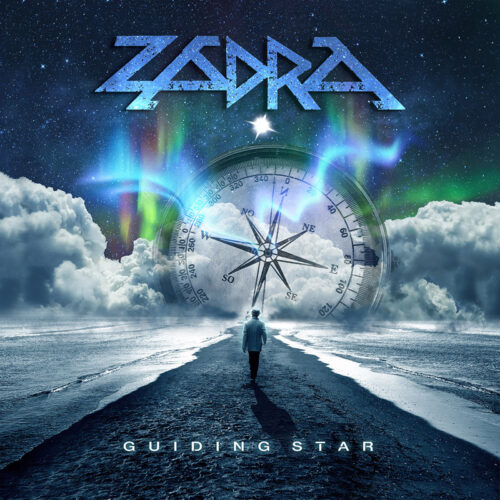 Review | Zadra – Guiding Star
Frontiers Music srl
L.A. based guitarist August Zadra has been a sidekick for nobody less then Dennis DeYoung for the last decade or so while in 2020 he was one of the people behind the band Waiting For Monday featuring vocalist Rudy Cardenas. The first Waiting For Monday album (released in 2020) can quite regularly be found in my CD-player as I just love that album and the voice of Cardenas.
NEW PROJECT
With Zadra, August Zadra launches a new project, so it makes you automatically wonder what the future will bring for Waiting For Monday and if a follow-up for that first album will come or not. Fact is that August Zadra not only plays guitar on 'Guiding Star' but also sings the songs himself. Produced by Alessandro Del Vecchio (who also contributed some instruments and song writing) 'Guiding Star' will appeal to fans of melodic heavy rock and AOR.
The eleven songs are easy on the ears and a shitload of guest musicians have lent August Zadra a helping hand with the writing and recording of this album. Jeff Scott Soto does the background singing on the bulk of the album, Danish guitarist Martin J. Andersen, guitarist Andre Serveso and a bunch of keyboard players like Pete Alpenborg and Jan Akesson have helped out in more ways than one. Even Dennis DeYoung helped out his good friend on keyboards.
TOMMY SHAW
All this has led for 'Guiding Star' to be a pleasant album. August Zadra is a very decent rock singer and a brilliant guitarist so there is not much to complain about. The originality though is not always there. Take for instance track four ,,Come Back To Me''. It seems to be inspired by the song ,,Dangerous Game'' that can be found on Tommy Shaw's best album ever 'Ambition' from 1987. Not that the two songs sound exactly alike but the similarities can hardly be denied.
And there are a few other moments on 'Guiding Star' that deliver an 'aha' moment. I do not find that really to be problematic at all as the album as a whole is very good. It has all the right ingredients, great musicianship and as said before the whole album is pleasant on the ears with songs like ,,Dream Of You'', ,,Escape The Rain'' and ,,Nothing More To Say'' as several examples. If you have any doubts check some tracks out on YouTube.
Release date: 18 February 2022