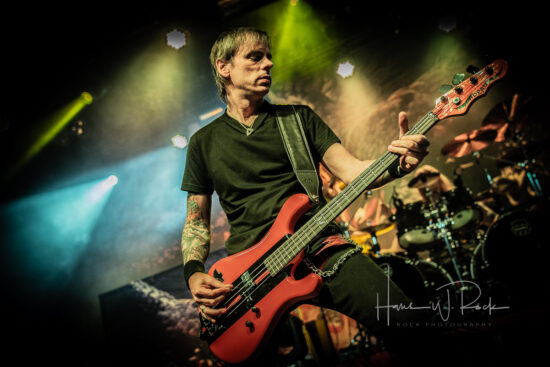 Blog | Primal Fear Code Red Tour – A Tour Report
by Dutch bassist Alex Jansen
So here we are…again…
It was not too long ago that I was telling you all about the short trip to Spain with the fellas. As you all know time flies when you are busy. So after coming back from Spain I kept myself busy playing shows and doing normal people stuff haha. We gathered together in mid-August to start rehearsals for the tour and besides the fellas doing interviews and promo for the new record, designing the stage and merchandise we still had to rehearse the new songs and build the show together for you all.
SET LIST
We don't take stuff like that easy, it is kind of hard to think of a set list where you have to have new songs, can't forget the old songs and favorites of the audience. Ralf [Scheepers] takes care of that and it is always a struggle. We only have so much time and we have to play certain songs but want to have surprises and we have to have new ones as we are promoting a new record. So rehearsals with Primal Fear always seem to be when it is the hottest day of the summer. This time it was no exception. We arrived at the rehearsal space when it was 40 degrees and I can tell you that it was even hotter, especially with 5 guys in it and all the equipment running.
After the first rehearsal we had a great diner all together with Mat [Sinner] joining us.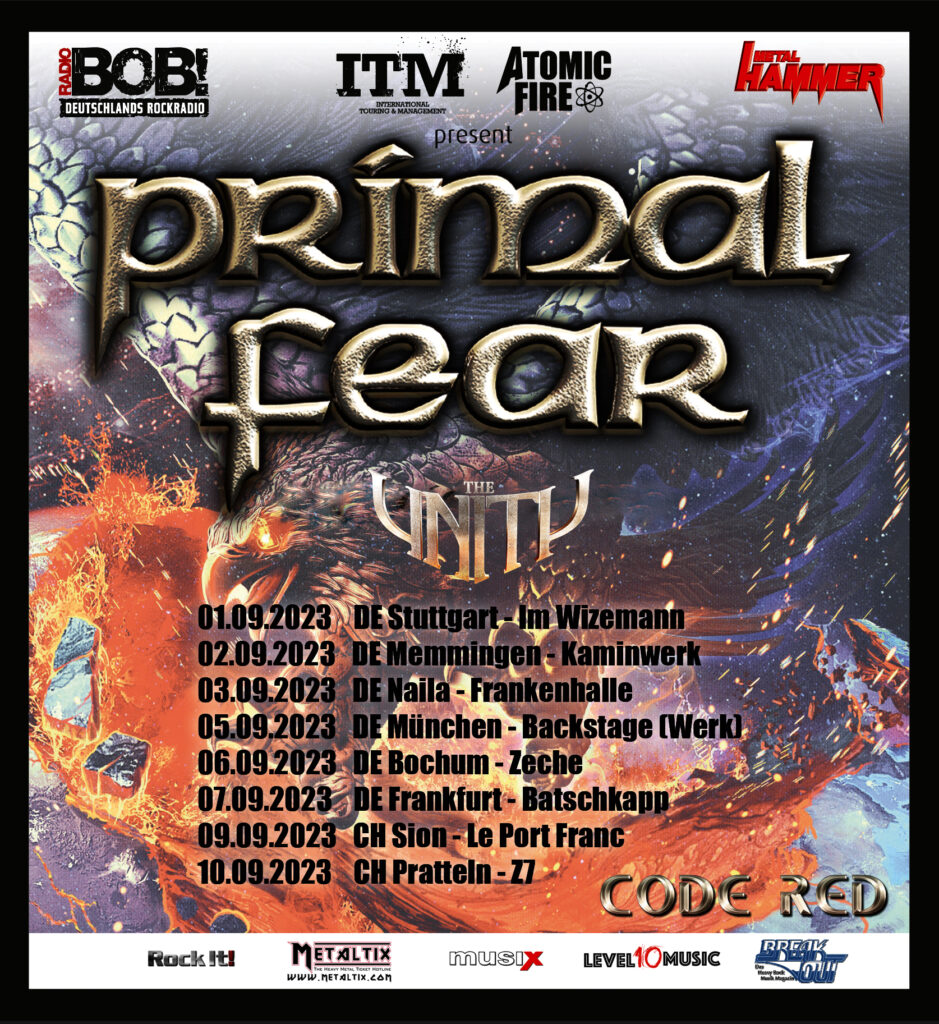 SEPTEMBER 1ST
Bam now it is September 1st and today is release day and tour start. Bus call is at 10 in the morning in Stuttgart at the storage and some are going there, some are directly to the venue. I went to the storage to make sure all my gear is on board. It is my first tour with Primal Fear so I want to be there at load in. I woke up and was not so surprised that Deutsche Bahn cancelled like 4 trains. Luckily I got a train to Stuttgart and after an okay journey I arrived in Stuttgart. Of course it rained those 200 meters that I had to walk without a roof or umbrella, but hey what can I do…
CUSTOMS
The reason we are that early is because of the tour start and the fact that we have to have stuff checked by customs as we will also hit Switzerland on this tour. Not being in the European Union means we have to check all the gear and merchandise.
After a ride that only took 20 minutes we arrive at the venue and load out starts. Stage is set and at 5 o clock pm sound check starts. Kind of strange and noisy it seemed to be but in the end we find our set up and we are satisfied with it all. I can tell you the stage design is great and it looks awesome.
SHOWTIME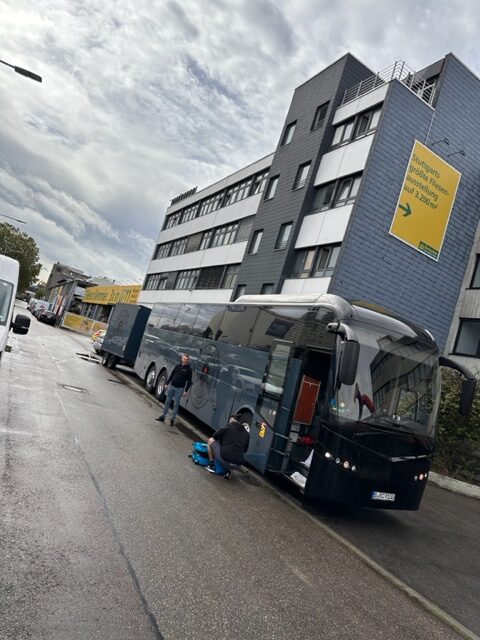 We have diner, we linger around and then the people from Atomic Fire arrive (the label) and Mat comes too. What seems to feel like 5 minutes, there it is… Showtime.
The venue is packed and we start we start in the show. The audience is great and we have a great time on stage. Of course we have some minor things that we notice, maybe some of you too but I think for a first show it went down smooth. Mat came on the stage and that was a great moment. He is still on his way to recovery but still wanted to come on stage, he sung, he watched and he celebrated with us. This night we got an emotional message from him where he says that it is strange to see Primal Fear from the mixing desk, but he is proud and we look good, we sound great.
After the show we hang a bit in the backstage area and 1a.m. is bus call. 3-hour drive to Memmingen, where I write you these words. Smooth ride, good sleep and waking up with the clear sunny sky in Memmingen.
PARTY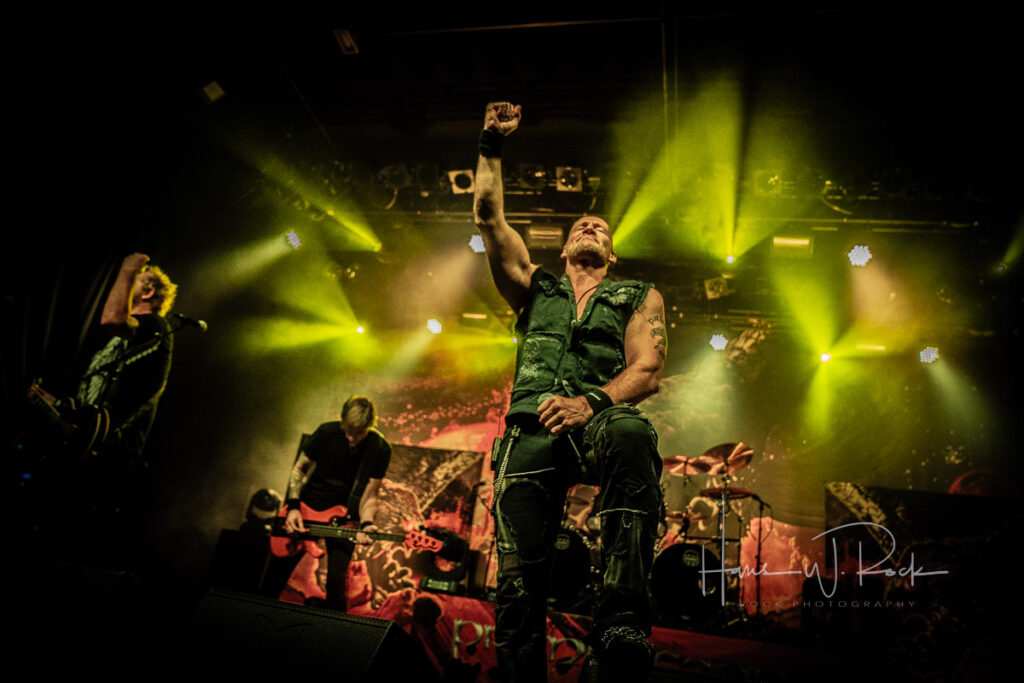 We did a little longer sound check today as there was some stuff we thought we could do different after the first show. Some things work out different than we thought it would. The place was nicely filled and the fans were singing along. The changes we made worked out good so we keep that in the show. After the show we had a nice party with The Unity. Great guys and great band, Michael [Ehré] is playing drums there as well so he has a busy schedule every day. Bus call at 2 am after which we drove 4 hours to the next town, Naila. We have a great bus driver, the way he maneuvered the long bus (12 beds) and a trailer backwards into the parking spot. He drives smooth so we all sleep during the drive after we finish our drinks.
Today we took it easy. Set up, lunch, watched some tv and did sound check. After sound check diner and now it is short before The Unity will start to play. 21:20 is our time so I will relax a bit more before getting dressed for show number 3. Tonight we drive to Munich where we will have a day off tomorrow.
TECHNICAL DIFFICULTIES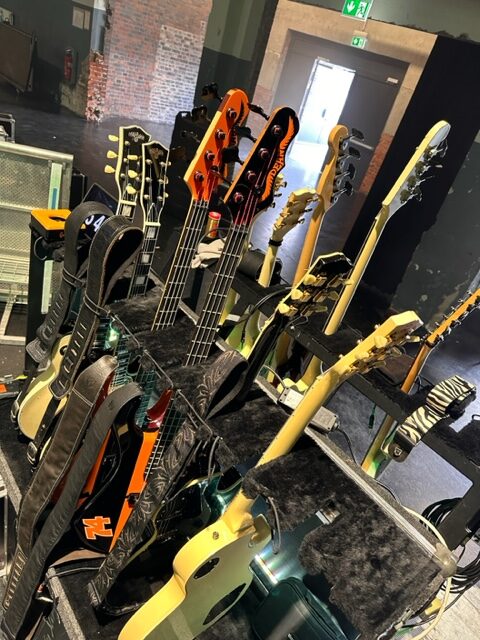 Tonight was the first show we had some technical difficulties, the intro didn't run… that was fast taken care off and then we rocked Naila. Great audience and we had a great time on stage. We are getting in the routine and as we have some new crew members we have to get used to them too. That all starts to run fine now. After the show we had a pizza and then we had a sort of a party in the bus.
I realized it was that late as we arrived in Munich for our day off and we (well some) were still awake. Still I went to bed of course, had a great sleep and just got up. Like I said we have a day off in Munich. Some went home or some booked a Hotel. I stay in the bus. Will watch some movies, play some games and might go out on a walk. Munich isn't the worst city to stay in.
So we stayed in Munich all day. A bit of relaxing on the bus and enjoying the beautiful weather. Went to do some shopping and had some lunch. In the evening we had a great diner after a stroll through the park. so we really took it easy the whole day.
ON FIRE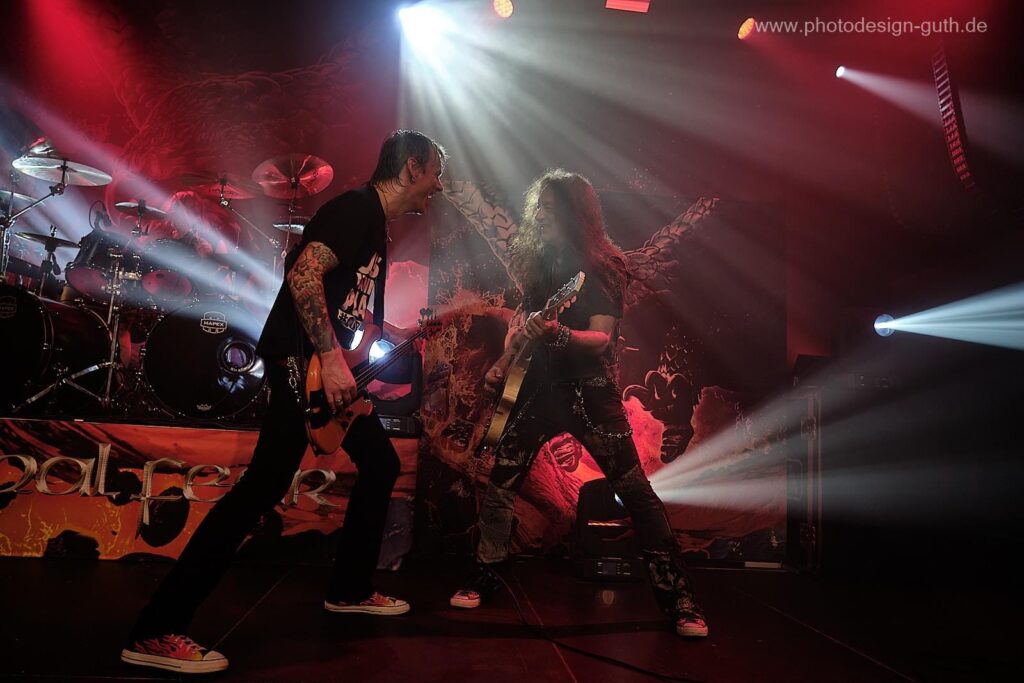 After the nice day off it was back to business again in Munich. Set up went smoothly, we did an easy sound check. I enjoyed quite a bit of the set of The Unity. Took some pics of their show and then went to prepare myself for our show. The club was packed, we were on fire and eager to perform. Intro starts and the adrenaline goes up… show time. I played a lot of shows in my life, small ones, tiny ones, big ones, giant ones but this was for sure one of the hottest. Definitely worth the sweat we put into it. Great sound on stage and the crowd was clearly enjoying the show as much as we were doing.
When the show was over I went to the dressing room. The dressing room seemed to be hot in the afternoon, after our show it felt like a fridge though. A bit dangerous as you get a cold quickly. Thank God for showers, so that is what I did, then had a cold drink. The crew gets faster everyday with setting up and taking down the stage and loading of the trailer. So we were even ready earlier as expected/planned.
DORO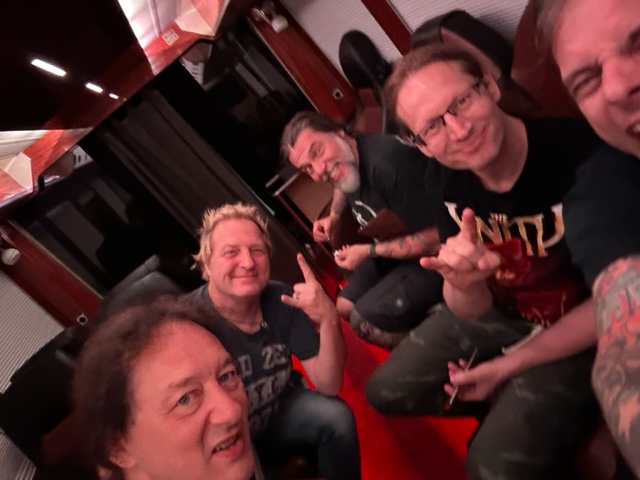 Headcount on the bus and off we go to Bochum. 10-hour drive, went smoothly, no traffic jams, just a break for the driver. I slept like a baby and woke up when we arrived at the Zeche. Nice getting in there and seeing some of the Doro crew guys, it's like coming home. All of us are waking up slowly and the club is almost ready for load in. Some of us take a shower, some write a diary, others count the merchandise. All smoothly.
Tonight after the show I have to go home to do some stuff and then come back on the road for the show in Frankfurt tomorrow, after that show I go home again because of an appointment I couldn't cancel. Then I will travel by train to Switzerland for the last two shows of the tour. But first Bochum, a legendary club. Just by looking at the pictures of the bands that played here, for me it is the first time. Looking very much forward to it.
LEGENDARY CLUB
I spend most of the day sitting in the bus and prepared some stuff for the show. The Unity does their show and slowly we are getting in our show mode again. Intro runs and off we go. This crowd was insane and we had such a great time, sweaty and hot but worth every penny of it. After the show I hit home so I am up for a three-hour drive to the south of Germany. I am tired but the adrenaline of the show keeps me awake.
I get there at 3 am and after a short sleep I do the stuff I have to do but I cannot stop thinking about tonight's show in the Batschkapp in Frankfurt. Also a legendary club. I get there at 5 pm and after visiting the catering I decide to get a nap in the bus till show time. Ah that was what I was waiting for. Sound check is done by Stef from The Unity (I was too late for that).
TOUR MANAGER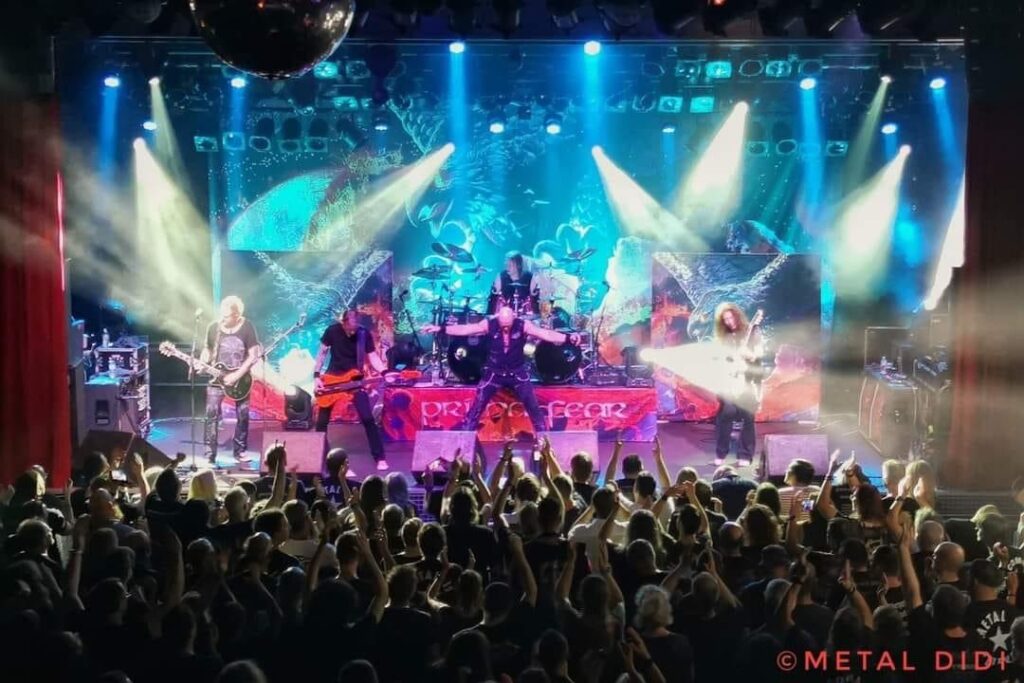 Before the show I catch up with Mark Nowak, our Tour manager from Rock Meets Classic and although he lives close to my place we never seem to find the time to meet up enough. Same goes for the booker of Primal Fear, a dear friend and lives one village away from me but still we only meet up when I play. This show is as hot as the others. We managed to book this tour unknown of the fact that summer would be back. Clubs are filled nicely though.
Of course I am stepping in but I feel 120% part of the team. We have been friends for so long and we know each other so good, that makes it easy. The same band (just without Ralf) played the Rock Meets Classic tour in April so it makes it a lot easier. We have been playing three shows before this tour so we know what we can and cannot do.
Mat is missed by many but he is with us on the tour although behind the scenes. We are in contact everyday regarding the upcoming South American tour and the shows in Japan. I notice of course that people are missing Mat, but it is the way it is, Primal Fear still delivers and rocks the hell out of each show. The audiences all seem to have one thing in common. The first three songs they are waiting if Mat comes on stage, they see a different band than before, they hear the old songs and as soon as we start with ,,Deep In The Night". The second single of 'Code Red' they are with us. At the end of each show we only feel love coming back. We have fun onstage, we laugh a lot and we play tight, if I may say so.
SWITZERLAND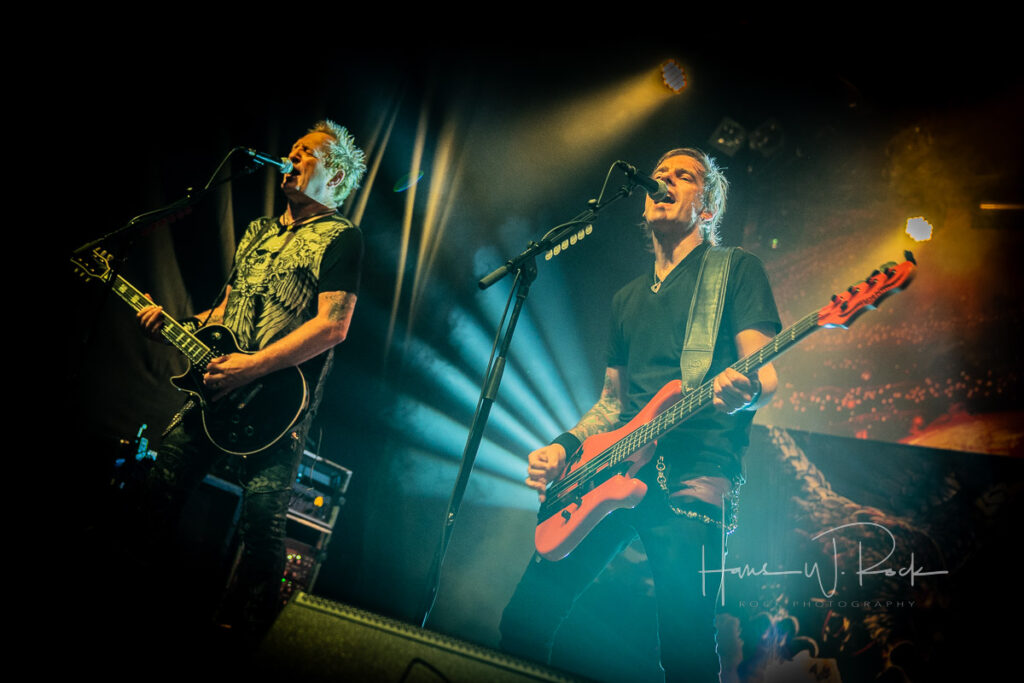 Today was a day off. As I had stuff to do at home I went home after the show in Frankfurt and funny thing was… I had to get up early and when I was on the famous German Autobahn I see a vehicle that looks familiar…. I passed my own tour bus. Strange thing to see…. I am writing this in a train from Karlsruhe to Switzerland though. I travel alone tonight and will hit my bunk some time tonight when I arrive in Sion. Show is there tomorrow and after that show there is only one left on this leg. There is more to come which we will announce after the Pratteln show.
(You might know it by now already) we are invited to play a string of shows with legendary heavy metal icon U.D.O in February/March 2024. We do select dates as we still have many more stuff coming up with Primal Fear but also with other bands. I will do some one offs with a different German band in January. The end of January Primal Fear hits Japan for a week. April will probably be Rock Meets Classic again. The Program got announced last week, and that is pretty awesome. Summer will be festivals so 2024 looks pretty filled.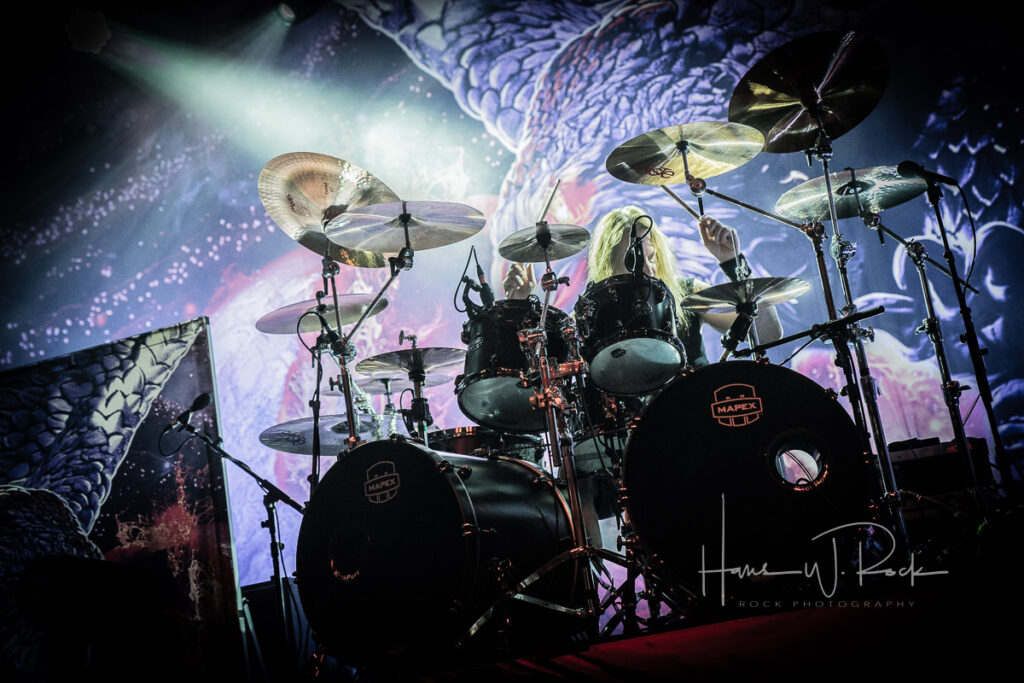 CHART RESULTS
Oh what I forgot in all the writing is that we just got the chart results and wow…. Primal Fear's 'Code Red' entered on place 6 in overall album sales which is pretty fucking awesome! Thank you all for making this possible and making this the best Friday of this year!
After arriving in Sion, I had to do a small hiking trip to the bus. It took me like 20 minutes and it was a beautiful warm summer evening. I arrived at the bus and the bus was empty… the boys were still out having diner and drinks. After freshen up a little I grabbed a cold drink.
I woke up with a beautiful view of Sion, a nice city in the French part of Switzerland. The venue opened up and made us breakfast and the whole team of people was great. I watched some movies again and then it was time for sound check. You might guess it already… it was hot again, I guess this is the hottest tour I have been on in my life, remember it is only next month that we go to South America.
MANOWAR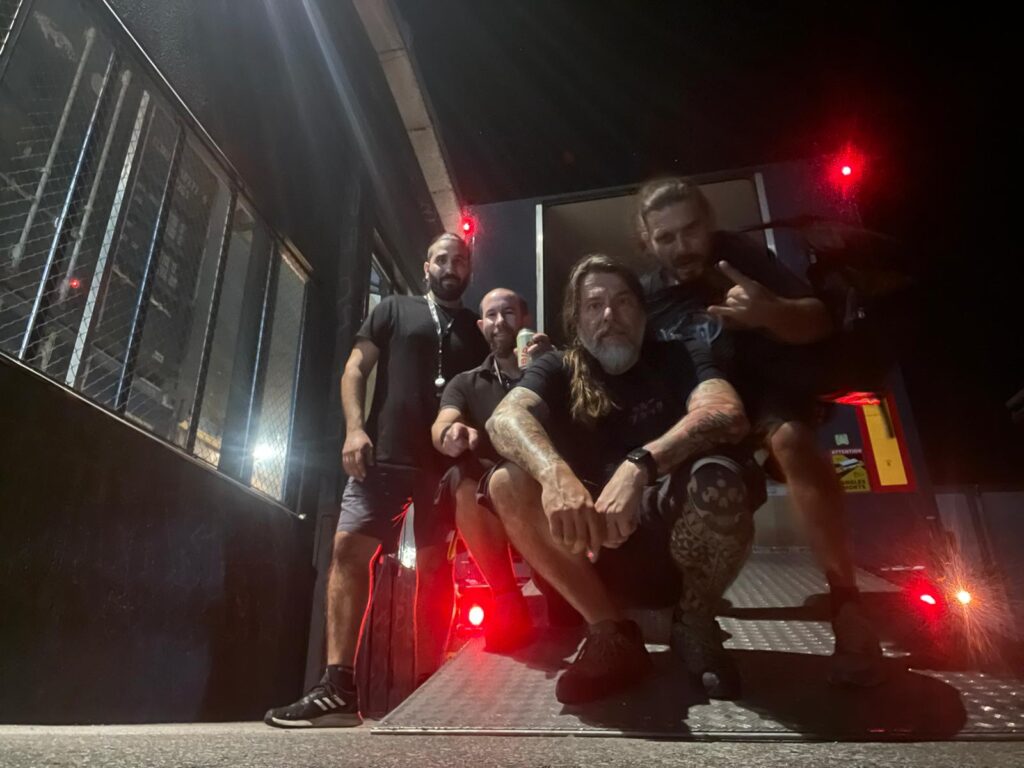 Took some pics with the local crew and then it was time to get ready for the show in Sion. Intro runs, lights go on and we are on fire. People had a great time, we had a great time and before we knew it the show was over. Fun fact… Michele Sanna was our drumtech for most of the shows. I did a record with him last year, we are good friends. As he was leaving this night to go on tour with Manowar he decided to prank me. He left a plastic fish on my amp after the third song in the set. We had some laughs about that during the show.
LAST SHOW
After the show we cooled down a bit, got a cold drink and before we knew it it was time to hit the road. Short trip, 3 hours, to Pratteln. The legendary Z7. Famous for great catering and good showers. Always feels like coming home. I have played this club a few times although the last time I played it was at least 7 years ago.
I woke up this morning, after a great night of sleep, sun is shining but I am a bit sad. We have such an amazing group of people so it is strange to know we are heading home after tonight's show. I will be picked up while some stay on the bus back to Stuttgart. Some will travel to Hamburg and so on. Just had breakfast and I am writing this in the night liner, I hear the drums being checked and the P.A. System getting checked. I had my shower already, I had my breakfast. Tonight the show is one hour earlier than the rest of the days. We will leave at midnight and then the tour will be over.
POWER METAL
Today is an earlier show so it means that everything is a bit earlier. Sound check and diner and so on. Sound check starts at 2 pm and we do our daily routine and we still try some stuff out. Z7 is famous for the great catering and today is no exception. So I enjoy my diner, I go down and watch a bit of The Unity's show. Great band and cool songs so it warms me up for the show. I get dressed and before we know it the intro runs and the last show of this leg starts. Same procedure as all other shows, in the beginning people are a bit reserved but as soon as we hit the third song, it's on! 90 minutes of power metal delivered and we are thanked by a great audience, we all wave together on the chords of ,,Forever".
GOODBYE… FOR NOW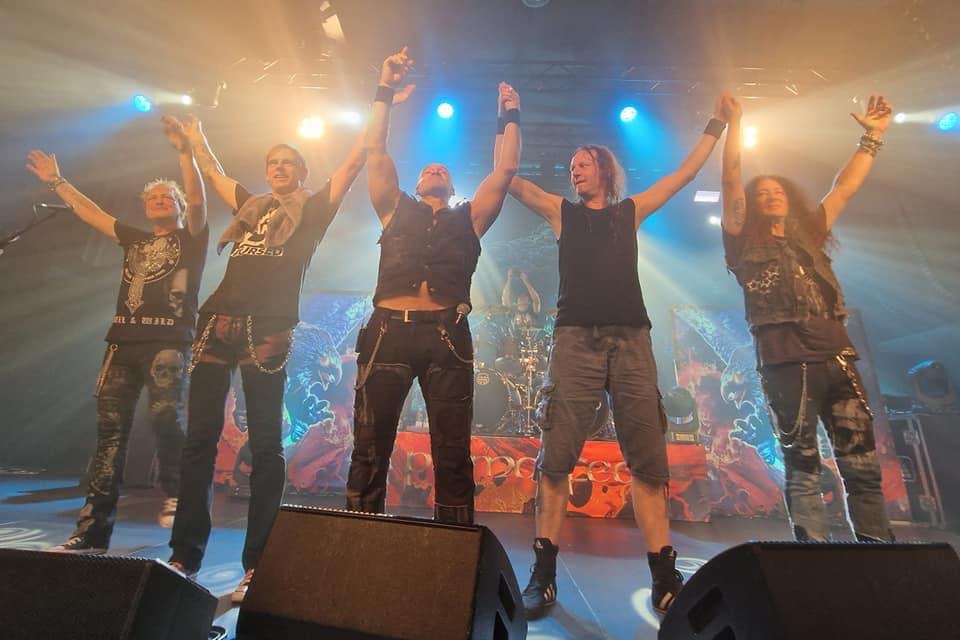 After the show, the crew does their thing and they are so fast nowadays that it seems like a minute. Trailer gets loaded, I pick my stuff out of my bunk and stow it away in my car. I don't really want to leave as we are just warmed up and the atmosphere is so great. We have some laughs and talks with friends and our friends from The Unity. Until it is time to say goodbye. I head home. The night liner goes to Stuttgart. The boys arrive at 5 am unload the trailer and everyone is off to their homes and families. Looking back on a great first leg, thankful for th e audiences we got and the great times we had.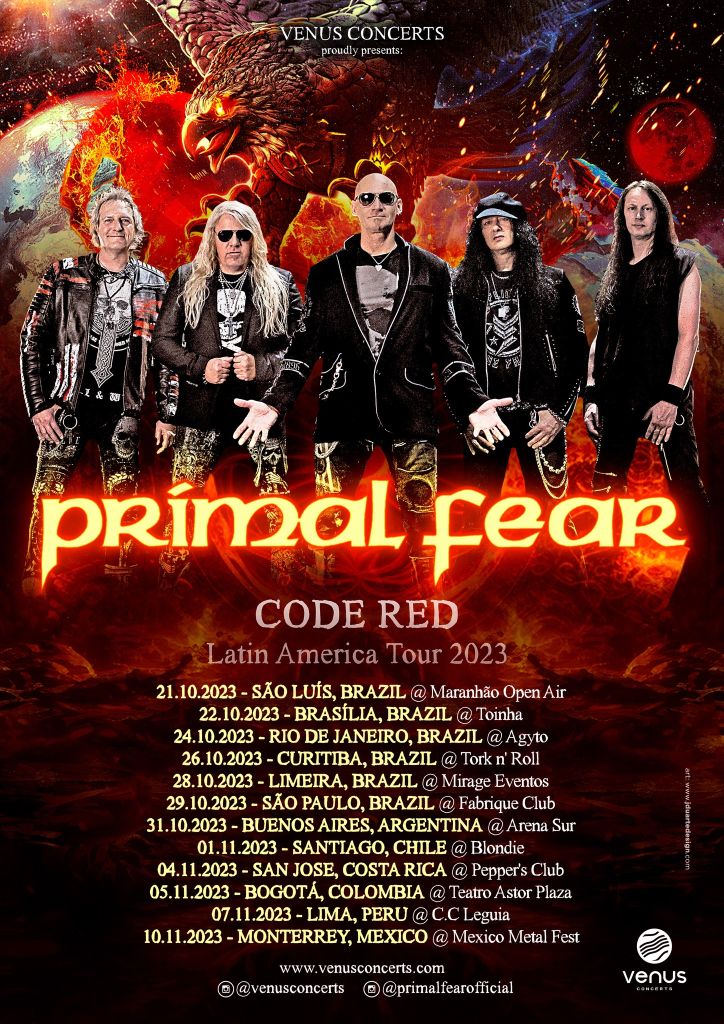 Next month comes the South American leg and I am looking forward to it. I know it will be a hard one as we will have a lot of shows in many different countries with a lot of flights in between… I guess with the adventures to come a new diary will be coming too.
Metal is forever.
AJ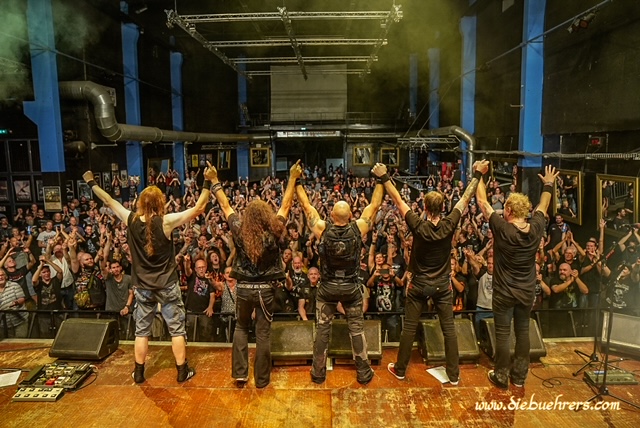 All photos provided by Alex Jansen – where available credits on the photo