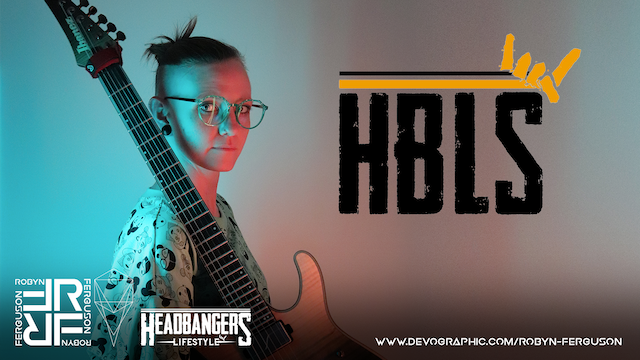 Exclusive | Guitarist Robyn Ferguson shares video
,,The Time Bender''(Live)
It's been three years ago that Robyn Ferguson, the amazing talented guitar guru and Ibanez Ambassador from South Africa, kicked off her solo career by releasing the exciting debut 4-track EP `Alizarin'. The independent artist had already displayed her incredible talent with acts like Adorned in Ash and Sistas of Metal, but flying solo Robyn Ferguson takes a more spiritual journey as well.
To celebrate this mini anniversary exclusively with our readers, Robyn shares a live shred video of the popular track ,,The Time Bender". The track unleashes an infectious drive, cool and fierce sounding progressive riffs, topped with haunting guitar notes and unexpected moments. It sounds strong and confident and in which Robyn proves her talent without a doubt.
CELEBRATE WITH US AND WATCH THE SHRED VIDEO HERE
ABOUT ROBYN FERGUSON
Robyn Ferguson is a passionate musician from South Africa, who knows how to work hard and play hard! She is known for her dynamic live performances and adept guitar skills (with acts like Adorned in Ash and Sistas of Metal). The past 3 years Robyn has been super productive and flying solo, using her immense talent as a healing-and-driving force on her spiritual journey to rise above health challenges.
Robyn Ferguson states: "There were many personal challenges faced, and some that are still being faced, but I am happy to say that the creation of my solo work has been extremely liberating and exciting! These past 3 years completely kicked me into a different frame of mind, and I've found myself looking at the world through a different lens."
HARD WORK AND AMBITION
Robyn Ferguson emphasizes that: "This period pushed and pulled me like no other, driving me to chase new ambitious goals, creating 5 EPs in 36 months, in addition to 3 collaborations and 3 compilations … a purpose I am extremely happy to achieve with great levels of success!"
Despite her physical challenges as well as the global physical restrictions of Covid the past 20 plus months, Robyn masterfully tuned every opportunity into a distinct advantage, representing South Africa at 10 online festivals in 2021, including opening for iconic artists like Venom, Anvil, Rotting Christ and Iron Saviour at the World Of Metal Online Festival in Portugal. Robyn has also participated in many Radio Shows, Podcasts, Interviews and Media Features, as well as receiving multiple SAMMA Award Nominations (and taking a win as well)!
LISTEN TO ROBYN'S SOLO RELEASES
Alizarin (EP 2019)
Falling Forward (EP 2020)
Harbinger (EP 2020)
Triptych (EP 2021)
The Waking World (EP 2021)
About
An independent solo artist. Ibanez Ambassador and guitar prodigy from South Africa, who also played in Adorned in Ash and Sistas of Metal.
Genre
metal, instrumental
Website
https://robynferguson.com
Social
Tags