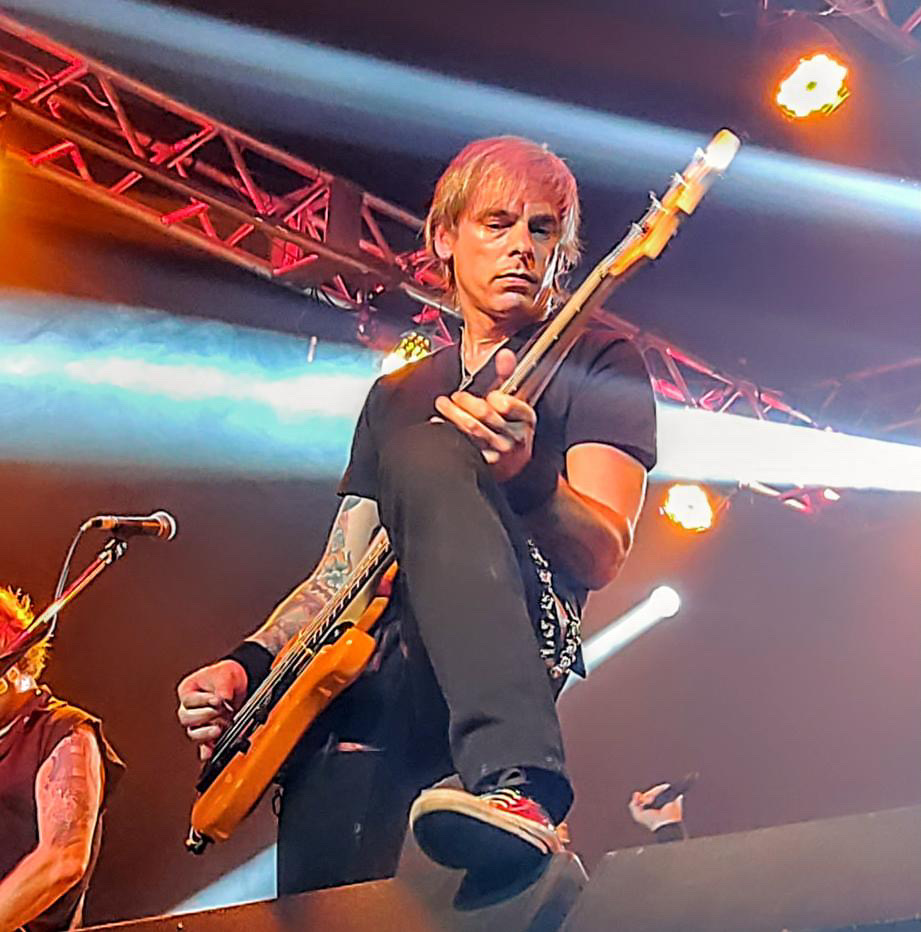 Exclusive | Primal Fear Latin America Tour Part 1
Tour Tales by Dutch bassist Alex Jansen
Guess who is back to tell you some more stories from the road? It hasn't been too long since the last time I have been sitting writing a diary about Primal Fear. Last month I told you all about our adventures in Germany and Switzerland. We did a great run of shows directly after the release of `Code Red' and after regenerating the batteries we are all in Latin America now.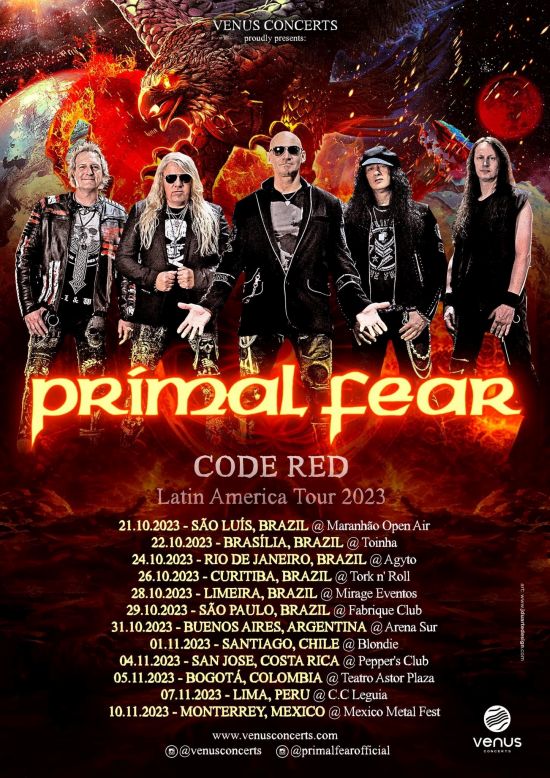 HOW THIS TRIP STARTED
The trip started for the Stuttgart chapter Thursday morning. Ralf [Scheepers], Tom [Naumann] and Achim (our sound engineer for this trip) left 4:30 am for a trip to Stuttgart airport, from there to Paris and then São Paolo. Michael [Ehré] did almost the same but from Bremen to Amsterdam and then São Paolo. Michele our Drum tech did the same from Sardinia to Rome, Lisbon and then São Paolo. Cedric our guitar tech was already in Brazil. Alex Beyrodt and myself left Thursday evening from Frankfurt, directly to São Paolo.
I had a driver getting me to the airport and after that went smooth, I was very positive about getting into the next round. Alex arrived and we entered the Terminal. It is a 3,5-week tour so we brought some stuff with us. We get to the check in and of course there is a big line in front of us, despite being very much on time. The process was a bit slow so by the time we are at the counter it is 7 pm. Our flight is boarding at 8:25 pm so we guess we are good in our schedule.
FIRST BUMP AHEAD
Yeah right… first bump ahead. The lady at the check in starts to explain to us that the guitar cases are too big and that we will have to pay extra for them. The promoter got us tickets including enough luggage to travel with these cases. We do this a lot and although they are big, they are not too big and not even heavy. I tell her that these are normal guitar cases and that we always fly without paying extra. Of course, she is stubborn, unfortunately you can tell already by the look someone has when going to the counter. Her first reply is that she will still have to charge us, no way around it.
Being a bit experienced with situations like this I explain her the whole deal again and she is already fed up. So, she calls her manager. I try to show her the guidelines of her own airline where it is written that we can travel with cases like this without paying extra. We are still under the measurements and weight; the cases are just bigger than normal suitcases which means we will have to bring them to oversized luggage. Of course, she doesn't care for any of our arguments, please note we were still friendly. Her manager comes and she looks at the cases and also states the same thing. I show her the guidelines of her airline and she makes a phone call, takes pics of the cases and walks away.
Please note she was very friendly and helpful, not like the first lady who was clearly not having her day and might need some further training regarding her airline guidelines. The lady comes back and we have a go, without paying extra. We look at the clock and see that our flight is boarding in 25 minutes, so we lost like a good hour and a half.
THE FLIGHT
We had planned to eat and drink something but we might have to think that plan over. Check in is at C7 which is the end of terminal 1 in Frankfurt, so we start walking towards the entrance of the Schengen area. We walk and walk and walk…there is the famous Frankfurter tunnel, that is like 1000 meters long…finally we arrive at the Schengen area, security check first. They have new machines there; it means you don't have to open your bags anymore which should make things go faster. That only partly works so we are still standing there as our plane is boarding. We make it through the security without hassle just losing a lot of time.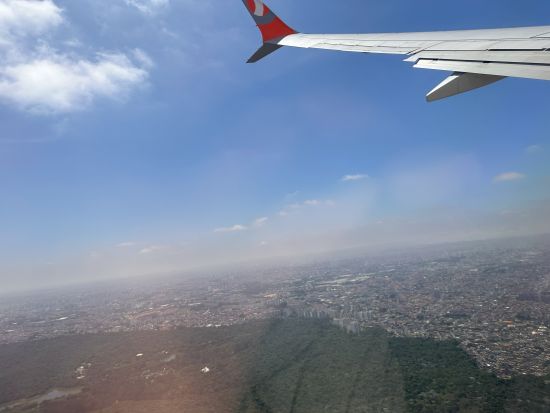 The result is that we are rushing through all other passengers to get to our gate. The plane is almost done boarding and there is a friendly lady that picks us up and gets us in front of the line. We made it… just in time. We check and see that our guitars (they are arriving by a courier at the plane) are close. Because we have Air Tags in the cases so we can follow a bit where they are. We lose the signal though… the flight itself went smoothly, the food was good, I watched a movie, fell asleep, woke up and watched another movie, noticing we are getting closer to São Paulo.
HELLO SÃO PAULO
From there it is all easy, we get to the luggage belt, get our suitcases. We are still trying to update the Air Tags and see that both cases are here. We pick them up, go through customs and of course we get another X-ray. It goes smoothly though. So, 5:30 am after 14 hours we are here. Julia, our tour manager, picked us up and off we go to the hotel. This is a one-hour drive and we see some of the favelas of São Paolo. Never saw this before, makes you realize you are in a different world. Upon arriving Alex and I decide to get breakfast at the hotel, soon followed by the others who are slowly waking up. Tom has his birthday today and we still have the day off.
We go for a short walk, before hanging in our room. In the afternoon we all went to a shopping mall to check some stuff and eat some small snacks. In the evening we are picked up by the promoter and we have dinner at a great restaurant with delicious food. The promoter then brought most of us to a rock bar where we celebrate life and Tom's birthday. At 2 o'clock in the night we are back in the hotel. In Primal Fear words… deep in the night.
PRIMAL FEAR – THE FIRST SHOW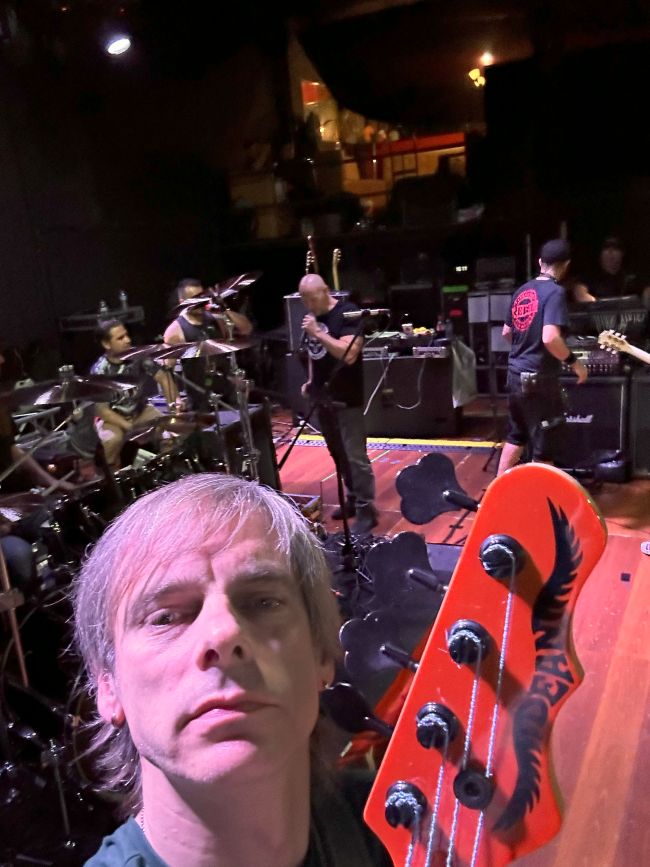 I had a good sleep and now I am sitting here in my room writing this first chapter of an exciting tour. We met some fans already, had pics taken with them, had fun and a good sleep. Today is our first show and it is an early one as we travel to Brasília tomorrow. I am waiting for the crew to get here and pick up my basses so they can set up. We will follow to the venue later.
So, I am writing you these next lines cruising at 30.000 feet. Last night we had the first show of our Latin American tour. We arrived at the venue in the afternoon, our handsome crew Cedric, Achim and Michele were there a few hours prior to us. Setting up and testing the gear. It's all rented gear so we have to see and find out our way to work with it. Setting up took a lot more time but in the end, we got a good way to work. We had a nice support act. I watched two songs but unfortunately I didn't have more time as we had to prepare for our own show.
A WARM WELCOME BY THE FANS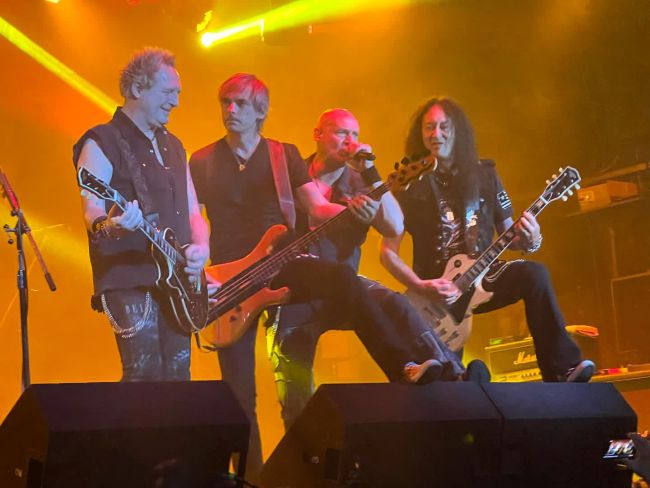 Security guards came to the dressing room to walk us up to the venue across the street. The intro is on and off we go. The fans are very welcoming and sing each word with us. It is a warm welcome and we played a good show (for a first one). People loved it and after catching some air, we took time to take pictures and sign stuff. People are happy to celebrate heavy metal with us. It was an early show, which isn't too bad as we were back in the hotel at a reasonable time to get decent sleep as this morning we got up early to get to the airport.
This time it was the airport in down town São Paolo which is used for domestic flights. Check in went smoothly and because our gear is traveling by truck overnight so we just have our personal stuff. I tried to watch the game of my favorite soccer team but in the end I was happy I could only use the ticker…we lost…
So now we are on our way to Brasília the capital of Brazil. It is a 1,5 hours flight and it is an easy one, not too crowded and with nice people. As soon as we arrive the crew will go to the venue and we will head to the hotel. Stake a small rest before we will do the same procedure again. We might have been a bit rusty last night, although a good show, we will change some things tonight. So, I guess I will catch up with you all tomorrow after we played show number two of this tour.
HORROR HOTEL IN BRASÍLIA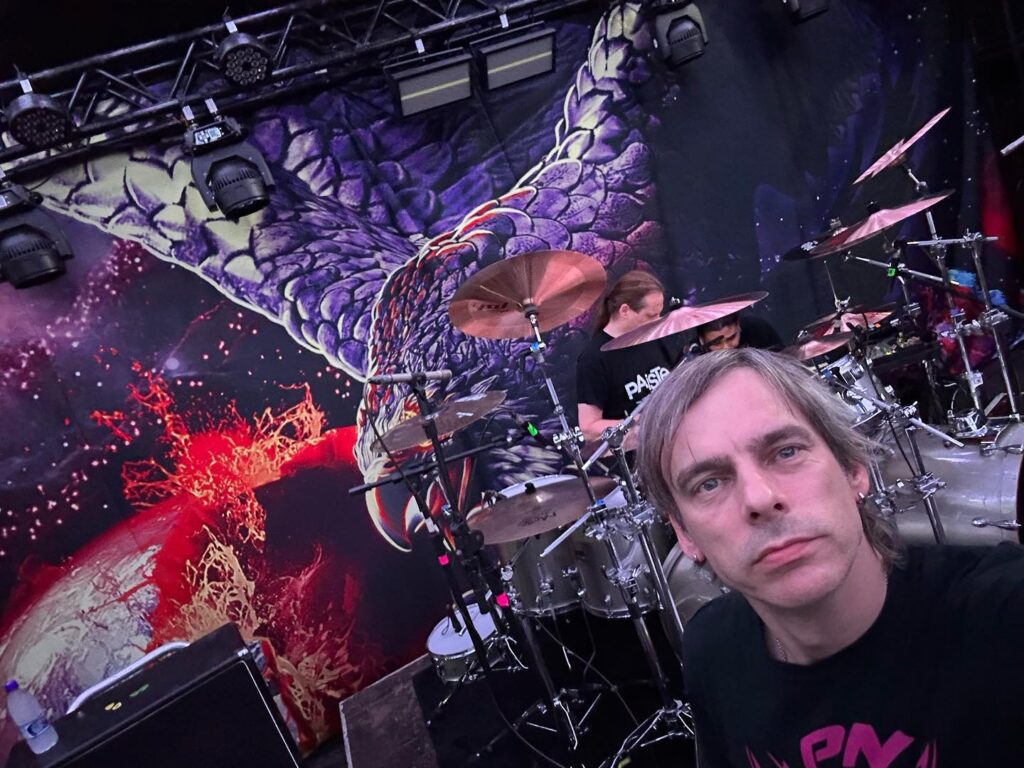 Life is full of adventures and today has been a day like that. Arrived in Brasília yesterday and after picking up our luggage at the airport it was time to get to the hotel. We dropped off the crew first at the venue, where the backline arrived earlier after a night of driving. Upon arriving at the club Cedric decided to stay there and start working on setting up. We were supposed to be in a hotel close to the venue so we were a bit surprised to find out all of a sudden, the hotel is 30 minutes away. During the ride we see the landscape turn from nice neighbourhood to a slightly different style of neighbourhood. I am not one to judge neighbourhoods but we could see this was not the best part of town.
The local promoter changed the hotel without notice. We get there and at first look the hotel is okay, but the area looks a bit different. We get our keys and go up. Well…this was a first for everyone in the group, the room have no windows. So that was a bit strange but it gets better. I go into the bathroom and see a mirror. I notice I can move the mirror and tada … there is a hallway behind it with access to every room, by the mirror. Well, you get a horror movie script in your head. We decided that we don't want to stay here and demand the hotel that was in the contracts.
THE SOUNDCHECK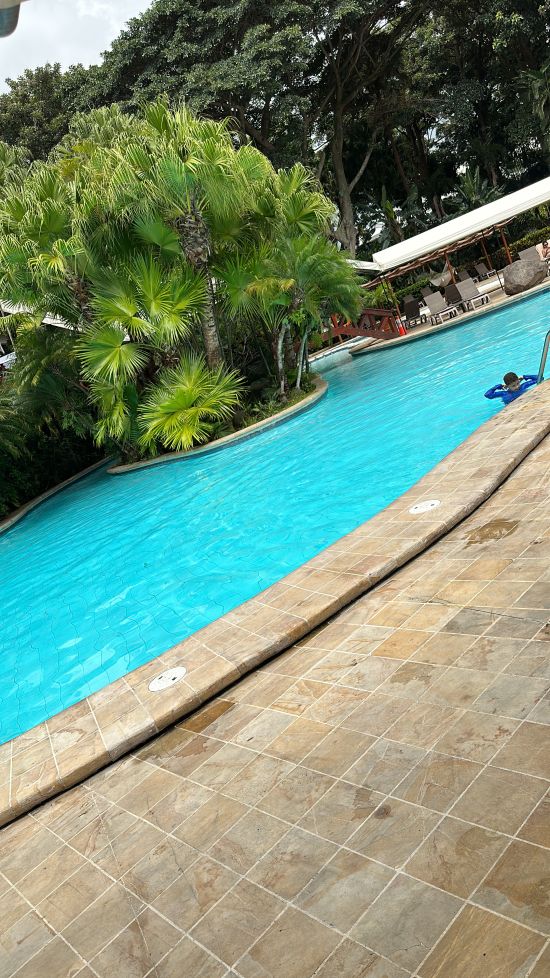 Please note we are not divas but as we have a day off today we want to be in a hotel that has certain standards. Especially that we can walk around in the area without being afraid of being attacked or robbed. So, after some phone calls and emails we get the news that the driver is picking us up. We get our personal stuff together as we move to the other hotel. We checked in in the new hotel and the difference is enormous. Great rooms with a filled mini bar, pool and relaxing area. We check in quickly because it was already time to get to the venue.
Set up was almost done. We start soundcheck and we have some trouble with the monitors. Biggest problem might be the language, not everyone speaks English and we certainly don't speak Brazilian (or Portuguese it is the same but as we are in Brazil, I'll say Brazilian). As we are a bit tired after the travel and the jet lag we still have and then the hotel situation, some of us are a bit tempered. Not in a bad way but stuff like that gets on your nerves.
The monitor guy told our tour manager Julia that it was a dream for him to work for Primal Fear so this was a special day for him. He was a bit nervous and that added to the situation we had, we could have handled the situation better. It was no big deal just misunderstanding but with a day like that it can happen, it is never personal.
PRIMAL FEAR – THE SECOND SHOW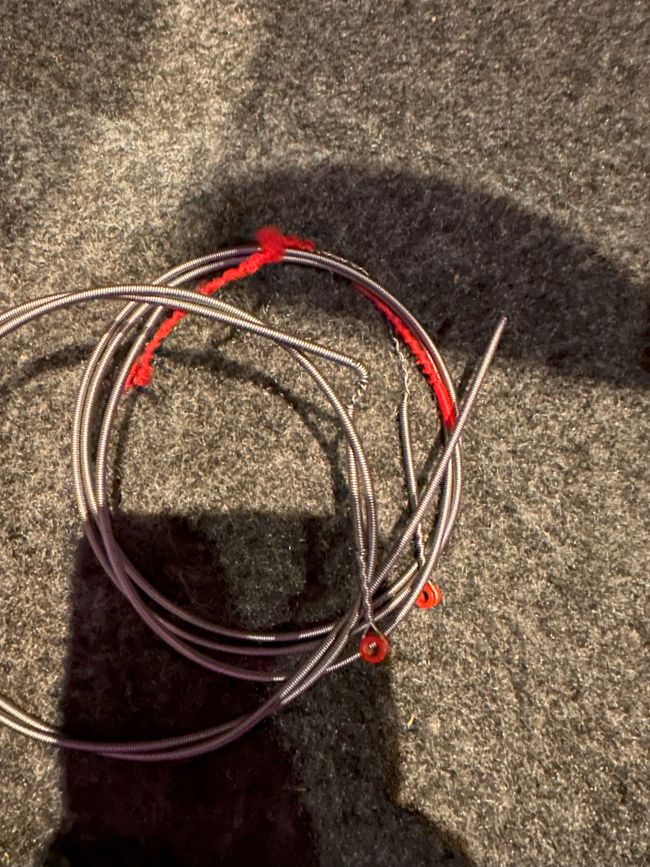 The intro runs, we get to the stage… Michael counts us in, we start the show and then…. Bang…. First hit of the E-string of my bass…it breaks… that didn't happen to me in more than 20 years. So after the first bars of music, I am forced to play the song on a string. I look at Cedric and he looks at me. Surprised he tries to turn the pegs of the bass to get tension on the string. It doesn't work, so I really broke a string. As soon as the song ends, we change the bass, I don't really have much time to do that as we play the first 2 songs without a break.
Cedric a real pro makes sure I am back on time, he had to change the spare bass, get it to me and get the other bass from me. All in a few seconds. We made it, we work as a team. So, while Cedric takes care of the broken string, we play the second song. Next disaster… I hit my bass/string and cut my finger open…it is probably not my day haha. So, after the song we go through the same procedure again add up that we put some band aids on my finger and we are back on track. The fans are going crazy and we have a great time delivering heavy metal. The show is over before we know it. It was hot and the audience was on fire.
After the show, we dry up, go outside take pictures with fans. It means the world to them and they even bring kids to the shows. Talking about parenting done right, serve the kids metal and they will be addicted to metal forever. We all know metal is forever, right?!
WE HAVE A DAY OFF
After leaving the club we get to the hotel and I gather with Cedric and Julia to have a nice chat till early in the morning. After a short sleep it is breakfast time. Today is a day off and I am going to finish this chapter and then off to the pool to enjoy some sun and water.
Last night we had some great dinner at a restaurant. We stayed at the pool the whole day and decided that for the evening we wanted to eat some decent meat. We opted for a restaurant where you are getting the meat served at your table. They come with all kinds of meat to your table and if you don't want that meat or had enough to eat you turn a card to the red side. If you turn it to the green side, they serve you food again. It didn't take me that long to be stuffed. You take some sides and then I wanted to try most of the meat that they brought. At the end of the evening, we got some QR codes so we could scan them and leave a review for the restaurant.
Well, we can make it like a search for an eastern egg. Find the review we made and I will give you back a smile or big laugh. Pablo it's super! That is what we say in Germany when the service was good. I had to mention Pablo as he will be with us for a long time, haha.
ON OUR WAY TO CURITIBA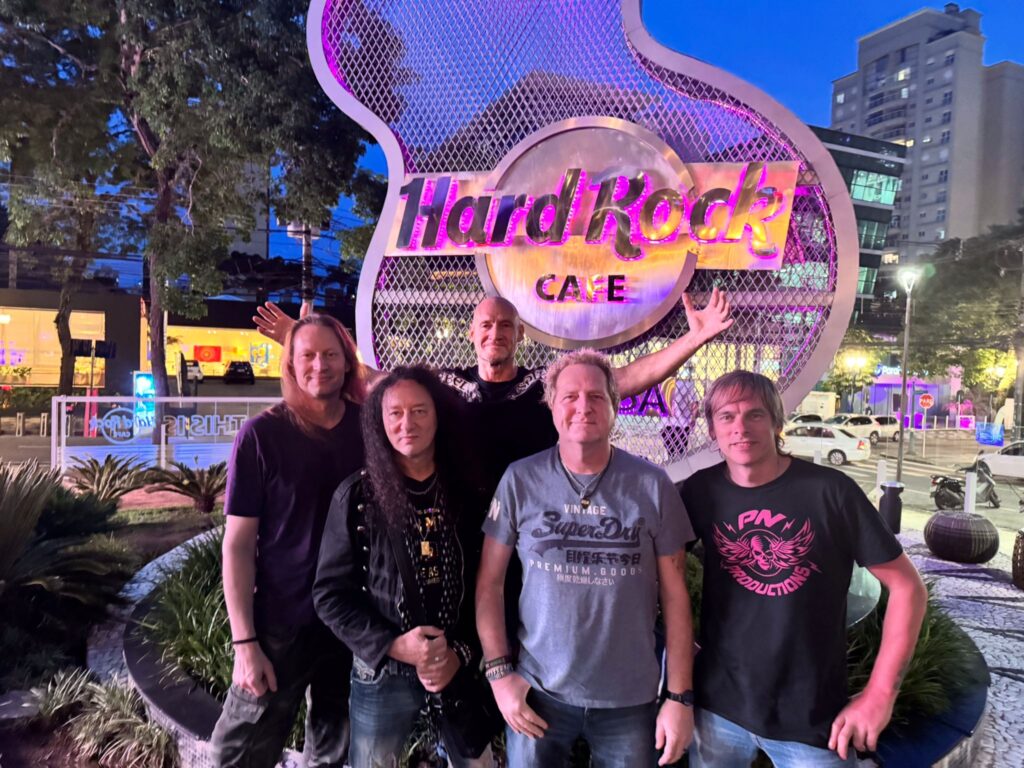 This morning we had an easy lobby call. 9 am was our time to leave, we got picked up and drove to the airport. Smooth, although there was some traffic, we were there in a flash. Check in is done by our wonderful Julia, she makes sure it all goes smooth and fast. Through security and wait at the gate. Short flight to São Paolo, amazing seeing how you land in the middle of the city. There are several airports in São Paolo, the one for domestic flights is down town. You land between the skyscrapers so it is pretty rad. We have a short lay over and I am writing you these words at 30.000 feet again on a carbon eagle… find the hint in there… on our way to Curitiba and we will have again a day off tomorrow.
This is because the show in Rio de Janeiro got cancelled by the fire department. This pretty much sucks as I was looking forward to seeing that city and play there. Hoping for a small amount of time doing some touristic stuff like visiting places I only know from TV or pictures. But it is what it is as we always say. So, expect a bit more of pool time and food stories after that we start the real deal. Till now there is no real stress or early lobby calls.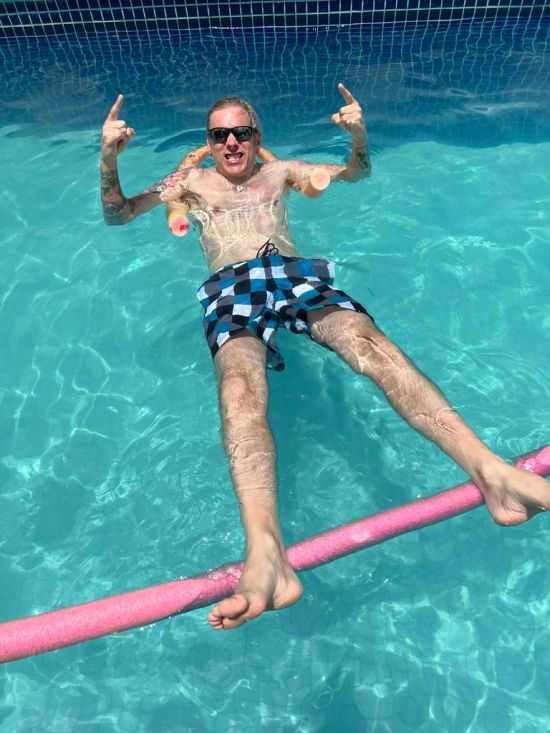 TO BE CONTINUED SOON IN PART 2…….
All photos taken by / provided by Alex Jansen