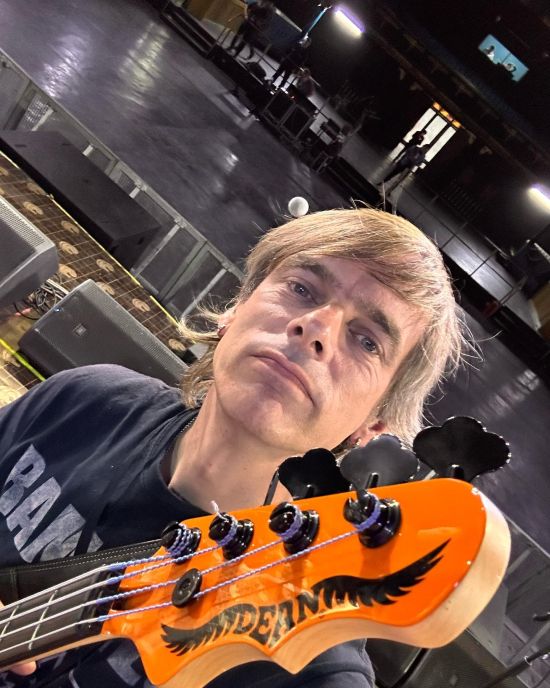 Exclusive | Primal Fear Latin America Tour Part 2
Tour Tales
Me and the guys of Primal Fear were on our way to Curitiba….promoting the latest album `Code Red'.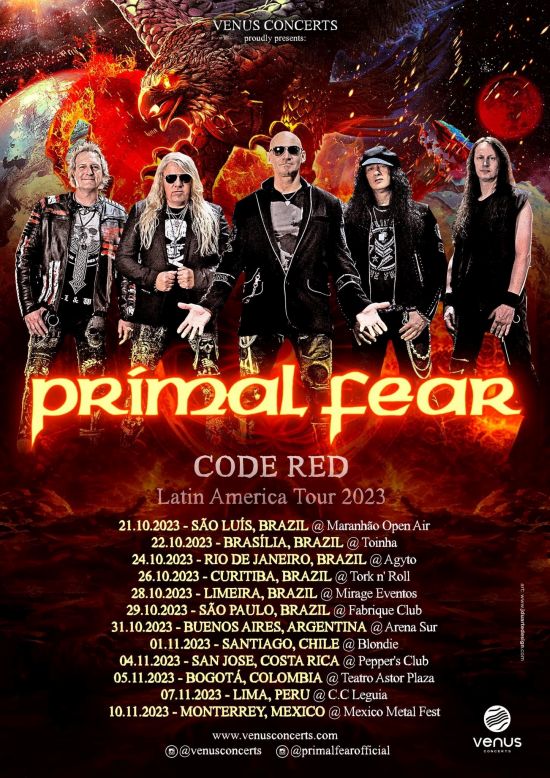 OUR NEXT STOP IS CURITIBA
Arrived in Curitiba and this city looks different than the other cities we have been so far. In fact, each city looked different. We got picked up at the airport by the promoters and went to our hotel. Then we went to the Hard Rock Cafe Curitiba and we had a great dinner, the staff wanted to take pictures with us and after the dinner, when we went outside, there were some fans waiting too. Yesterday was a day-off. It looks like we only have off days but this has to do with the fact that the Rio show got cancelled. Yesterday we spend the day washing clothes and hung at the pool. In the evening we had a great dinner and today I took it easy. I am making myself ready to go to the venue for our next show. Looking forward as I really want to play.
So, we are picked up for a short ride to the venue for our soundcheck. When we arrive I see it is a nice venue with a good stage and the whole atmosphere is cool. The crew has been working since a few hours setting everything up and changing strings and stuff. We hit the soundcheck and we are done after a short time. Everything is good so we don't have much to do anymore. We decide to go back to the hotel. After a short ride back I can take care of the clothes I washed and some small stuff. I watch a movie (again, I use almost all of my spare time to watch movies or series).
PRIMAL FEAR SHOWTIME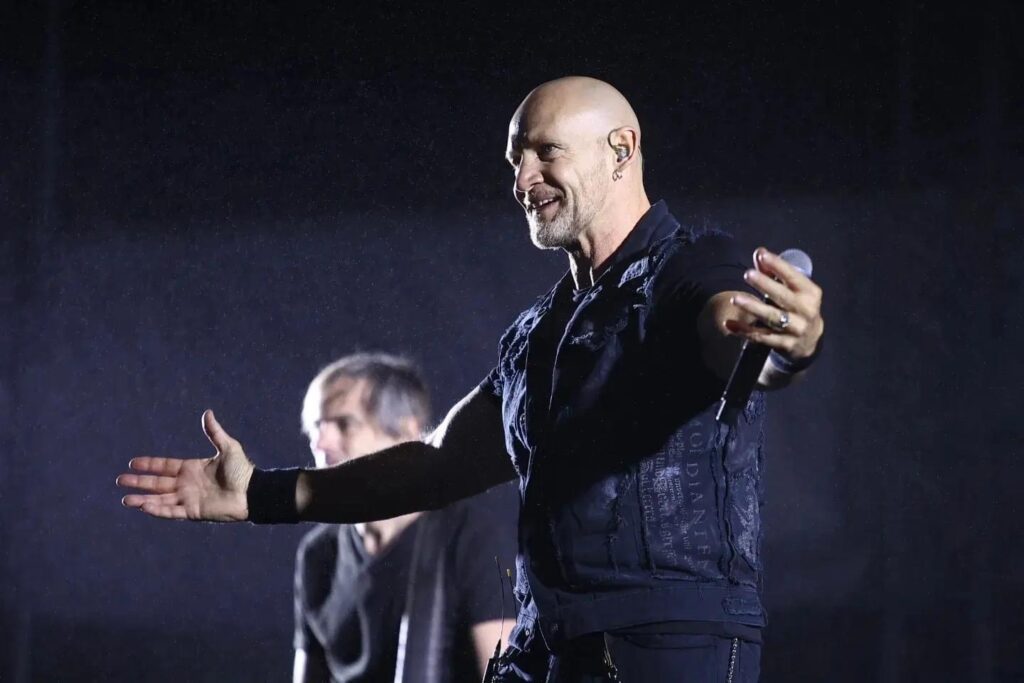 We are picked up 8:30 pm to go back to the venue. The crowd looks great and we hear some tunes of the support act. Then it is our time. No strings break this time, at least for me, Tom breaks one early in the set. It all works out though. Time flies fast when you are having fun. Also, this time, before we know it the 90 minutes of the German metal commando are over. I go to the dressing room, change the clothes and get rid of the sweat. I go downstairs and I am greeted by fans. We do the obvious …..
Pictures of course, I sign some stuff and have small chats. There is one guy who is Dutch so I could even speak a bit of my own language. We do more pictures and then everyone is ready, crew and band, so back to the hotel.
In this club where we played this night, everyone plays here. Tonight there will be Machine Head and next month Saxon and so on.
PRIMAL FEAR TRAVEL DAY AGAIN
This morning at breakfast we see some of the Machine Head people as they have the same hotel. They are seeming to play the same cities we do only one day later.
I am writing these lines again in a plane, this time from Curitiba to São Paulo. From there we will travel by van to the next town. Two more Brazilian shows and then we are off to Argentina. Today is a so-called travel day, after the flight and the drive we will go to the hotel and catch some food. After tomorrow the schedule will get more tight. But we are ready for that.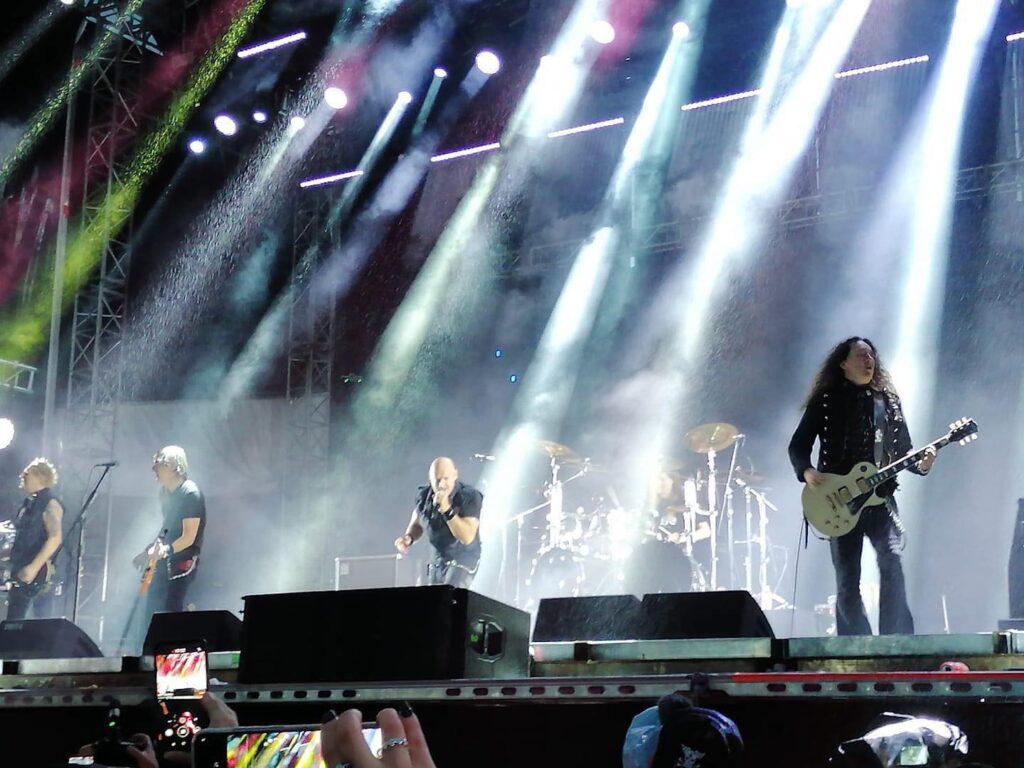 We arrived in Limeira after a rush hour drive through São Paolo and checked in in the hotel. We arrived in a monsoon and well what can I say… this was a real monsoon. Water 20 inches on the streets. We still had to have dinner, so we went to a restaurant. When we got there there was a Jerry Springer moment going on. A big fight and a guy got thrown out of the restaurant. When we were done with the dinner the guy was still sitting outside this time with 5 police cars and enough officers next to him. Yesterday was an easy day, watched soccer and movies until it was time to get to the venue. We did a quick soundcheck and it went all smooth. We decided to stay at the venue till show time.
I BROKE A STRING AGAIN
Intro runs and off we go. It was warm, it was special and, despite the lightning desk switching off during the second song, it was magical. The light came back on song 3 and we had a great time. The people were so enthusiastic and were fighting to get a pick or a drumstick. The last song comes on… I break a E-String again… this is so unusual so we have to figure out what is going on with that. I have been playing bass for a long time and I did so many shows but if I remember correctly the last time I broke a string was in 2006… now I broke two in one week. Cedric is going to take care of it, maybe I got a bad charge or maybe Brazil is making me play harder. We will get it solved.
We are ready to travel to São Paolo now and this will be the last Brazilian show. Tomorrow we will fly to Argentina. Looking forward for that. I am a bit sad to leave Brazil as I had such a great time here.
BOOK OF LIES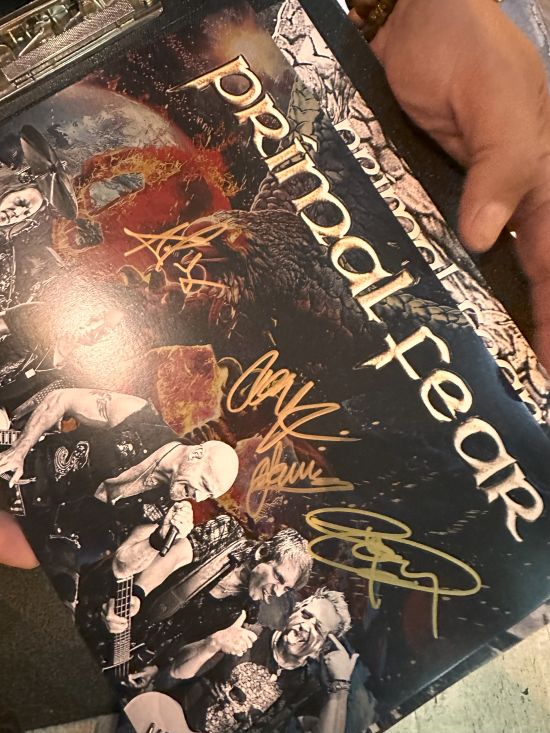 Three hour travel behind us and we arrived in São Paolo. Quick drop off from the crew at the venue and we went straight to the hotel. Quick lunch and back to the room. It is funny as most of the time we don't know the name of the hotels we stay in. I mean we have a "Book of Lies" made by Basi (our tour manager) but he is on tour with Kreator. The fans know better in what hotel we are staying. Each time we arrive there are fans waiting for pictures and let us sign stuff. It is kind of strange as I sign albums that I haven't played on. The fans still want to have the autographs.
I am aware of the fact that I am just filling in but still the fans make me feel so welcome and home. Well, I can only say thank you! I still get messages from fans writing me that I have to sign stuff from Terrible old man or Twenty Dark Seven, which is cool too. I will lay down for a few minutes now before heading to the club for another night of German metal. 
Cruising at 30.000 feet above Brazil on our way to Argentina. Last night we had a great show. We started with some technical difficulties during soundcheck and besides that there was water dripping on the stage as it rained outside. When those thingies were taken care of, we did a short soundcheck. Just the arrival at the venue was already amazing as there were a lot of fans waiting already and they started singing and yelling Primal Fear when we arrived.
HELLO ARGENTINA
At 7:30 pm we kick off the show and the time flies during it. I get goosebumps hearing the audience singing the songs and even singing the guitar parts. This was special! After the show we hang out with the fans and take pictures and sign stuff again. Then we headed back to the hotel, watched some Formula One and fell asleep. 
This morning was the typical schedule: breakfast, shower and heading for lobby call. Survived the São Paolo traffic and arrived at the Airport. We waited pretty long to check in but we also carry a lot of stuff so we prefer to be on time. South America works a bit different sometimes. So now we are on our way to Buenos Aires Argentina, we will arrive tonight and have a show tomorrow. After that we travel to Chile where we will have a show the same day. So, the days will get shorter and stressier.
HELLO BUENOS AIRES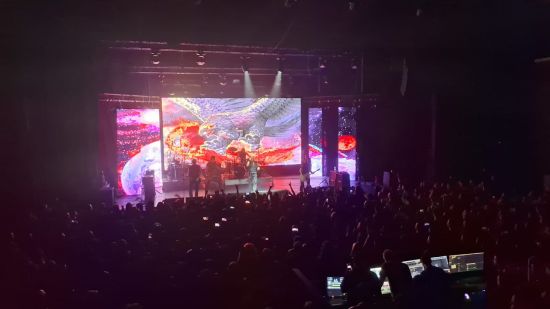 Arrived in Buenos Aires and after going through immigration and an extra check we are picked up. There are fans waiting outside the airport and it is a miracle how they know what flight we will arrive. The van is big but somehow not big enough although we manage to get all of our gear in. After checking in in a great hotel we are picked up for a late dinner. It is a short ride and we get to see a glimpse of Buenos Aires.
The dinner is fantastic. We get a great selection of meat and vegetables and great wine for the guys. The obligatory picture with the promoter and the owner of the restaurant is taken and then it is back to the hotel. There are fans waiting again and we take the time to take some pics and sign stuff.
I didn't do much after waking up the next morning. I slept like a baby and besides breakfast and a short walk around the block, I watched movies and had lunch. Back to the room and watched another movie, fell asleep and then it was pick up time to go for soundcheck. The venue looks great and the stage is like 2 meters high. I wonder how people will be able to see us from the first row. Short soundcheck, we play two or three songs and thanks to our great crew mostly all of it is set before we come. So we just check if there is something we need to adjust. In my case nothing, I was happy from the start. I wish Cedric was with me all the time as we make a pretty good team these days.
MEET AND GREET WITH THE FANS
After soundcheck we go back to the hotel and of course there are fans again, it is heart-warming and we again take the time. People tell us beautiful stories about how important the music is for them. We go to the venue after dinner and when we arrive, we go directly inside. While the support band is playing we get to the dressing room. We change clothes and get stage ready. There is a meet and greet planned, we didn't know it but we gladly do. People are happy and if I would have known this was going to happen, I would have prepared a few guitar picks. The thing is that with meet and greets… it is not a bad thing, some bands charge, some not, some promoters charge some not.
We don't mind taking the pics. Do you have to pay, no not really. If you pay for something like that you should get a whole experience (in my honest opinion). Soundcheck, talks with the members, pic and some goodies. But on the other hand, we are getting ready for our show and we do the meet and greet. I always enjoy the silence before the show, just sit in the dressing room and gear up for what is to come. I love meeting the fans and take the time for questions and all, but I also want to prepare myself for the show.
FIGHTING OVER GUITAR PICKS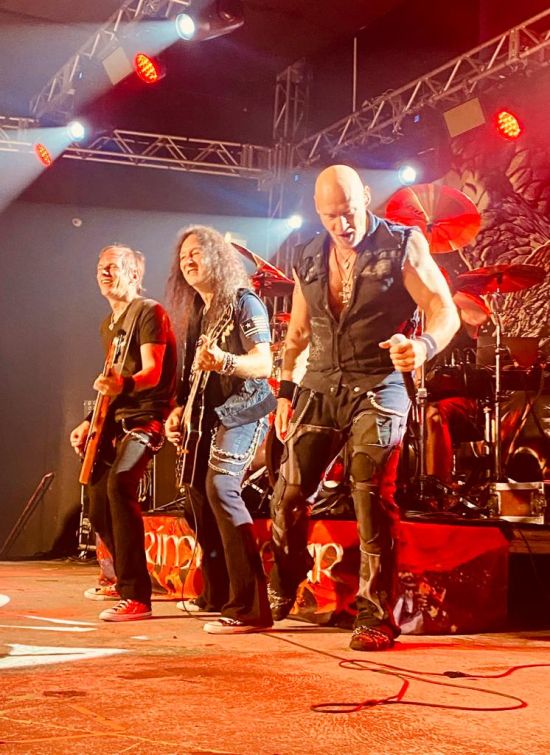 Argentina what can I say. For the intro the people are giving us so much energy. Every word, every guitar line is sung with full power. That the stage is 2 meters high doesn't seem to matter, people go crazy. After two songs they start to sing for us and it gives me goosebumps. Look it up on YouTube or on our socials because we posted a video of it. We finish the show and take the bow deliver the guitar picks, believe I could give everyone a pick and then still they would fight over it. I try to throw as many as I can during the show.
I see the people with the cell phones writing they want a pick. I wish I could, people fight over it, I can throw whatever I want or to anyone and still someone else gets it. I am not selective, the ones who catch one are lucky. The ones who go home empty handed, better luck next time.
PRIMAL FEAR OFF TO CHILE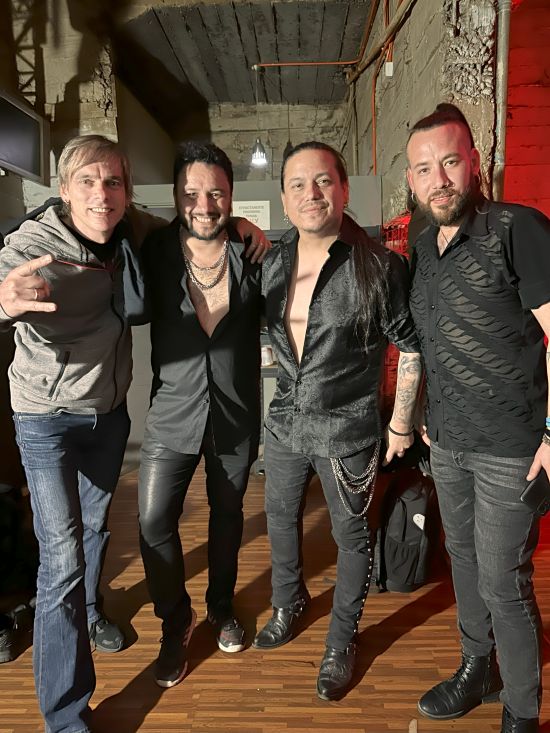 After the show we meet some friends and we take pictures with the p[eople from the security and promoter. When it is time to leave there are still fans waiting outside and we take the time till Julia says we should go now because we are on a tight schedule. Arriving at the hotel there is more fans and we take more pics and chat a little before getting up to the rooms. After a quick shower it is off to bed. Today's an early lobby call as we fly to Chile. We will arrive in the afternoon and the crew goes directly to the venue. We will go to the hotel first before going to the venue for the soundcheck. Apparently, everything is being set up as we are still cruising at 30.000 feet on a carbon eagle.
After soundcheck I might stay at the venue as Sinner's Blood will be the support act for tonight and I recorded an album with James Robledo (singer) and Nasson (guitarist) and I want to try to watch the show. Let's see how we get through immigration and check in at the hotel and stuff.
It all went pretty smoothly, quick trip to the hotel and had a lunch. Not too long after it was time already to go to the venue. Daily routine, stage is set, we go on and do the soundcheck, today it was a quick one. We were all a bit tired too, ready to rock but still a bit tired of the traveling and shows of course. Different times, sometimes you go on stage 7 pm sometimes 9 pm. As we got up early yesterday morning (you guessed it right I am writing this in a plane again) and travelled all day we were a bit tired.
SINNER'S BLOOD
Today we stayed at the venue after soundcheck and this was great as I had some brothers of mine playing the support act. Sinner's Blood with James Robledo on vocals and Nasson on guitars. We had a nice chat before their show and we took some pics. Got a nice gift from James and then it was time for them to get onstage. I watched half of their show before I made myself stage ready. The Blondie club is in a basement and it was pretty cool, I don't want to tell you about the backstage situation. I have seen a lot, had to be honest though. This shower… I got sick from looking at it. It means shower after the show in the hotel haha.
Intro runs, we go on stage and the audience is there from the first second. Halfway through the set I am thinking about the fact that we do all the travel and stuff, which is really cool but in the end, we are only on stage for 90 minutes. Those 90 minutes fly by in a second. After the show we get dressed again and as soon as the crew is done we pack everything in the van with trailer. Not before we are welcomed by a whole lot of fans and we do the pic and signing thing.
LET'S VISIT SOME MUSIC STORES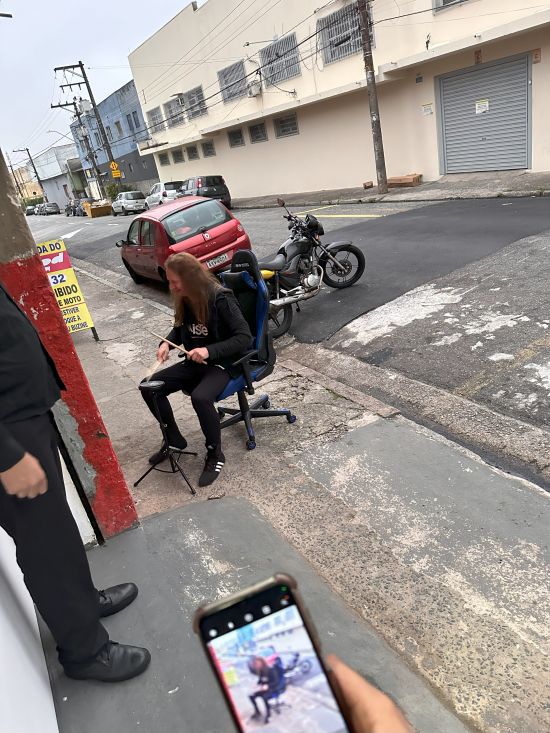 Back at the hotel I take a much needed shower and finish watching my movie. Today is a "late" lobby call, 11:30 am. During the loading of the van, we decide to check out a music store around the corner. Julia the tour manager discovered it and Michael might need some sticks. We get there and it is not one shop but a whole shopping center full of music stores. Michael finds what he needs at one of the shops. Shop owners take pics with us and we meet some fans in front of the hotel. Then it is off to the airport again. Check in, drop off bulky luggage, security check, immigration, quick lunch, boarding…
Being a bit irritated that people take so much stuff (for what they don't pay) and use up the bins for other people's luggage. Then find out they are sitting 8 rows away from where they should sit. I know not everyone might fly as much as we do but it cannot be too difficult to read the number on the boarding pass or app and the number of the seat. Then have to find out you are at the wrong seat and leave "my" seat. No space for my luggage anymore. After getting to your original seat find out you left all your stuff at "my" place. Come back, get that stuff and hold up the whole boarding procedure. There are days I don't have the patience for it.
COSTA RICA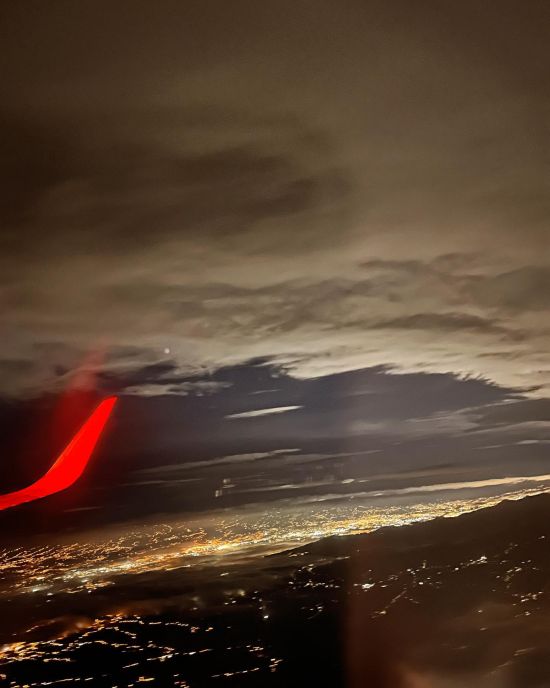 On our way to Costa Rica now with a layover in Bogota. We will arrive somewhere tonight so now during this 6-hour flight (makes you realize how big South America is) I write this diary and will try to sleep a bit and watch a movie. Chile was pretty cold and now we hit the tropical temperatures again.
We arrived at San Jose Airport around midnight and then we had a short travel we got to the hotel. It was a nice luxury hotel and after ordering room service, which arrived around 1:30 am, I had my first meal since the morning. The airline we had to fly to Costa Rica had no service on the first flight… 5,5 hours without water? Crazy. The layover in Colombia was too short to get some stuff too so I was happy to finally get some food in the hotel.
The next two days were spending washing clothes, hang at the pool and watch series. Yesterday was show day and we got at the venue; this venue was killer. We had a quick sound check and it went all verity smooth. We were done pretty fast. I decided to stay at the venue this time as the travel to the hotel was like 30 minutes one way.
I AM MORBID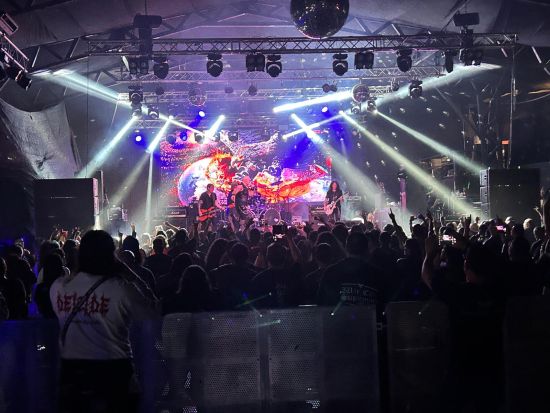 Then piling I get a message on my phone. Bill Hudson (Doro, I am Morbid, Northtale) sends me a pic of my basses. We do a double headline show with I am Morbid tonight. It means they have arrived from Colombia. I go there to say hi and get introduced to the other members and finally get to see my friend David "evil D" Vincent again. That was a long time ago.
The venue is hot, very hot and although I am sweaty every show, this one will be even more sweaty. Intro rolls, we hit it off and we have a great show. The audience goes crazy and I can see Bill watching parts of the show. The show is over in the blink of an eye. I change my clothes and head over to the dressing room of I am Morbid to say goodbye. I would have loved to see the show but we have a very early lobby call to get to Colombia.
I am sitting on the plane writing again and we are almost ready for take-off. I guess I will see you in Colombia then…
TO BE CONTINUED SOON IN PART 3 …..
All photos made by / supplied by Alex Jansen