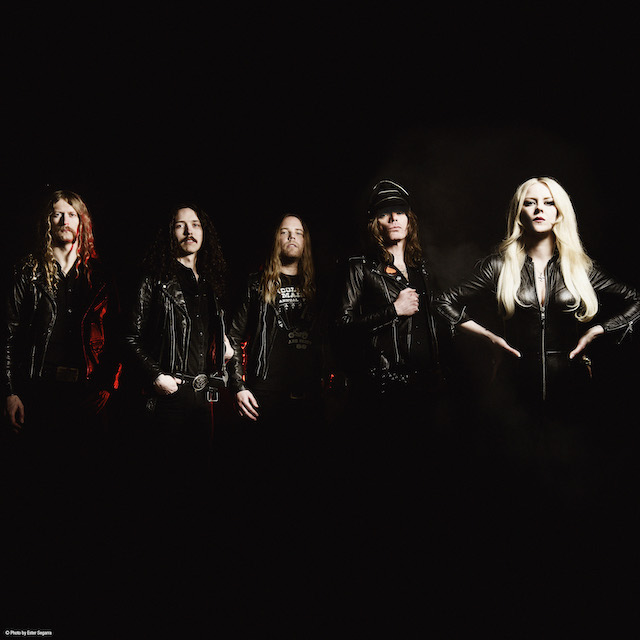 Spotify | 10 Favorite songs of Johanna Platow Andersson
Singer of Lucifer
Recently HeadBangers LifeStyle's Lilo asked Lucifer singer Johanna Platow Andersson some questions about her beauty, fashion and lifestyle habits and regime. (Read HERE)
The reason for the interview was the recent release of Lucifer's latest studio album `Lucifer IV', a good and solid 70s rock influenced rock album with an organic, heavy sound and that captures some pretty dark lyrics. Since we know that Johanna is a big 70s fanatic, we also would like to know which songs and artists made a huge impression on Johanna.
Exclusively for HeadBangers LifeStyle, Johanna selected ten of her favorite songs, which you can find on this week's HBLS Hotlist on Spotify. She also explains why she choose these songs.
LISTEN TO JOHANNA'S PERSONAL HOTLIST HERE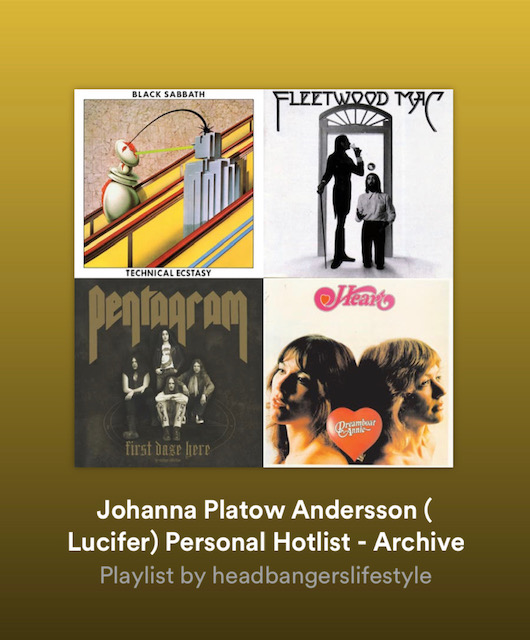 JOHANNA PLATOW ANDERSSON EXPLAINS
PENTAGRAM – Be Forewarned
This is Pentagram's finest moment.
BLACK SABBATH – You Won't Change Me 
Fave song from one of my favorite Sabbath albums 'Technical Ecstasy'.
HEART – Magic Man 
This is my favorite HEART song ever. I love the Wilson sisters.
FLEEDWOOD MAC – I'm So Afraid
Probably the band I listen most to. This song tears my heart apart.
AEROSMITH – Dream On 
I'm sucker for sad songs & ballads. I never get tired of this one.
ZZ TOP – Hot, Blue & Righteous 
Southern & Sexy! From my favorite ZZ Top record.
DANZIG – Devil's Plaything 
That would be me!
TYPE O NEGATIVE – Summer Breeze 
A great cover that takes me back to being a cemetery walking teenager.
THE RAMONES – Poison Heart 
Lyrics – I can relate.
PATTI SMITH – Pissing In A River
This one's killing me too. The piano, her voice, melody and lyrics.
About
Heavy, 70s influenced rock, metal band, located in Stockholm, Sweden. Formed in Berlin by vocalist Johanna Platow Andersson in 2014. Also featuring multi-instrumentalist Nicke Andersson [Hellacopers, Entombed a.o.]
Genre
heavy, rock, metal, 70s, doom
Website
https://linktr.ee/LuciferTheBand
Social
Tags