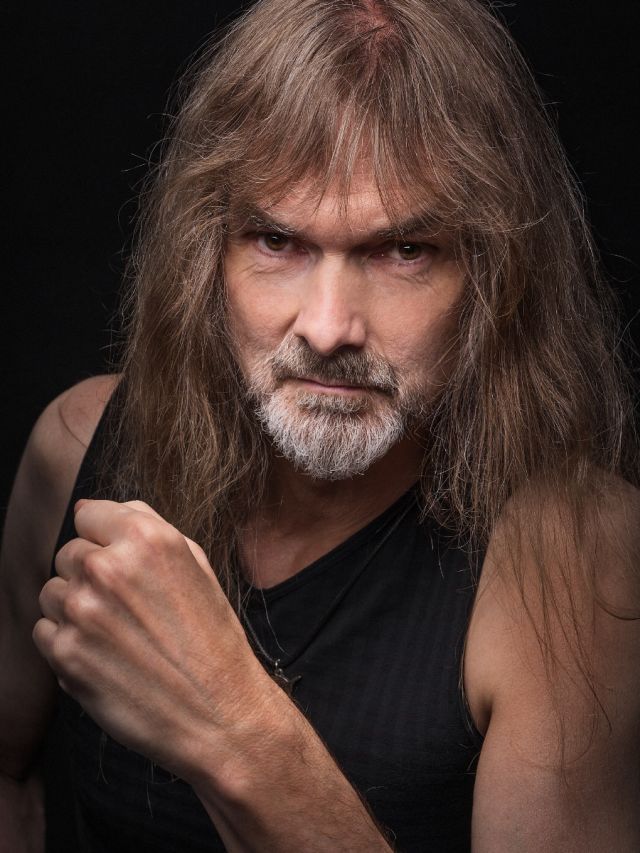 Spotify | 11 Favorite songs of Arjen Anthony Lucassen
Ayreon & Star One
Recently HeadBangers LifeStyle's Lilo spoke with Dutch multi-instrumentalist, songwriter and producer Arjen Anthony Lucassen about the upcoming release `Revel In Time', the long-awaited new studio album of his project Star One. [Watch the video HERE].
Arjen is an active and successful musician for more than four decades now. He made numerous albums and guest appearances, but besides his project Star One, he is mostly known for his rock opera project Ayreon.
Arjen is a true music fan, eager to discover new talent as well, and inspired by the wide spectrum of rock, progressive rock, hard rock, metal and even the 60s and 70s music, he created his own unique musical world. Of course, we like to know which songs and artists made a huge impression on Arjen.
Exclusively for HeadBangers LifeStyle Arjen selected eleven [yes, one bonus track this time] of his favorite songs, which you can find on this week's HBLS Hotlist on Spotify. He also explains why he choose these songs.
LISTEN TO ARJEN ANTHONY LUCASSEN'S PERSONAL HOTLIST HERE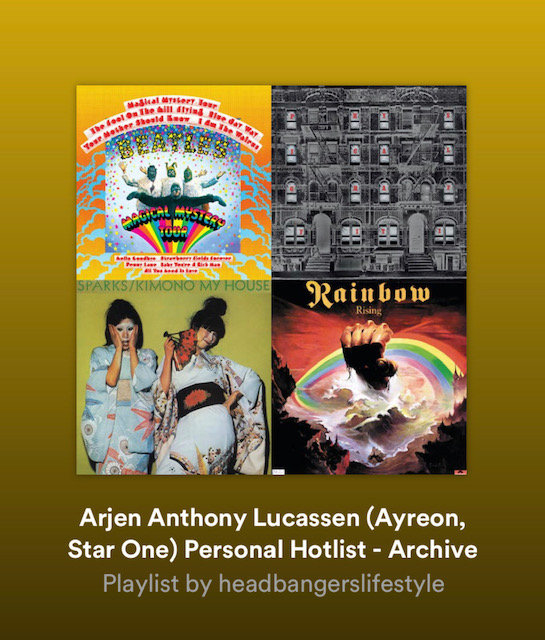 ARJEN ANTHONY LUCASSEN EXPLAINS
STARGAZER – Rainbow
The most epic track ever featuring the holy trinity of Blackmore, Dio and Powell. It doesn't get any better than this.
I'M THE WALRUS – The Beatles
Outlandish psychedelic song with John Lennon's perfect voice and lyrics and George Martin's brilliant production. Scary stuff, way ahead of its time.
ECHOES – Pink Floyd
Great keyboard sounds by Rick Wright and beautiful vocals by David Gilmour. The track where Pink Floyd became Pink Floyd. 
KASHMIR – Led Zeppelin
One of the best riffs ever with a weird time signature and oriental influences. And of course, Robert Plant's emotive voice, my favorite singer of all time.
THE MARCH OF THE BLACK QUEEN – Queen
Queen in their much-preferred early days, adventurous and epic. And pretty heavy. 
THIS TOWN AIN'T BIG ENOUGH FOR THE BOTH OF US – Sparks
I heard this on the radio when I was 14 and couldn't believe my ears. Totally original. Sparks is a genre on their own.
THE WALL – Kansas
Excellent melodies composed by Kerry Livgren and perfectly sung by Steve Walsh. 
HALO OF FLIES – Alice Cooper
The fearless early days of the Alice Cooper Group. A long proggy adventurous song with lots of instrumental parts completed by the snarly distinctive voice of Alice himself.
ARE `FRIENDS' ELECTRIC? – Gary Numan
The beginnings of a whole new genre: synth pop. A pretty dark track about a robot prostitute, no catchy chorus… and nevertheless a huge hit.
CLOUDBUSTING – Kate Bush
The perfect composition, both instrumentally and vocally. Augmented by Kate Bush' unique voice and a wonderful clip with Donald Sutherland.
DALAI LAMA – Rammstein
One of my favourite bands since the 90s. A unique powerful and still melodic song. 100% genuinely German, no imitation.
About
Dutch multi-instrumentalist, songwriter and producer who is best known for his progressive metal/rock opera project Ayreon. Other projects are: Star One, Guilt Machine, The Gentle Storm, Ambeon and Stream Of Passion. Also known for Dutch hard rock bands Bodine and Vengeance. Active since 1980.
Photo credit: Lori Linstruth
Genre
Progressive rock, metal, rock opera
Website
https://www.arjenlucassen.com/content/
Social
Tags