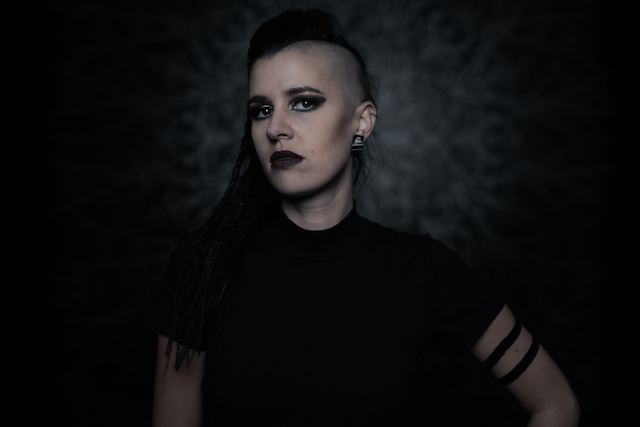 Interview | Anna Brunner vocalist League of Distortion
A New Force to Be Reckoned With
It is not easy to stand out and to be noticed in the ongoing flood of album releases, let alone being and sounding original and promising. When newcomer League of Distortion released their first incredible strong and intriguing sounding video single ,,Wolf or Lamb'' in July, we at the HBLS headquarters definitely jumped off our chairs. It sounded so powerful, what a thrilling hook and a stunning vocal performance! Who is this band?
It happened to be a creative collaboration of vocalist, songwriter Anna Brunner [Exit Eden] and Kissin' Dynamite guitarist Jim Müller, later joined by bassist Felix Rehmann and drummer Tino Calmbach. Napalm Records managed to contract League of Distortion and their absolute impressive self-titled debut will be released on 25 November 2022. The album serves the listener a unique and modern blend of nu-metal, alternative metal, mixed with pop melodies, electronics and dark industrial elements. It is spiced up with emotional and powerful vocals and mesmerizing vocal turns, that lead to a damn catchy and appealing end result. HeadBangers LifeStyle's `Lilo' contacted Anna Brunner for an introduction.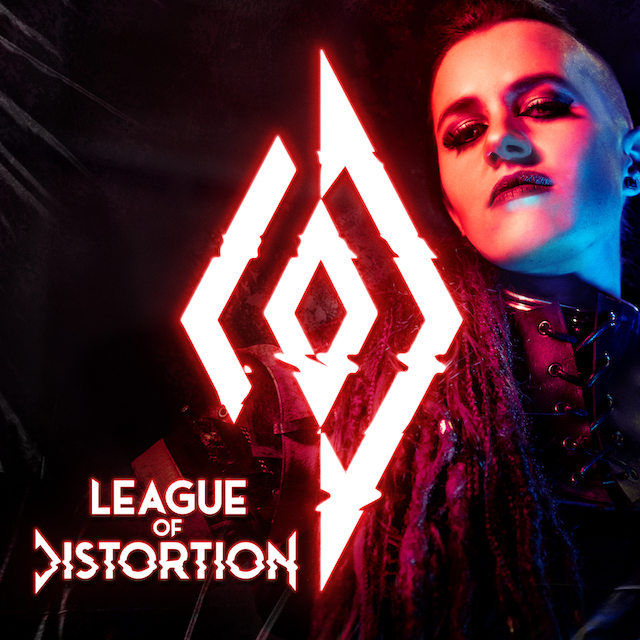 ROCK 'N ROLL HIGH SCHOOL
Anna studied pop and jazz music at the pop academy in Germany and although that scene seems to be far off from the headbanging community, it led her straight to the metal scene. And it was also not that she automatically grew up in a musical environment, as she explains herself.
,,My parents weren't really into music actually, so I did kind of miss out on getting that automatic connection during my early childhood. I started my first rock band as a teenager and I still remember going over the Internet looking for bandmembers, then getting together in town trying out music together for the first time. But after high school they all got other interests, while I was always very committed. Once I decided I really wanted to do music, I felt it was important to do a music study and I had absolutely a wonderful time. Simply because all students were on the same page and we all had more or less the same vision. We played music all day and night and it was also a huge benefit getting the connection to the business side of music. I was an AC/DC, old school rock music girl at first, but then I met students who were from the heavy metal scene. Getting to know this style of music helped me where I am today as a musician.''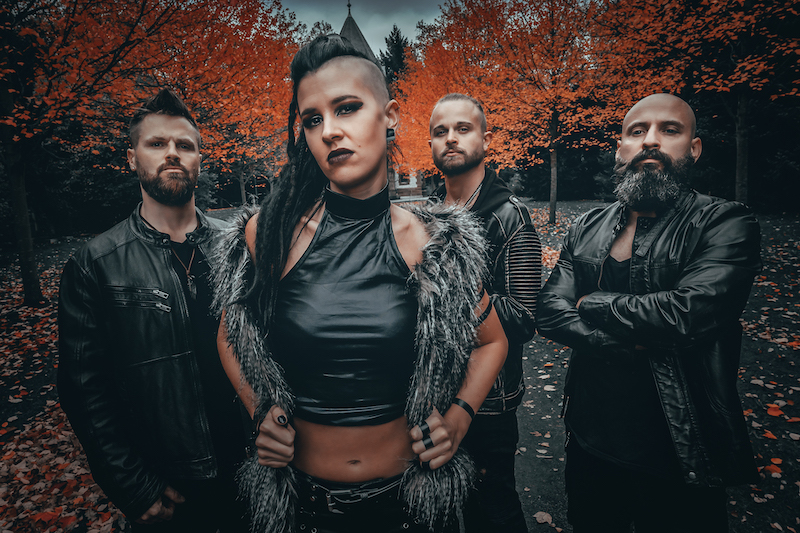 A COMMUNITY OF FRIENDS
Anna started to build on her musical metal career by doing some guest vocals on the Beyond The Black album `Lost In Forever', Santiano's `Im Auge Des Sturms', ` Kissin' Dynamite's `Generation Goodbye' and `Ecstacy' and she became one of the four female vocalists of the symphonic metal band Exit Eden, that released its well-received debut `Rhapsodies in Black' in 2017. It was during the dark pandemic times that Anna formed her own band League of Distortion and I wonder if she felt ready launch herself as a lead singer with a new band, or did the unpleasant circumstances speeded things up?
,,I wanted this for years, to be honest. Not that I had a concrete plan in details yet, but having a real band. I wanted this community, this league, getting together with friends, people who are honest, who are together and loyal. Who are digging the same music style and maybe also doing something a little bit different too, being edgy and who are standing for this strong vision and doing what they love to do: music and taking this out to other people and inviting them to be part of this universe. That has been in my head for a very long time. The songs and the musical style? That actually really worked through by putting down the first drafts and thinking about how we wanted to sound. So that was definitely a work in progress. But until I started with League of Distortion it was hard for me at times watching all these other bands getting up there. But when I think about it now, I realize this is the right timing, because I wouldn't have had the knowledge that I have now.
I am truly happy it worked out the way it did. Also, Covid19, the stagnation and not being able to play gigs and to be out there, it kind of forced me to sit down and to really think about my emotions and my song ideas. Getting together with Jim and having Hannes Braun, also from Kissin' Dynamite, as a producer from the very beginning, made that it all turned out the way it should, I think.''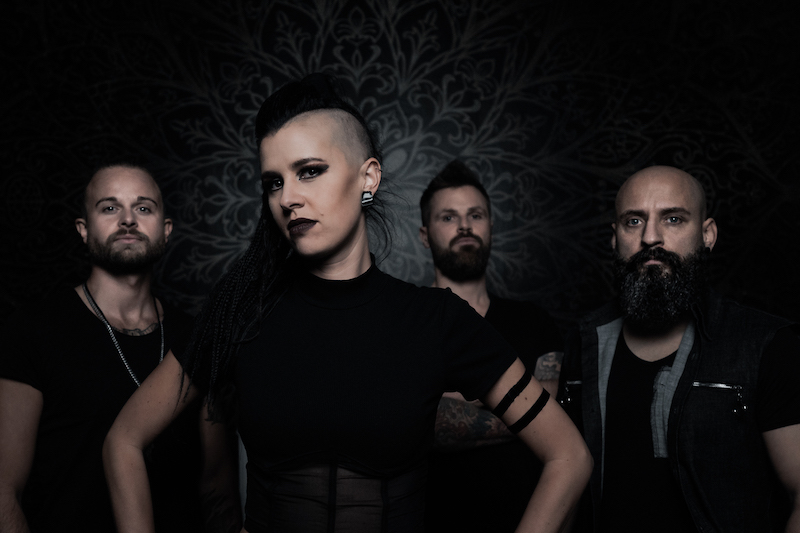 METAL CORE AND 90S NU-METAL
Jim Müller is an excellent guitarist and he is a vibrant and fun factor on stage. Kissin' Dynamite has been his home since their formation when they were still in high school. Anna tells why he eventually was the right partner-in-crime for this new creative adventure.
,,We're friends and me being with Kissin' Dynamite a lot and being on tour with them, there was definitely a good connection. But to be honest, at first it didn't even occur to me that he could be an option, because he already had a band. But when we started songwriting and working on ideas together, at one point I said to him why don't you become part of this band? He's like: "Well yeah, really? I'd love to!" For the rhythm section I already had Tino and Felix in the back of my mind. They have been by my side on and off for a long time and Tino actually played in the Exit Eden tour band. It was amazing to get this group of people together, who actually didn't really know each other, but it felt so good. With this band I just do what I do. I just love this style of music, I love the metal core sound and the old nu-metal influences. I've always loved the 90s stuff but of course we wanted it to be modern as well and I do like pop music too, so this is the perfect mix.
I also like things that are a little bit strange and different. Also, I am very inspired by Chester Bennington [r.i.p.]. And I love the old Linkin Park albums and they really touch me so much just by listening to them, still. He was actually the one I was thinking of during some of the vocal recordings. The thing is, I want to give hope and to give strength to people. I want League of Distortion and my music to give people the strength to get up again, to not give up, to know they are not alone and to see the positive side without being cheesy. That is why League of Distortion songs and lyrics and the vibes are actually pretty positive, although it is dark music.''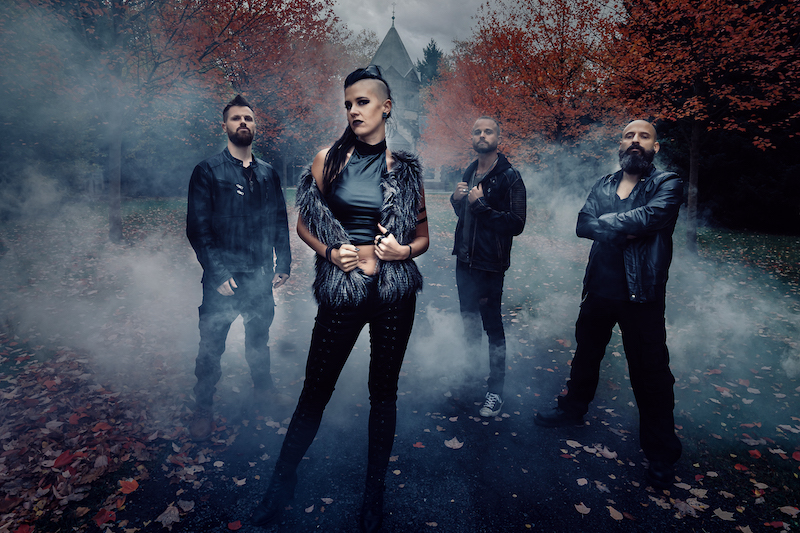 STANDING UP FOR OTHERS
When I listen to the album, I feel there is rebellion and a fighting spirit in the songs. Lyric wise Anna has also a lot to say. I ask her if she wants to speak up for an entire generation or maybe a certain group of people? Or are the lyrics just personal thoughts and experiences?
,,It is definitely both. I really want to speak up for especially those people who aren't feeling brave enough themselves to do so. The lyrics feature a lot of personal topics as well, but some topics are also me going into other people's feelings and thoughts, speaking up for them without having to be the one that it happened to. You know, sometimes it is hard for someone in a certain situation or who have had a very bad experience, to go out there and talk about it. With my lyrics I want to encourage them to talk about it. Telling them with our songs that you can feel okay and can feel good again. You are going to be strong again and that you are not alone. When I write songs, also for other bands, the lyrics and the melody need to have a connection. Also, we love having strong hooks in the songs and elements you can remember. Something that is important to me with our live shows. I want the crowd to be part of this and to be able to sing "Rebel, Rebel". Because the way and emotion of me singing this with a distortion, is like screaming and letting it out, which is very important to us too. I want everybody to feel this energy and to be part of this, to singalong these words, even if they haven't heard the song before.
In the ten tracks, Anna proves to be a spectacular singer. Her vocals are super intense, powerful and diverse. It sounds rough, edgy and haunting, but at times also soft, sweet, even fragile. Somehow it does remind me of the vocal approach that Maria Brink of In This Moment does for instance. Can Anna relate to that?
,,First of all thank you for the compliment because I love Maria Brink. During my music study I did jazz and the soft vocal style, so that has been part of what I have done the last 20 years or so. But I also like to have variety for the listener, not just presenting one type of singing voice. Also, I like it to be different too so that people think: "Oh my Gosh, is this still the same person? But she sounds so different"? As a singer I have done a lot of different music styles to a point that people who know me even didn't recognize me.''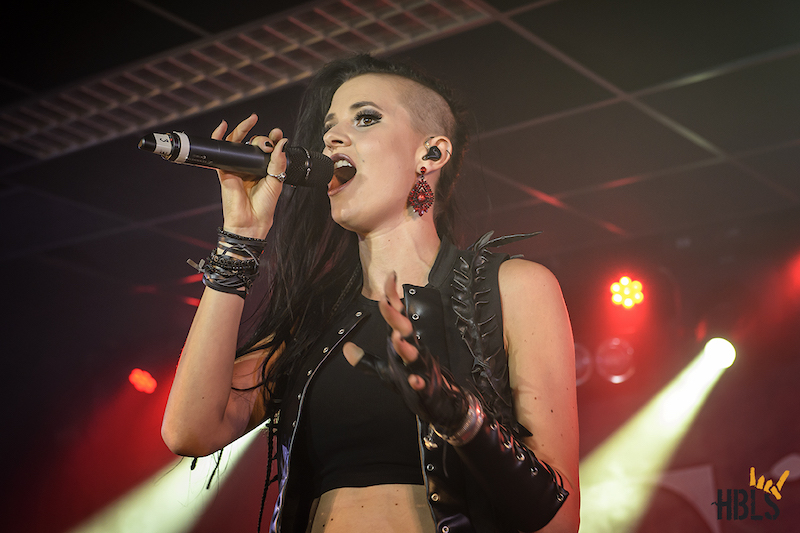 HAVING THREE PRODUCERS IN THE GAME
As a third single, League of Distortion released the industrial, dark laden track ,,It Hurts So Good''. In the choruses Anna gets a vocal back up from Christoph Wieczorek, who is the clean-singer/guitarist of the German post-hardcore band Annisokay. I wonder what is the story behind this collaboration is.
,,We had Hannes Braun as producer, but we also had Julian Breuker and Christoph Wieczorek as our producers, right from the beginning actually. It was important to me to not only have different music styles blended in the songs, but also to have more than one productional approach. Of course, as a band we were involved in the production process as well, but working with 3 producers who each have a slightly different approach and merging that with my vocals and with our band influences, I think it all makes it even more special. This song is created together with Julian and Christoph. It wasn't planned from the beginning having him as a feature, but because his voice is different than mine and having that in this song as another contrast, thinking about it along the way, we eventually came up with the idea. I think it just sound great and really fantastic we could also do a video together.''
Like every other band, I'm sure also Anna and her League can't wait to hop on the tour bus as much as possible, to roar every night in front of an audience. What is the big plan here?
,,We have a tour scheduled with Caliban, Annisokay and Resolve. The shows will be mainly in Germany, Austria and Switzerland, in November and December this year. This is definitely something we can't wait for. Finally, we can go on the road and present our songs live to the world. What the audience can expect is simply that we just play our music. We don't really want or need big crazy productions going on in the background. The music and the style are speaking for us and we can't wait to feel that energy again, to be back on stage, doing what we love to do in front of an audience, after all this Covid shit. And also, for the music fans to be part of a crowd again, to singalong, rock along, headbang and to feel this energy of the League of Distortion lyrics, the music, the vibe and to bounce that back and forth.''
[Editorial Note: Statement of Caliban that was released a few days after the interview: Due to a combination of organizational problems, economic reality and general obstacles in these times Caliban is forced to reduce the tour from 13 to 6 shows. Annisokay need to get off this tour due to organizational problems that came along with the new routing. League of Distortion will still be one of the support-acts.]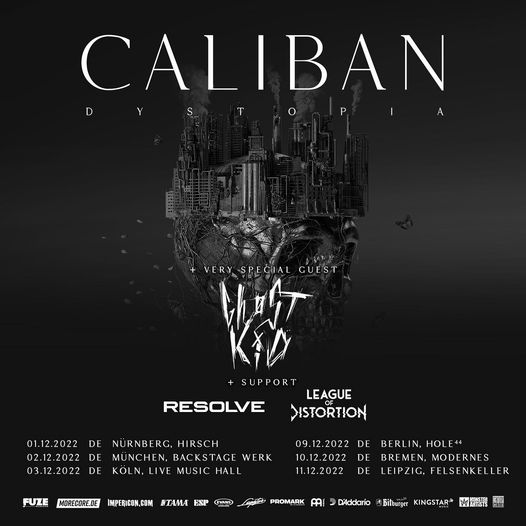 WHERE IS EXIT EDEN?
Now that Anna is up and running with League of Distortion, doors seem to open to new adventures as well. Recently Anna did a couple of shows with Kamelot as a stand in for the female vocal parts. This must have been a cool experience and maybe also a benefit for League of Distortion?
,,Absolutely. I think anything with professional bands and musicians can be a benefit. I didn't know anyone of the band personally before I went there, but we had a vibe right away. It was such a total great experience with the Kamelot guys and they are absolutely great people and super funny. They actually found me through the League of Distortion videos that we released so far and they just contacted me. Of course I have seen Kamelot and all the great metal singers featuring with them and now to be part of that? That feels as a privilege.''
Earlier in this article I mentioned the international symphonic metal act Exit Eden that was formed in 2017 and released the debut `Rhapsodies In Black' that same year. The album is filled with exciting cover versions of well-known pop and rock songs, sung by Amanda Somerville [Trillium, Kiske/Sommerville a.o.] Clémentine Delauney [Visions Of Atlantis], Marina La Torraca [Phantom Elite] and Anna Brunner. They did a tour in 2019 and that was that. Or not?
,,The thing is with Exit Eden, it went so quick. It was there in a blink of an eye and everybody was excited about it and so were we. And I have never given up on it because it was too good to only have one studio album and then never come back again. You can't always get what you want and we know how the music scene is right now, but don't give it up yet. There will be something coming.''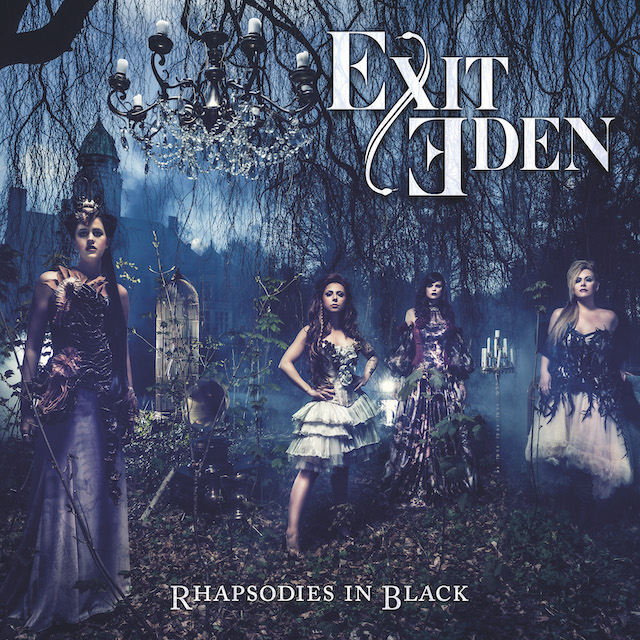 To wrap things up I ask Anna what she wants to say as a final.
,,Since we put so much energy and so much work into the videos, I would love to invite everybody to check them out on YouTube. We will also release our next new single on 22 November and that is going to be something over the top too. I am so curious how the reactions to that video will be. And pre order our album because that is the best thing you can do right now to support us. `League of Distortion' will also be released on vinyl for those who don't play CDs anymore. You can hang it on the wall and support us as a new coming band because it is harder than ever, I think. We really need the support. Thank you.''
Pre-order `League of Distortion' HERE
Credit header photo: Timo Ehlert