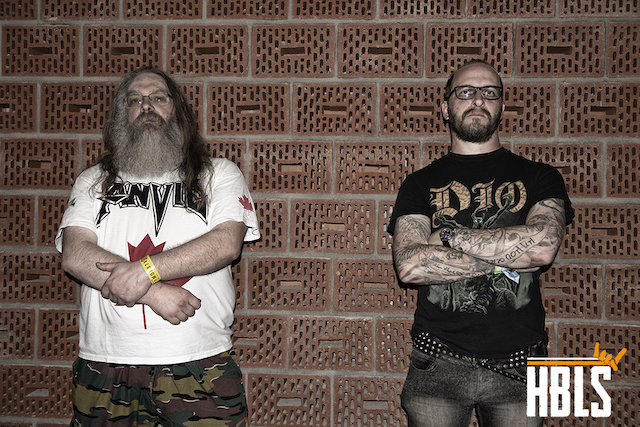 Interview | Hunter
Came to the rescue
A week before Alcatraz Open Air opened its prison doors to celebrate their 15th Anniversary, American metal legend Fifth Angel sadly had to cancel their show because the trip overseas has become much too expensive. Belgium heavy metal band Hunter came to the rescue to provide a portion of great old school influenced heavy metal that made a thunderous impression in La Morgue.
After the show I had a brief moment with singer David Walgrave and guitarist Joost Vlasschaert, to talk about their Alcatraz Experience and the new second album 'Rebel Angels Rise'.
FIFTH ANGEL
American metal band Fifth Angel had to cancel their show and of all Belgium metal bands, Hunter got the call. How was that?
Joost: ,,It was a big surprise but also a very pleasant surprise of course.''
David: ,,Earlier that week we released our single ,,Wicked'', to support our upcoming new album `Rebel Angels Rise'. Mario Mortier [founder Rock Tribune and co-founder Alcatraz Open Air Festival] had heard the single and immediately said that's a good replacement for Fifth Angel. We really had not counted on it to be honest. We are not professional booking agents or managers ourselves and therefore we also gratefully use the help of people around us as well to help us promote Hunter. But the fact that Mario responded to our single release, thinking this sounds cool I'm going to ask that band, that was really awesome. We didn't have to think long about it or even check our agenda, we all thought: Let's do this!! Besides, I already made plans to visit Alcatraz the entire weekend anyway, I just had to drink and singalong less the day before, than I normally would do to save my singing voice for the show.''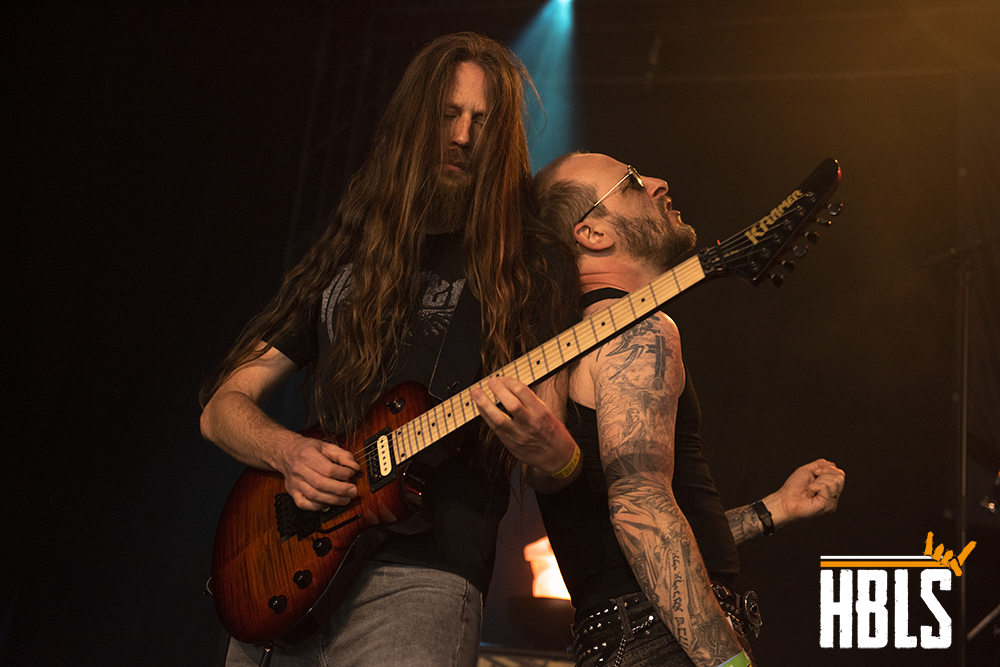 MUSICAL SIDESTEPS
Why is it right that Hunter plays at Alcatraz Open Air 2023, anyway?
Joost: ,,I think the reaction of the audience has proven it to be right. We've all been doing music for more than a few years now. Not so much with Hunter, because Hunter has been around for five years, but we have been playing together in different variations of the line-up since 2000. In Belgium there are not that many traditional heavy metal bands and Fifth Angel is of course a legend. To fill the gap, I think we are the right choice stylistically as a replacement.''
Hunter also makes small musical sidesteps with grunts, among other elements, and it sounds just a bit different, right?
David: ,,Yes, we try to make traditional heavy metal, inspired by a lot of 80s bands, also more cult bands like Omen, Cirith Ungol, Manilla Road and of course Judas Priest. But sometimes we just work with ideas, influences and inspiration from left and right. I also think it is 2023. People now know what a grunt and a scream is and we are not those traditionalists who say this is not possible and not allowed. We just do what we want and forge different metal genres together. We've got a part somewhere in a song that's all doom and I like that very much.
I think it has now ensured that we could deliver a very varied setlist, with very fast songs and then another slow song, then again, a bit mid-tempo or more melodic. After two albums we have now enough songs to choose from that are different enough.''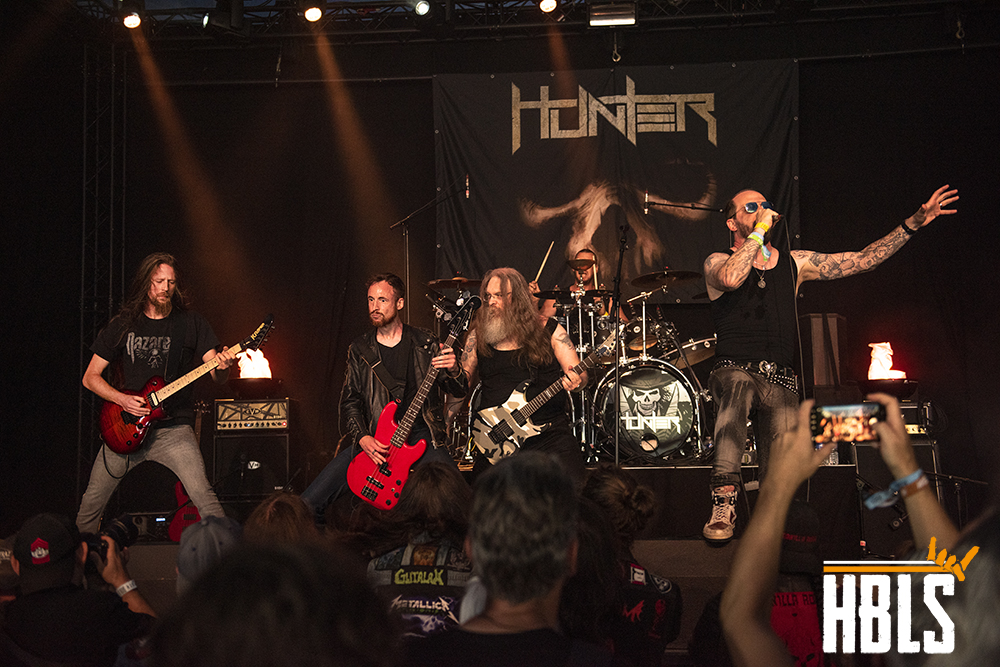 You opened the Morgue stage on Saturday. How do you look back on it yourself?
Joost: ,,We are one hundred percent satisfied. The reaction of the audience was good right from the start. The atmosphere in the audience was also very good. The stage crew was a dream to work with and everything went so perfect.''
David: ,,We perform often and I think that works to our advantage. We feel comfortable on stage and we have also played for a large audience a few times. We're not nervous anymore, we're just doing our thing. I think the audience senses that too. We are of course also full of energy and enthusiastic and the audience translates that into energy. Also, the audience joined in on their own initiative at times when I didn't really expect it. I hardly had to do anything myself, the audience knew exactly what was expected. A festival audience want to enjoy themselves, they want to move, sing along and just participate fully. Those people are therefore much easier to get along with than at smaller club shows, where we play our own songs between the cover bands.
I think we were also in the right tent because everyone knows that La Morgue hosts the heavy metal bands. The atmosphere was very nice and great to see everybody so enthusiastic. I had gathered some friends as well because I was afraid there would be a handful of people, but the tent was full and such an experience gives you great energy.''
REBEL ANGELS RISE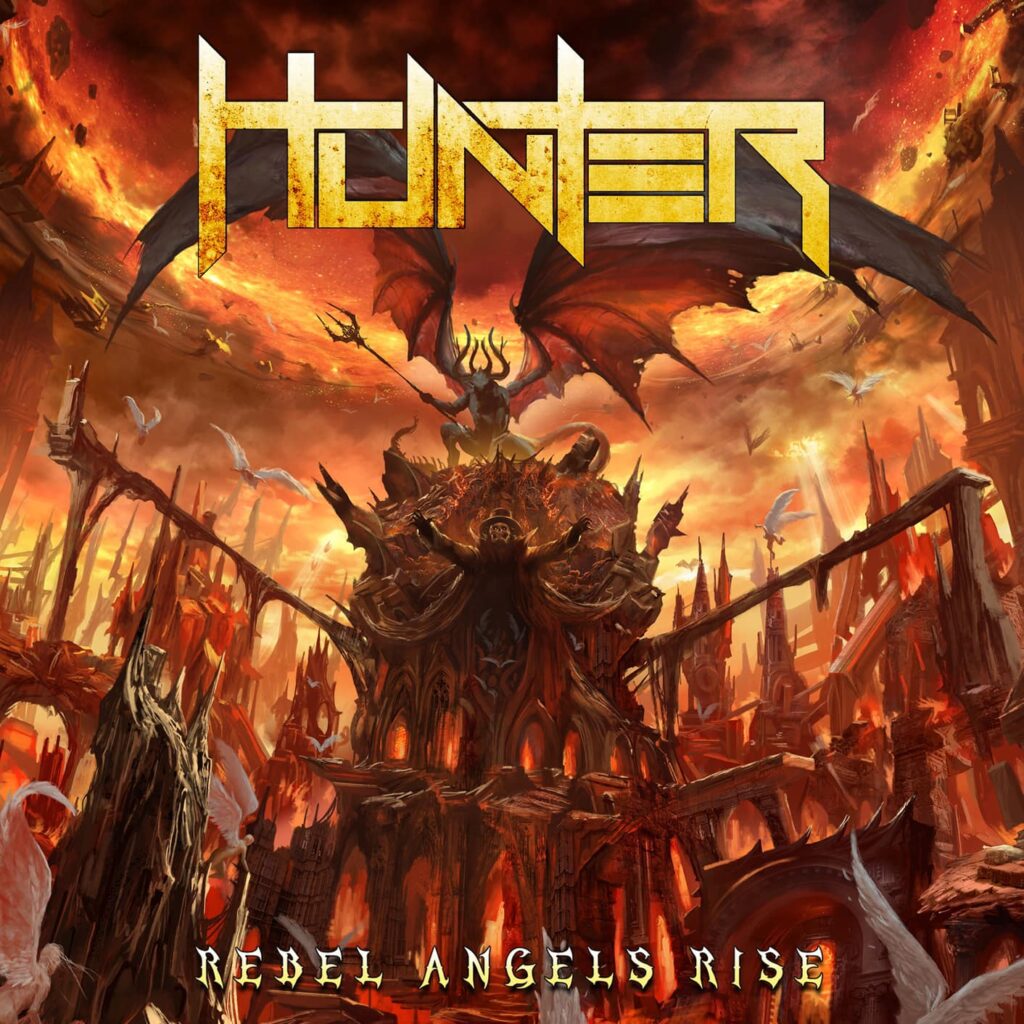 This performance is of course a nice run-up to the release of your second album 'Rebel Angels Rise' [out September 2]. The album has 8 tracks, it will be released independently, digitally and physically. In short, what do we get to hear with this CD?
Joost: ,,Heavy metal in the broad sense of the word. From songs with a thrash edge to songs that are completely old school.''
David: ,,Bands that I've gotten great inspiration from for this album are Overkill and Metal Church. I also think, compared to the previous album, I sound a bit sharper, a bit more vicious. Also, because we've all gotten a little angrier in the last few years. Making this album took us a very long time, longer than we expected. We haven't been able to rehearse for almost a year and a half with that corona and we actually planned to release the album in 2021 or 2022. But it just got later and later, we just couldn't finish the songs.''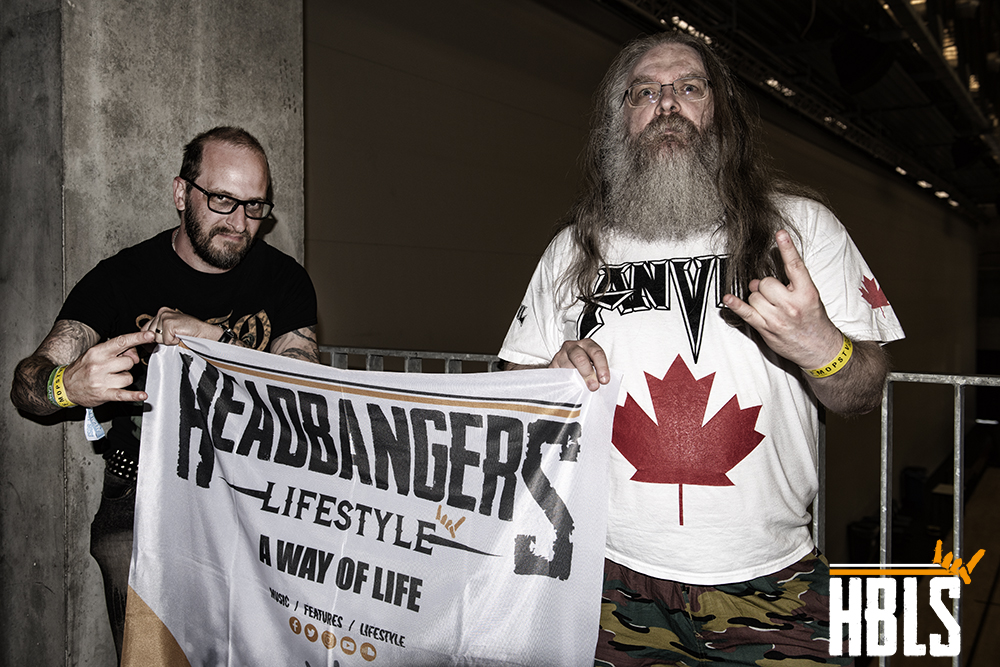 Why is Alcatraz Open Air the most fun and coolest metal festival in Belgium in your opinion?
David: ,,I've been coming here for a long time, before it was even Open Air. At a certain point I thought Graspop had become so big that it was no longer the way it used to be. I remember that because I am very old and have been going to Graspop since 1996. When it was just a metal festival and the camping site was a football square and that was not even half full. Alcatraz is a bit smaller and cozier and most of the people walking around are metal heads. Graspop has become gigantic and all kinds of people are coming to it They are starting to adjust their line-up accordingly. There are bands that I wonder what they do there."
NEW BANDS
,,Of course, festivals should give new bands a chance otherwise we wouldn't be here either and we can't all get stuck in the eighties. So of course there are acts on stage that you think is metal already, maybe I don't understand it anymore, but Alcatraz feels so cozy. When Graspop was growing at the seams, I didn't like going there anymore because that extra of the past started to be missing. Alcatraz took that place perfectly. I think it is cool they still have smaller bands in the lineup as well. Now that we have played there ourselves, I also know how they treat the artists and that is really incredibly good.''
All photos by Dirk van den Heuvel of DCH Photography